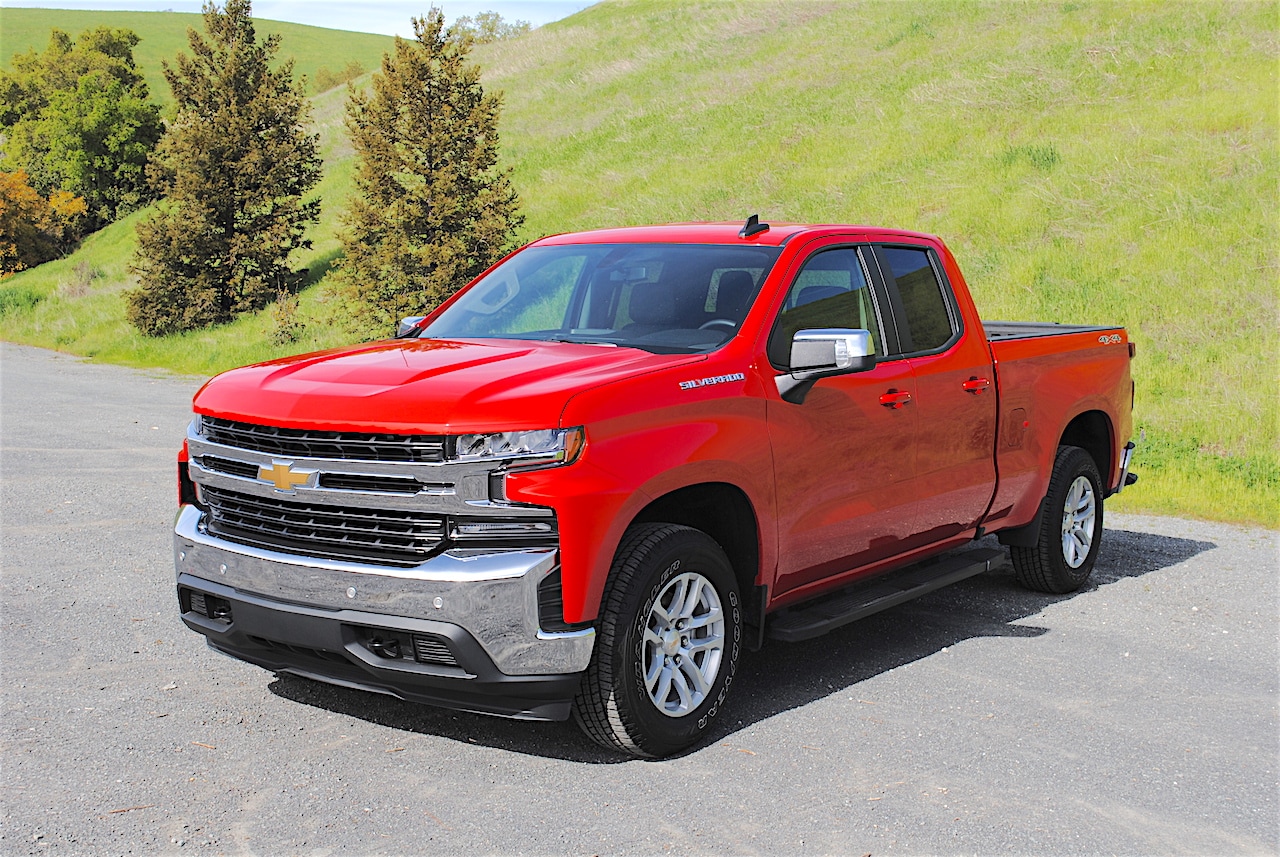 The 2019 Chevrolet Silverado should make you think about what you really need from a half-ton pickup. Because if you start really adding things up, you might be surprised. I mean, do you really need four-wheel drive, a V8 engine, and a 12,000-pound towing capacity?
For most, the answer is no, but up until recently, purchasing anything that didn't fit these criteria would get you laughed at by your truck-owning friends. But times are changing, and because of this, manufacturers are starting to offer full-size trucks with options and drivetrains that are more suited for real-world usage. So on that note, let's a take a look at this Silverado.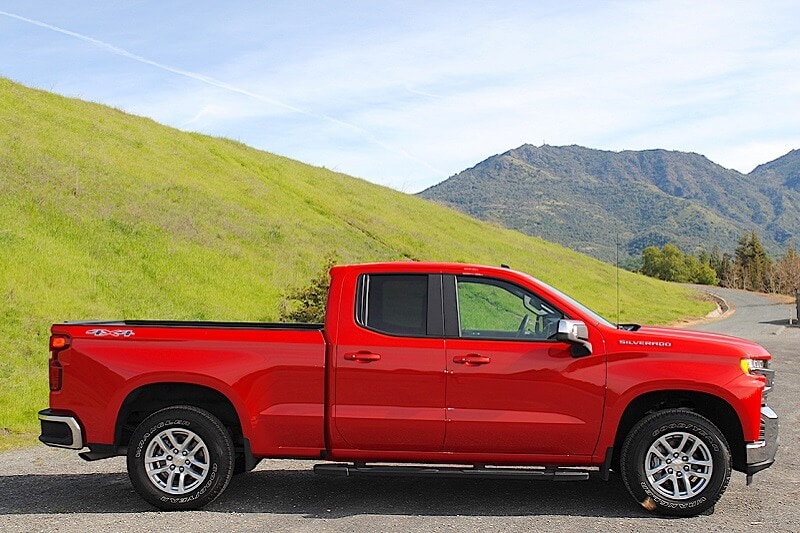 2019 Chevrolet Silverado LT Double Cab Exterior
With a 79.44-inch cargo box, painted 18-inch alloys wearing 265/65-series all-terrain tires, chrome bumpers, and mirror caps, and a double cab configuration, this is pretty much how I'd spec a new Silverado. Hot Red paint aside, there's nothing about this truck that's overdone. In the most simplistic of terms, this still looks like a truck as opposed to a high-dollar, country limousine. Of the eight trim levels offered, the LT falls smack dab in the middle and for the majority of buyers, it'll be just about perfect.
The LT is for those who want comfortable style without being ostentatious. The look is refined, but is in no way gaudy, and by incorporating touches like blacked-out running boards, invisible tow hooks in the front fascia, and a subtle 4x4 decal on the rear, the LT gives off a much more expensive impression than its as-tested price of $49,365* would indicate.
That said, Chevrolet also did a good job with the 2019 redesign. The front end, for instance, seems to be one cohesive unit, with the hood, grille, and fenders flowing seamlessly into one another. Chevrolet says the design is more aerodynamic, but at the same time, its also looks muscular. Head rearward, and folks will notice the power opening rear glass, a spray-in bed liner, and a bumper that houses integrated bed steps. The bed also comes complete with LED lights, an available 120v outlet, 12 tie-down points, and a tailgate that can be lowered via a button in the cabin.
Now granted, you can spec a half-ton Silverado to over $70k, but you still need to ask yourself, do I really need to?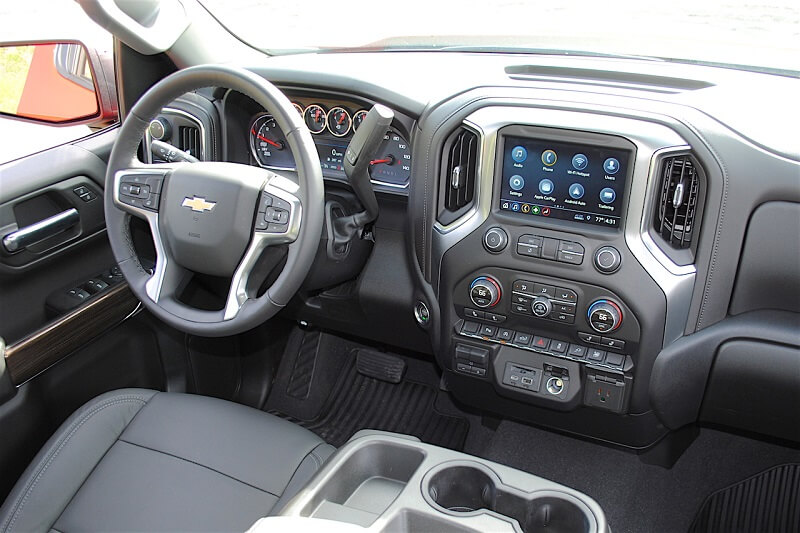 2019 Chevrolet Silverado LT Double Cab Interior
Like the LT exterior, the interior goes back to basics, with a clean design that also incorporates new features. Overall, the cabin is a great place to be, as it caters to taller drivers by avoiding the use of a center-mounted console. The dash is clearly laid out, and thankfully, boasts a suite of large analog gauges. A thick, heated, leather-wrapped steering wheel, provides access to cruise control, radio and hands-free phone, along with controls for the inset LCD information screen. There are also comfortable and supportive leather-trimmed seats.
While the Double Cab does indeed provide enough room for six adults, it must be noted that the rear seats will only be all-day comfortable for those under six feet. On the bright side, folding them up against the rear of the cab provides cargo space that rivals the trunks of most large sedans. Chevrolet's Infotainment 3 System with its 8-inch color touchscreen display is the gateway to all media and vehicle settings. Here you'll find things like Apple CarPlay and Android Auto, 4G LTE Wi-Fi, vehicle and audio settings, Chevrolet Market Place, navigation (if equipped), rearview camera, and even Chevrolet's new In-Vehicle Trailering System (a must if you tow).
With its large dials and buttons, the dual-zone HVAC system means that both driver and passengers alike will find them intuitive and easy to use. Other items of note are the 4x4 controls (Auto, 4-High, 2-High, Off-road), the multiple charging ports (USB, 110V and Micro USB), and the trailer brake bias controller that's located under the HVAC system. There are also ample cup holders and storage cubbies throughout the cabin.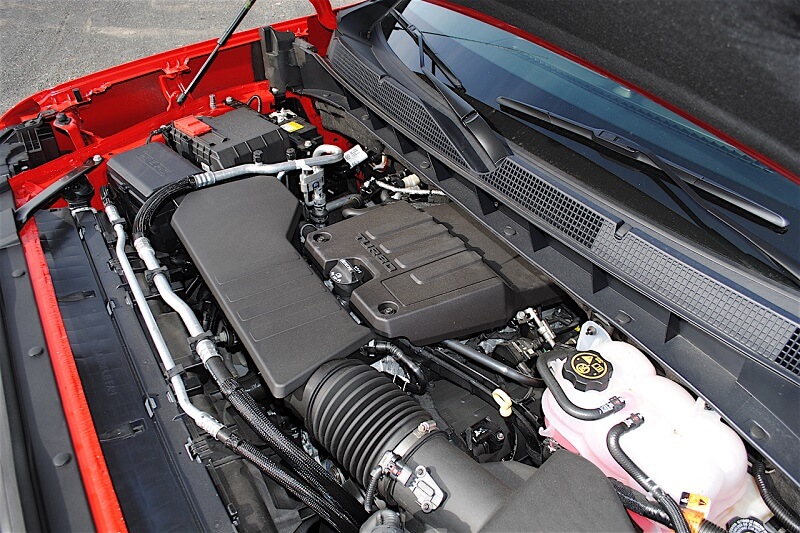 2019 Chevrolet Silverado LT Double Cab Performance
There's no question that when you tell people you've got a 2.7-liter turbocharged four-cylinder under the hood of your half-ton truck, that they're going to raise an eyebrow. The fact is though, with 310 horsepower and 348 lb-ft of torque on tap, one ride is all it will take to convince you (and your V8 buddies) that Chevrolet is on to something. Put your foot down, and the Silverado will sprint to 60 mph in just 7.0seconds, which isnb't bad for a truck with a 4,900-pound curb weight. That said, it'll also tow up to 7,200 pounds, and carry a payload of 2,280 pounds. That means towing an open car, boat or motorcycle trailer along with all your gear in the bed will be a snap. Does it tow as much as V8 equipped models? Well no. Silverado's equipped with the 5.3-liter V8, for instance, can tow up to 11,600-pounds, but again, you've got to be honest about what you're using it for.
What's crazy is how quiet and smooth the engine is. Sure there's no V8 rumble, but it would cost an $1,500.00 or to get it. The LT 4x4 equipped with the 2.7-liter also comes with an EPA fuel economy rating of 19 mpg in the city, 22 mpg on the highway and 20 mpg during combined driving*. It also generates higher horsepower, torque, and better city mpg than the Silverado's previous base 4.3-liter V6 engine.
On the road, steering feel was better overall than on past models, and provided decent feedback. Hard braking and emergency handling maneuvers were also conducted without drama, and conveyed a feeling of confidence. The LT also felt a bit more nimble as well, something we're attributing to the use of 18-inch alloys, as opposed to the larger 20-inch and 22-inch wheels that come on the more expensive trims. A great backup camera also helped to make parking lot maneuvers easy, and it must be said that outward visibility was better than expected. What surprised us most of all though, was just how much I didn't miss having a V8 under the hood. Go figure.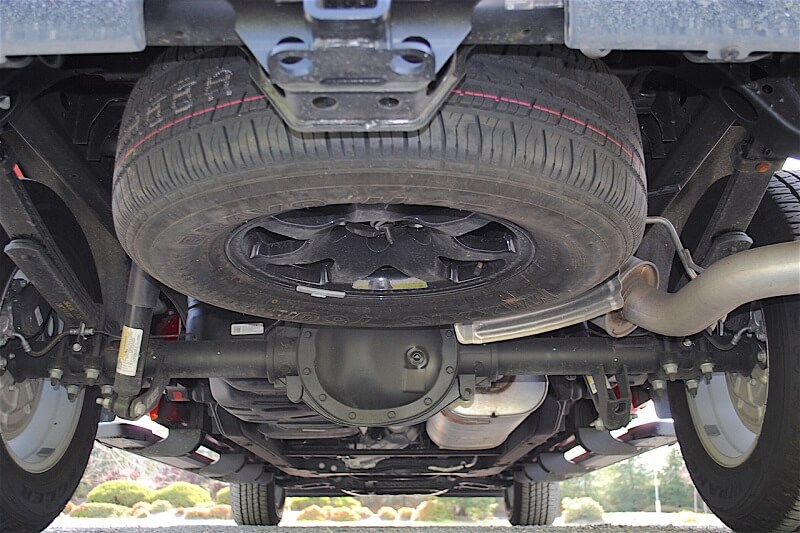 2019 Chevrolet Silverado LT Double Cab Safety
Chevrolet understands that safety is paramount, and as such has equipped the 2019 Silverado LT with a variety of features to ensure a pleasant journey. These include Lane Keep Assist, Forward Collision Alert, Intelligent Brake Assist, Front and Rear Park Assist, a Rear Vision Camera, Anti-Lock brakes, and of course, airbags throughout the cabin.
To find out more about the safety features on the 2019 Chevrolet Silverado LT Double Cab, head on over to Chevrolet.com.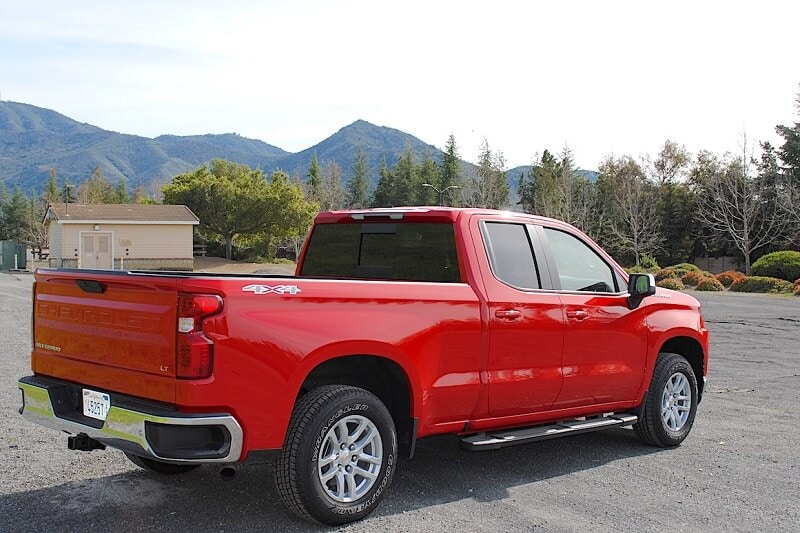 2019 Chevrolet Silverado LT Double Cab Overall
With a starting price of $40,200 and an as-tested price of $49,365**, our 2019 Chevrolet Silverado LT Double Cab equipped with the 2.7-liter turbocharged four cylinder was quite the surprise. Not only did it deliver on the performance front in terms of horsepower and torque, but it also impressed from a payload and towing perspective. Will the 2.7-liter be the right choice for everyone? Probably not. But for those looking to get into the half-ton game without breaking the bank, this 2019 Silverado LT Turbo may just be the truck for you.
Drop by
your local AutoNation Chevrolet dealer
today to check one out!
*Fuel economy values (mpg) are EPA estimates. Actual mileage will vary and depends on several factors including driving habits and vehicle condition.**Vehicle MSRP of $49,365.00 excludes taxes, title, transportation, options, and dealer fees.