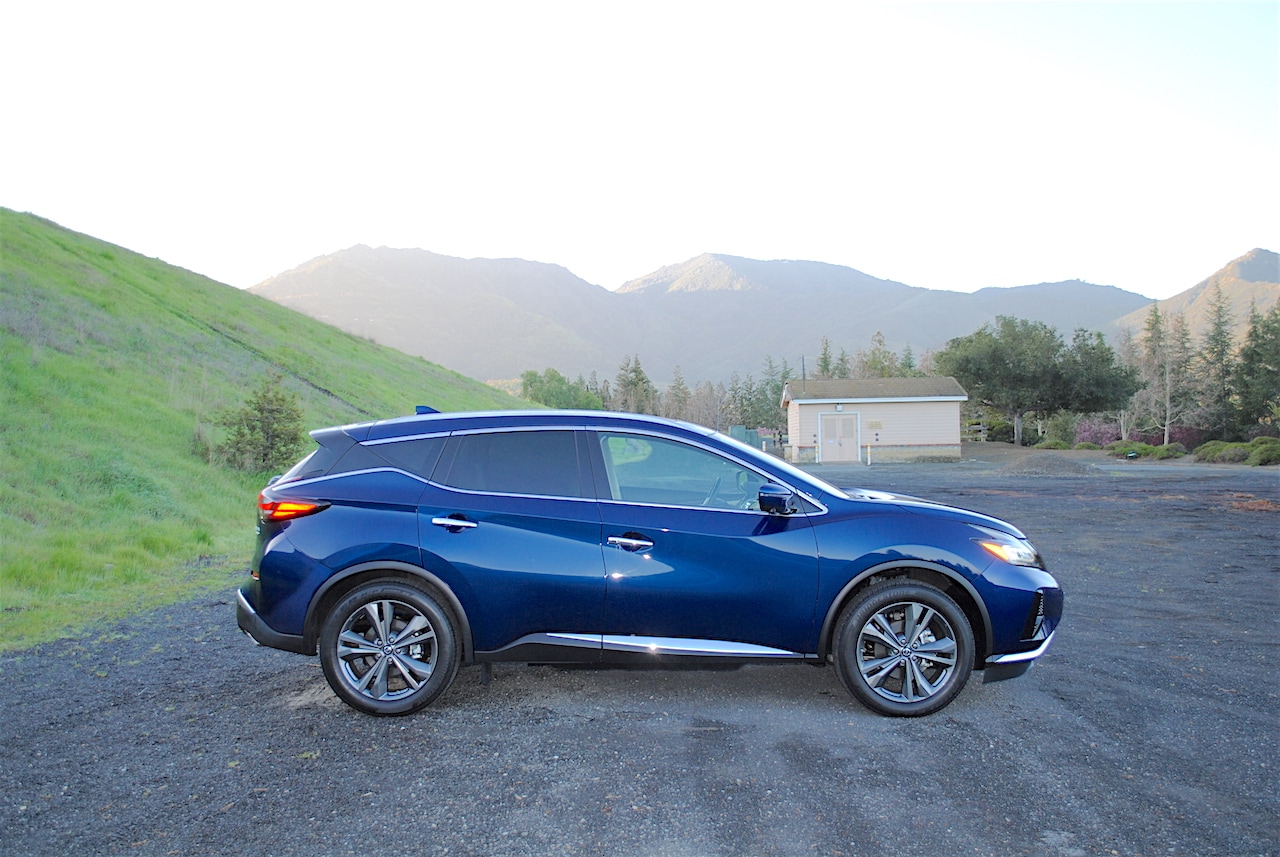 If we're being honest, I couldn't tell you the last time I drove a Nissan Murano and that, if it had left an impression, I've forgotten what it was. That's how I feel about most crossovers these days, which is why I'm so happy to report that this 2019 Murano Platinum AWD was such a surprise. Not only was it powerful with all of the comfort features you could ever want, but for a CUV that weighs close to 4,000 pounds, it also gets great mileage, as I discovered when I took it on a recent 800-mile road trip.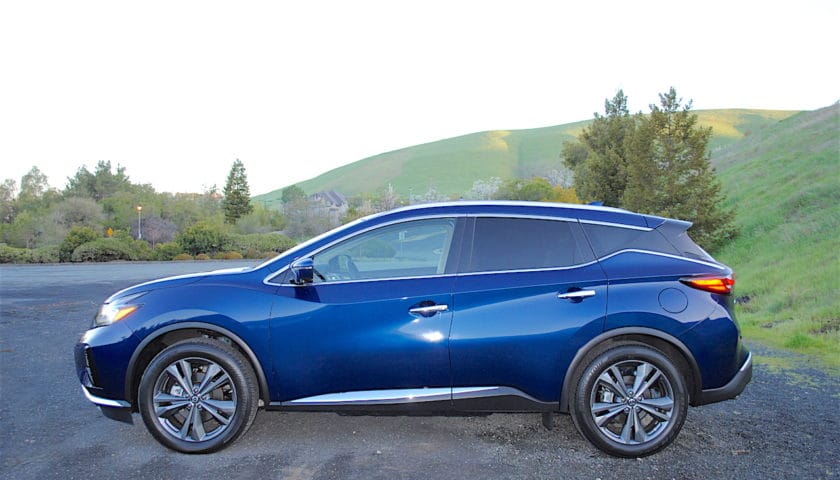 2019 Nissan Murano Platinum AWD Exterior
Let's face it, manufacturers have their hands tied when it comes to crafting beautiful vehicles for the CUV market. Because there's only so much you can do with what amounts to a rectangle with a few curves built into it. With the Murano however, Nissan took a very simplistic approach, and instead of trying to reinvent the wheel by utilizing superfluous add-ons and gaudy body cladding, they've instead relied on a clean organic shape that doesn't feel over the top.
At its core, the Murano is a handsome vehicle with soft body lines that lean a bit towards the sporty side of things without being visually obtrusive.
The front is bold with a large honeycomb grille (Nissan calls it "V-Motion") with chrome accents that are flanked by large and highly stylized LED trimmed headlamps. The lower fascia houses recessed auxiliary driving light callouts that look great and help to give the Murano an aerodynamic feel. Filling out the wheel wells are large, 20-inch Platinum edition rims that wear 235/55-series all-season rubber. Then out back, an automatic rear lift gate with a built-in roof spoiler and a blacked-out bumper treatment with polished dual exhaust tips help to round out a nicely styled package.
The use of chrome trim and polished black accents is also a nice touch, and gives the Murano an upscale and sophisticated look making it one of the most attractive vehicles in the segment.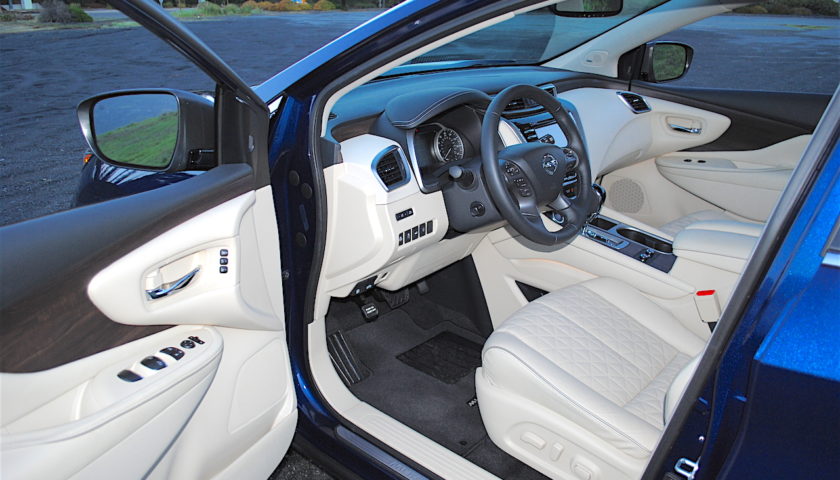 2019 Nissan Murano Platinum AWD Interior
Before you buy whatever it is you're thinking of buying, you should first take a gander at this cabin. We've got wood trim, heated and ventilated leather surfaces with diamond-quilted inserts, a beautiful combination of analog and digital gauges along with a thick-rimmed heated steering wheel that's super comfy to hold.
Seriously, Nissan should be commended for dialing up their interior game to the point where it rivals what you'll find in vehicles costing thousands more. Now granted, this is the uber plush Platinum Edition with an "As Tested" price of $46,420, and while not cheap, it does provide you with one nice cockpit for the money. As mentioned earlier, I ran the better part of 800 miles in this baby in three days, and not only was the cabin unbelievably insulated on the highway, but the seats themselves were some of the most comfortable I've experienced in quite awhile. Overall, the cabin is ergonomically friendly, and the 11-speaker BOSE audio system sounded great.
From a technology standpoint, the Murano provides seamless integration for mobile devices thanks to the eight-inch multi-color screen that resides in the center of the dash, along with multiple charge ports. Here you have access to the vehicles settings, navigation, HVAC controls, Apple CarPlay, and Android Auto, Bluetooth functions, media and more. What's even better is that the system is intuitive and easy to use. Sorage-wise, the 60/40 split fold-down rear seats provide 32.1 cubic-feet behind the rear seats, with 67 cubic feet of space available with the seats folded flat, and the motion-activated automatic rear liftgate also makes for easy access.
As five-passenger CUVs go, the Murano Platinum not only provides advanced comfort for its occupants, but it does so in a way that outperforms much of the competition.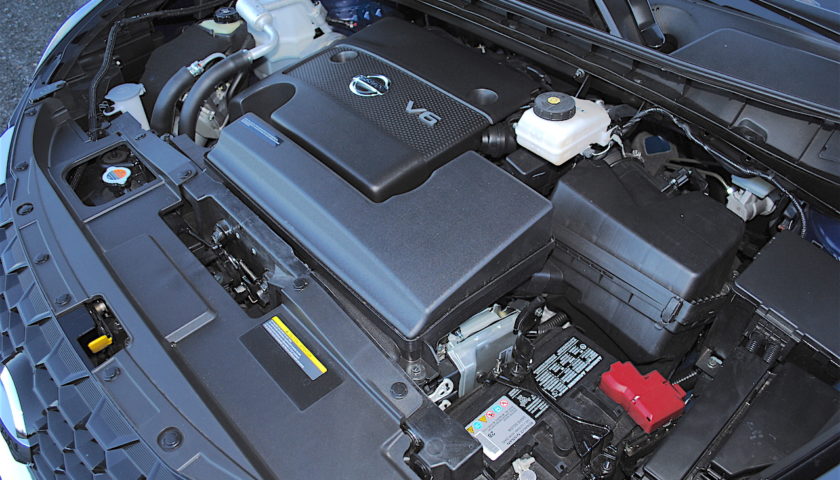 2019 Nissan Murano Platinum AWD Performance
Thank you, Nissan, for not opting to go with a small displacement turbocharged engine, and instead, sticking with a tried and true, naturally aspirated V6. Don't get me wrong, those little mills have their place, it's just not under the hood of a 4,000-pound CUV. Instead, the 3.5-liter V6 that lives under the hood produces a solid 260 horsepower and 240 lb-ft of torque. This is not a peaky engine by any means, but instead, one that offers linear power through Nissan's nicely calibrated CVT transmission with simulated shift points.
Driving the Murano at highway speeds was an absolute joy, as the soft and competent suspension gobbles up road imperfections with ease.
Over that road trip, I also found that the Murano delivered an as-advertised EPA-rated 28 mpg on the highway, 20 mpg in the city and 23 mpg overall*. And while I doubt anyone would consider the Murano to be sporty, it did handle large sweeping corners with ease. Braking performance was also quite good, with the pedal offering nice feedback to the driver. An imperceptible all-wheel-drive system meant traction was never an issue, and I was pleasantly surprised by the on-road performance and driving characteristics. Overall, they were much better than I expected.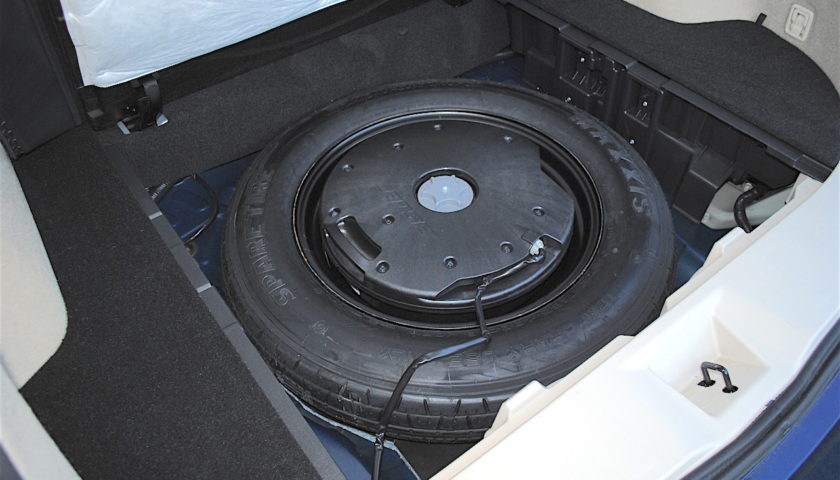 2019 Nissan Murano Platinum AWD Safety
For 2019 the Murano comes equipped with Nissan's Safety Shield 360 technology package that monitors almost everything that goes on around you. There's automatic emergency braking with pedestrian detection, rear automatic braking, blind spot monitoring, rear cross traffic alert, lane departure warning as well as high-beam assist, anti-lock brakes, all-wheel drive and much, much more. To find out more about the safety features on the 2019 Nissan Murano Platinum AWD head on over to NissanUSA.com.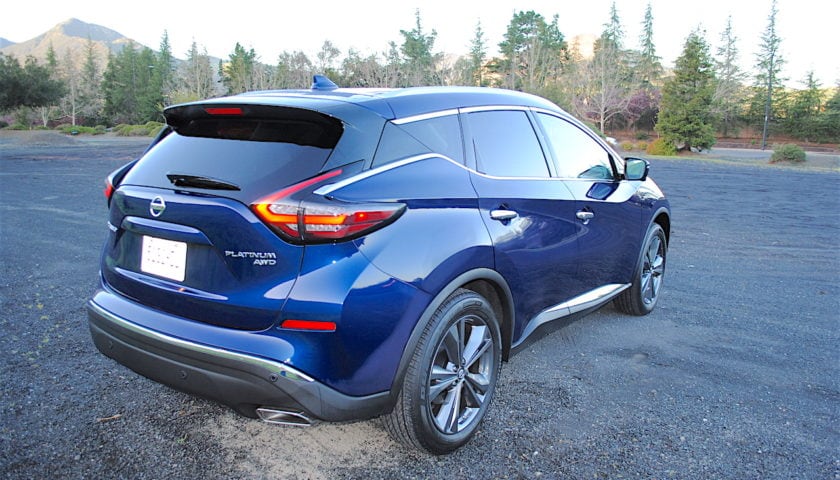 2019 Nissan Murano Platinum AWD Overall
The only complaint I have about the 2019 Nissan Murano Platinum AWD is that I didn't have the opportunity to drive one sooner. What you need to understand is that this is not a performance oriented CUV, nor is it an off-road monster or one that's touted as a luxury machine with every bell and whistle.
Instead, The Murano Platinum is simply a nicely appointed five-passenger family hauler that offers good value, great fuel economy along with comfort and technology that's sure to please.
Drop by your local AutoNation Nissan dealer today to check one out!
*Fuel economy values (mpg) are EPA estimates. Actual mileage will vary and depends on several factors including driving habits and vehicle condition.**Vehicle MSRP of $46,420.00 excludes taxes, title, transportation, options, and dealer fees.