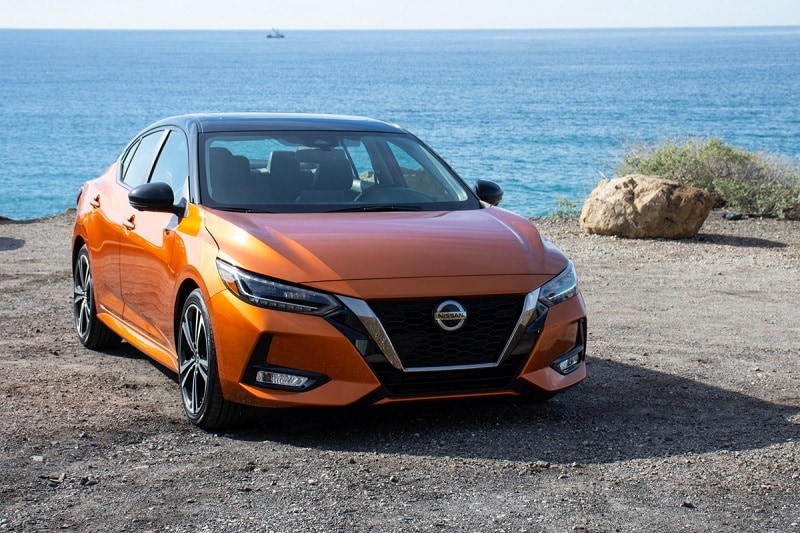 In the Areas That Matter Most, the Sentra Delivers Fantastic Bang-for-the-Buck
— by
Andrew Chen
Just a few short weeks after the global debut of the
all-new 2020 Sentra
, Nissan hosted an exclusive first-drive opportunity along the coast of Southern California, and AutoNation Drive was among the first in the world to experience the ground-up re-imagining of this storied compact sedan.
The Sentra already wowed us with its exterior and interior design changes when I saw it at the Los Angeles Auto Show, but would it be able to deliver on its promise of enhanced driving dynamics? Everything about the new Sentra looks good on paper, but is it enough when the rubber hits the pavement? Luckily, I had miles and miles of the legendary Pacific Coast Highway to find out.
Keep reading for AutoNation Drive's first-drive impressions of the all-new 2020 Nissan Sentra SR Premium sedan.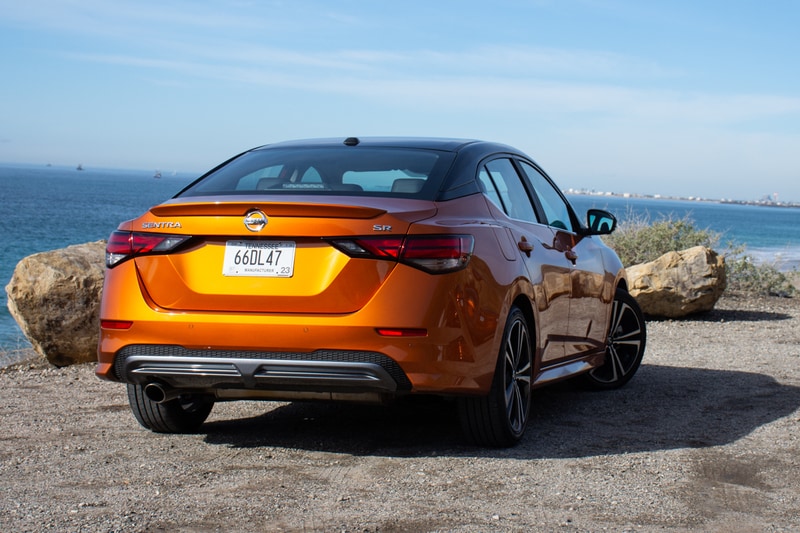 2020 Nissan Sentra SR Premium Exterior
Since I've already detailed the exterior changes in my coverage of the Sentra's global reveal, I'll focus more on the motivations behind these styling choices. As part of the driving event, I had exclusive access to Nissan's designers, who shared some insights into their goals and challenges with the latest generation Sentra.
One of the most impactful updates is how the Sentra stands, which is now two inches lower and two inches wider. This is important for enhancing performance, but it's not as simple as extending some panels and lowering the suspension — the work that goes into visually balancing the overall vehicle is quite a task.
If the fender arches are overly large, the wheels will feel too small; creases and curves in the wrong places will make the vehicle seem top-heavy. Then there are manufacturing limitations to factor in as well. Even with all of these aspects demanding equal consideration, the designers were able to successfully craft an attractive form-factor, utilizing Nissan's signature features, like the V-motion grille, slim LED headlights, and a "floating roof" configuration.
The result is an athletic and sleek look that isn't traditionally found in the compact sedan segment. The available two-tone colorways — like the Monarch Orange and Super Black combo found on our SR test model — help further emphasize the lower center of gravity and sports car-inspired persona.
On the SR trim, the coolness factor is leveled-up thanks to a rear spoiler, black side mirrors, side sill extensions, 18-inch alloy wheels, and dark chrome accents on both the grille and exhaust finisher. Add the Premium package, and you'll also receive a power glass sliding moonroof and thin lens LED headlights with LED daytime running lights.
Overall, I think it's the best looking Sentra to date, offering enough style and bravado to appeal to those who want to be a bit more flashy, but still keep an air of maturity about them.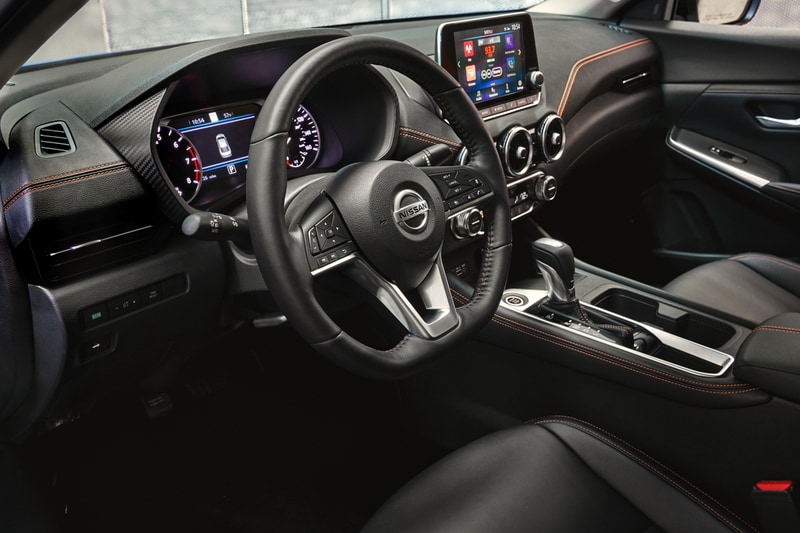 2020 Nissan Sentra SR Premium Interior
Before I could let the Sentra loose on the famous Pacific Coast Highway, I had to first escape the daily congestion of the popular beach city of Santa Monica. It wasn't all bad, though, because it gave me an accurate experience of what it'd be like to commute in this car. It's in these real-life, and often stressful, moments that allowed me to appreciate the finer touches of the cabin — namely the brand's renowned Zero Gravity front seats and a floating eight-inch multi-touch infotainment display.
The driver and passenger are treated to soft yet supportive bucket seats made with high-tech materials, and the difference between traditionally constructed seats is noticeably significant. The specially-designed foam gives way just enough to remove pinch points, and then uses 14 different pressure zones to help you maintain a neutral seating position while reducing lower back strain and muscle fatigue.
After a brief time of letting my hands wander over a variety of premium surfaces, like the leather-wrapped D-shaped steering wheel and carbon fiber-inspired inlays, I turned my attention to the large center console display to find the perfect playlist for an oceanside cruise. On our SR Premium test model, the included NissanConnect hub features both Apple CarPlay and Android Auto, allowing for seamless smartphone integration as well as hands-free text messaging, Siri and Google Assistant functionality, and streaming music.
To my surprise, the 2020 Sentra SR comes with a USB-C port (for a total of three available USB connections), which is quickly becoming the new standard connector for phones, tablets, and laptops. USB-C delivers a much faster charge for new phones, and eliminates the need to carry different types of cables. For me, this touch is another example of how Nissan isn't shy about embracing the future.
And then, there are a lot of other details in the 2020 Sentra SR that simply need to be experienced in-person to be fully appreciated. For example, every button and knob provides the perfect amount of tactile feedback and the cabin is extremely quiet at highway speeds.
It's clear that Nissan is raising the bar for in-cabin comfort and convenience, and making luxurious details more accessible than ever.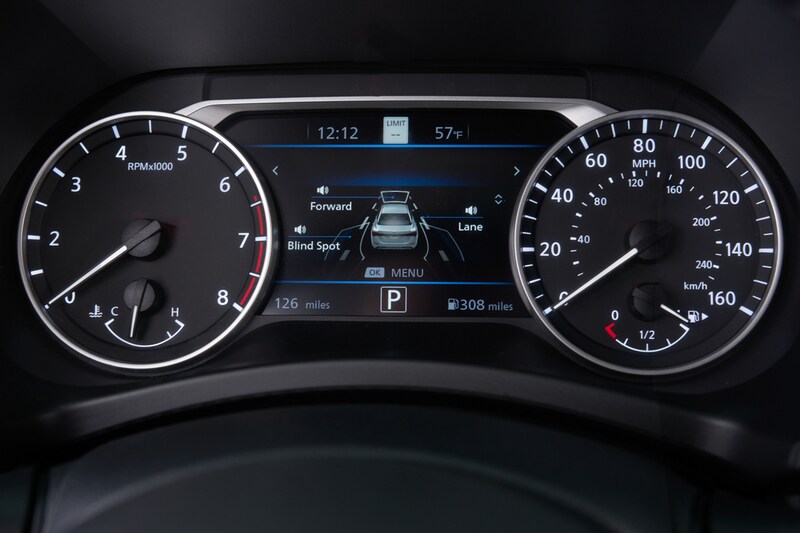 2020 Nissan Sentra SR Premium Performance
This new-generation Sentra features a larger and more powerful engine than its predecessor, yet still delivers the fuel economy that makes these smaller sedans so attractive to many buyers.
A 2.0-liter four-cylinder engine replaces the outgoing 1.8-liter design, and produces 149 horsepower along with 146 lb-ft of torque — an increase of 20 percent and 17 percent respectively. But don't take these numbers at face value, though, because it's how the Sentra uses this power that really impresses.
As we applied more throttle on the open stretches of road, the Sentra accelerated with an urgency and confidence that was quite unexpected. We waited for the torque to fall off as the speedometer climbed, but it never happened because the latest-generation Xtronic (continuously variable) transmission works behind-the-scenes to make sure the engine is always in or near its optimum power band. And as much as we're purists who love the feel of manual transmissions, we could really subscribe to the sensation of never-ending thrust!
On the portion of the drive that took us into the twisting hillside roads of Malibu, this is where the Sentra really got to flex its athleticism and show off how the lower and wider stance enhances its handling behavior.
Driver inputs feel very direct thanks to a new electric power-steering system, and the tires gripped with a level of confidence that we traditionally don't expect from a compact sedan. Even with our spirited driving through tight corners, excessive body roll and understeer were nearly imperceptible. This is largely due to a new independent rear suspension that's been tuned to complement a front setup with McPherson struts. All four corners use twin-tube shock absorbers so unwanted undulations are quickly cancelled out. And with the lowered center of gravity of the car, the overall body control and feedback from the road approaches sports car-like levels.
But physical tuning and hardware aren't the only contributors to this sedan's performance capabilities — every 2020 Sentra also features Nissan's advanced Active Understeer Control System, which uses advanced logic to gently apply braking to the inside front wheel during cornering when necessary.
There's a lot at work under the hood to make sure we're getting the stability, handling and comfort we need to drive confidently in any situation. Fuel economy for the 2020 Nissan Sentra SR Premium is an EPA-estimated 28 mpg city and 37 mpg highway*.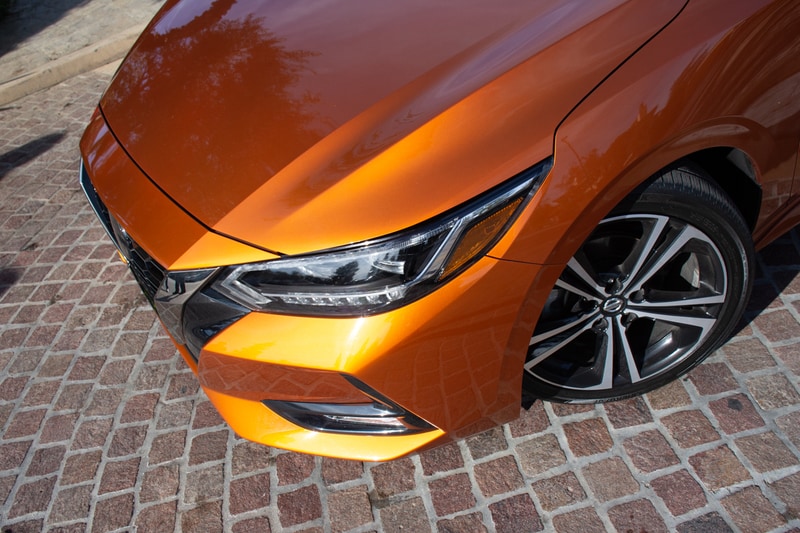 2020 Nissan Sentra SR Premium Safety
In my opinion, the safety features of the 2020 Sentra go a long way in placing this sedan at the top of its segment in terms of overall value.
Case in point, Nissan's Safety Shield 360 — an advanced collection of driver assist technologies — is included as standard equipment on all models of the new Sentra. This suite of six active and passive safety features consists of: automatic emergency braking with pedestrian detection, blind spot warning, rear cross traffic alert, lane departure warning, high beam assist, and rear automatic braking.
And while other cars in the segment, like Honda Civic, Toyota Corolla, and Hyundai Elantra, offer some of these same technologies, none have as complete a package as the Sentra. For example, rear automatic braking simply isn't offered at all by Civic, Corolla, and Elantra. And for the handful of items that are available, you're paying a much higher premium to get them since they're considered optional equipment, instead of being offered as standard features like on the Sentra.
Our 2020 Sentra SR test model also came with the available Premium package, which adds a 360-degree exterior camera system and intelligent cruise control. For those with long and slow commutes, the cruise control's ability to bring the car to a complete stop in traffic is a huge help.
And I'm only scratching the surface of the long list of standard safety amenities. Further exploration revealed elements that are traditionally found on more expensive vehicles; for example, Intelligent Driver Alertness, immobilizer system, and anti-theft alarm system.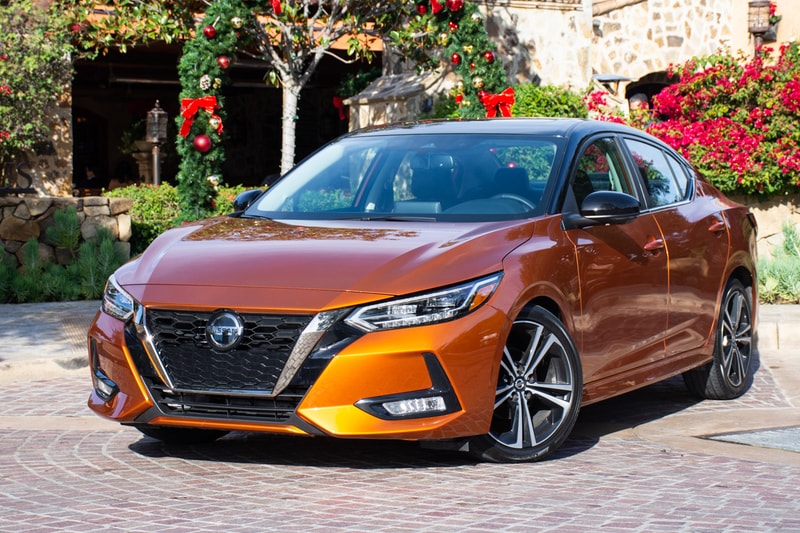 2020 Nissan Sentra SR Premium Overall
Nissan has always been known to push the boundaries of technology and value within each segment, and the Sentra is another perfect example of unmatched bang-for-the-buck, in the areas that matter the most.
Starting MSRP for the 2020 Nissan Sentra SR is $21,430, and our test model came well-equipped with the Premium package for $24,400**.
*Based on EPA mileage ratings. Your mileage will vary depending on specific vehicle trim, how you drive and maintain your vehicle, driving conditions, and other factors.
** MSRP excludes tax, license, registration, destination charge and options. Dealer prices may vary.