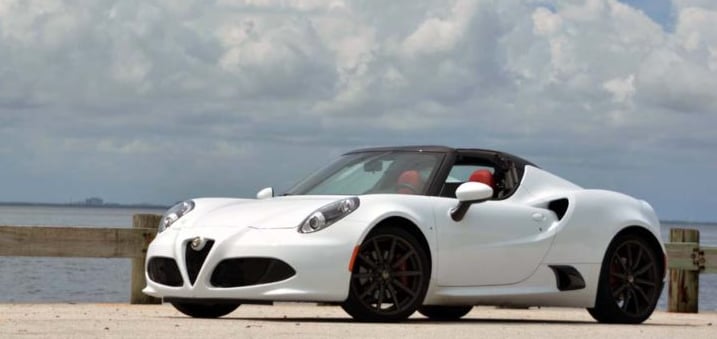 — by Jeffrey N. Ross
Just as Fiat and Maserati have done in recent years, Alfa Romeo is slowly rebuilding its lineup here in the U.S. After a 20-year absence, Alfa Romeo made its triumphant return in 2014 with the 4C, which was quickly followed up by the topless 4C Spider. In coming years, Alfa Romeo will continue its expansion with new models that include the all-new 2017 Giulia sedan and an anticipated crossover. To see how good of a foundation this Italian brand is rebooting itself with, I was able to spend a full week test driving the 2016 Alfa Romeo 4C Spider.
2016 Alfa Romeo 4C Spider Exterior:
From a design standpoint, the 2016 Alfa Romeo 4C Spider is captivating. Everywhere I went, numerous people inquired about the car, and when it was parked, I always came back to a handful of people mulling about peaking in the window or taking pictures of the 4C. On a few occasions, I spent some time talking to these people, and I must admit that I wasn't all that surprised that most people didn't know it was an Alfa Romeo (more than a few called it a Ferrari), and I was even less surprised that many had never heard of Alfa Romeo. Alfa Romeo hasn't sold a new car in the U.S. (except for the severely low volume 8C Competizione) since 1995, after all. What a way to make a comeback.
I totally see how an Average Joe could mistake the 2016 Alfa Romeo 4C Spider for a Ferrari with its swooping body lines, triangular headlights and circular LED taillights. Alfa Romeo offers the 4C in a variety of colorful hues (including Rossa Alfa and Giallo Prototipo), but this car looks amazing simply in white – especially paired with upgrades like the contrasting dark grey wheels ($2,500) and the red brake calipers ($300). Alfa even incorporated fine details into the 4C Spider's design such as the brand's snake-and-cross logo, which can be found inside the fuel filler cap. And speaking of the logo placements, the FCA (Fiat Chrysler Automobiles) spirit is revealed in the engine compartment with iconic Mopar "M" branded onto a plastic shield for the alternator.
The styling differences between the 4C and the 4C Spider are minimal. There's the obvious lack of a solid roof, but the only real change is the rear hatch. On the coupe model, the engine is visible through the glass hatchback, but this window to the 4C's turbocharged soul is not found on the 4C Spider… perhaps this car's biggest letdown. Besides that, the 4C's flowing lines carry over from coupe to Spider, and it still gets a touch of exposed carbon fiber on the windshield frame and the air duct on the driver's side.
2016 Alfa Romeo 4C Spider Interior:
Open the doors, and there's even more exposed carbon fiber that instantly reveals the 4C's carbon fiber monocoque chassis, but the first things that draw the eyes are the sport bucket seats wrapped in red leather. This interior is as bare bones as a modern vehicle can be while still passing DOT and crash regulations, and with the exception of a five-point racing harness, the Alfa Romeo 4C Spider's cabin is as close as you'll get to a racecar. Even the small-diameter, flat-bottomed steering wheel and digital display screen look and feel more like a race car than a modern sports car.
Sure, there are conveniences like a "glove box" between the seats (with the volume of a coffee mug) and removable padded pouches (held in place by Velcro) on the side of the seats for holding your smartphone or other small items, but that's about it. Aluminum pedals add a nice styling touch as does the $300 for the carbon fiber gauge cluster bezel. As you might expect from a car measuring just 157 inches long and 73.5 inches wide, interior space is at a premium, but there is decent space for two occupants. Unlike the 2016 Miata, there is better spacing between the seats, but the parking brake lever takes up a lot of real estate in the center console leading to what seems like non-existent elbow room. And if you plan on having a passenger, you have to travel light with the trunk space limited to just 3.7 cubic feet. This is enough for, say, a roller board suitcase, but that doesn't include equipment stored back there including the car cover, spare tire kit, owner's manual and, of course, the folded-up roof panel.
As far as that removable roof goes, the 2016 Alfa Romeo 4C Spider isn't quite as quick and easy to go topless as a Miata, but enthusiasts will be happy to learn that this design only adds 22 pounds to the curb weight compared to the solid-roof 4C. There are two sliding pins on each side and twist-in-place locks just above the rearview mirror, and then the top can be removed and stored in the trunk. It's easily a one-person job, although it's a little tricky at first getting it to line up back in place.
Like the low-tech roof, there isn't much to see in the rest of the cabin when it comes to technology. The full-color digital cluster looks nice and is probably the most high-tech gadget in the 4C, but it lacks any sore of reconfigurable screens. Similarly, the 4C even has a conventional key – no push-button starter here – and the only stereo head unit available is a detachable face Alpine stereo that seems to be from the 1990s. Not only did this stereo leave wires hanging down from the passenger side of the dash, it also wasn't very easy or intuitive to use and had disappointing sound quality – even with the upgraded speakers that were part of the $1,800 Convenience Package (that also added an anti-theft system, cruise control and backup sensors).
2016 Alfa Romeo 4C Spider Performance:
The good news is that the 2016 Alfa Romeo Spider doesn't even need a stereo thanks to a boisterous engine mounted transversely just behind the front seats. This all-aluminum 1.75-liter turbocharged and direct-injected four-cylinder packs 237 horsepower and 258 pound-feet – 80 percent of which is available at a low 1,700 rpm – and while those displacement and power output figures might not seem worthy of an Italian sports car, that is just isn't the case with the 4C. Weighing just 2,487 pounds, the 4C Spider has an amazing power to weight ratio making this car both quick off the line and agile in the corners.
Mated to this engine is a lightning-quick, six-speed twin-clutch transmission (TCT). After selecting a gear using the quartet of push buttons on the center console, the transmission can be operated as an automatic or a manual, although even when in manual mode, the transmission still shifts automatically at redline. Choosing from the Alfa D.N.A drive mode toggle switch also alters the characteristics of the 4C. If you're buying the 4C Spider to have fun, the All-weather and Natural modes are useless… you're going to want to stay in Dynamic mode, which dumbs down the stability control and tightens up the throttle and transmission response. Full Race mode turns off all of the electric nannies and offers launch control, but this is meant for track duties only. Ready to park? Just push the "N" button and be sure to pull the parking brake lever.
On paper, Alfa Romeo says that the 4C Spider is capable of hitting 1.1g of lateral acceleration thanks to its road-hugging stance and sticky Pirelli P Zero, while the big Brembo brakes bring the 4C to a quick stop with a neck-snapping 1.25g of braking power. The 0-60 of 4.1 seconds and the top speed of 160 mph aren't exactly remarkable in an age where the Nissan GT-R has a sub-3-second 0-60 time and a Dodger Charger Hellcat can top 200 mph, but going fast in a car as small and nimble as the 4C Spider more than makes up for any perceived shortcomings.
Like the high-pitch screaming of a Ferrari V-12 or the deep burble of a Hellcat Hemi, the sounds emitted from the 2016 Alfa Romeo 4C Spider adds to the overall experience. If you like how the Fiat 500 Abarth sounds, then you'll be smitten with the 4C's $500 racing exhaust – just don't expect your neighbors to feel the same way. Even without the exhaust, the engine provides its own symphony as the small engine races over 6,000 rpm and then the turbo's wastegate releases its whooshes and whistles just inches away from the occupants' ears.
Not that many buyers will be concerned with fuel economy, but this small engine benefits from the same advancements currently being used from compact cars and sports cars to full-size trucks and SUVs: downsizing, turbocharging and direct injection. In concert, these all help the 4C maintain a decent level of efficiency to go along with its impressive performance. Official EPA figures sit at 24 mpg city and 34 mpg highway**, which aren't as good as the new Miata but are still commendable considering the level of performance and enjoyment. After a week of driving this car deep into its rev range as often as possible, I still averaged close to 22 mpg in mostly city driving.
2016 Alfa Romeo 4C Spider Safety:
The 2016 Alfa Romeo 4C Spider might represent a road-ready racecar, but it still offers all of the safety devices expected from modern cars. This includes electronic stability control, launch control, front and side airbags, a driver's knee airbag, four-wheel ABS and Hill-Start Assist.
2016 Alfa Romeo 4C Spider Overall:
The best part about the 2016 Alfa Romeo 4C Spider is that it is available at just a fraction of the price (and pretentiousness) as other sexy Italian sports cars. For what this car is, the hardtop Alfa Romeo 4C seems like an absolute bargain with a starting price of $55,900*, but buyers opting for the open-top experience will be required to pay an $11,000 premium for 2016 Alfa Romeo 4C Spider. The base price of the Spider is $64,900*, and after adding on all the goodies, the 4C Spider I drove had an as-tested price of $71,895, which is just below the price of a Porsche Boxster GTS and should be a little higher than the 2017 Audi TT-RS, which goes on sale later this year.
Unlike these similarly priced and sporty two-seaters, it would be hard to imagine the 2016 Alfa Romeo 4C Spider as a daily driver. The more I drove the 4C Spider, the more amazed I was at how much this roadster resembles a track-ready racecar rather than an affordable, street-legal sports car. In fact, I would say that the 4C is an everyman's exotic that offers supercar-like styling and performance at an attainable price. I had plenty of fun driving the 4C Spider, but I would have traded my week with the car for just an afternoon on a road course to enjoy this car in its intended environment.
Make sure to visit your local AutoNation dealership today and check out the 2016 Alfa Romeo 4C Spider!
*MSRP excludes tax, license, registration, destination charge and options. Dealer prices may vary.
**Based on 2016 EPA mileage ratings. Your mileage will vary depending specific vehicle trim, how you drive and maintain your vehicle, driving conditions, and other factors.