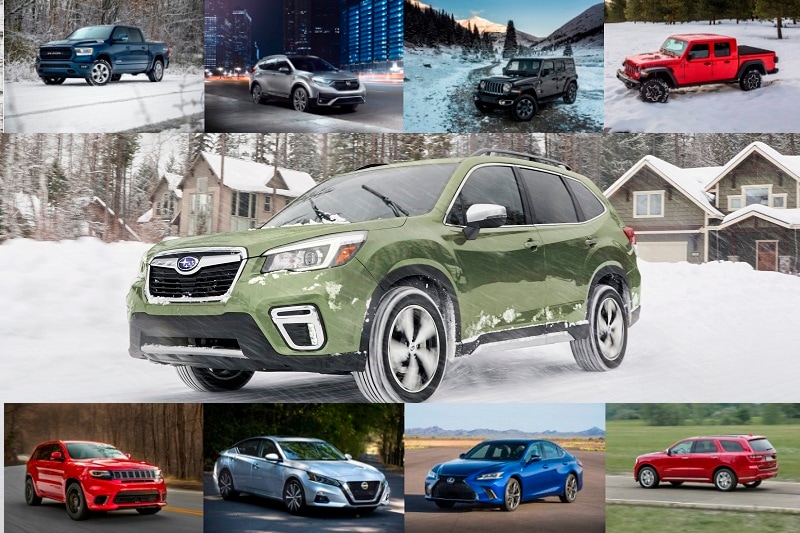 These Ten Vehicles Will Keep You Moving Through Wintry Weather With Ease
— by
Manuel Carrillo III
Shopping, gift-wrapping, grocery-getting, party-going and visiting family are some of the common ingredients that make up the holiday season. All those activities carry a lot of stress potential, which means the last thing you need is your car, truck or SUV giving you drama while you go about your holiday business.
Whether you're planning to stay local or road-trip across the country this holiday, we've picked a varied assortment of vehicles that will best fit your needs to keep you moving through the season of frigid outside temperatures, raging fireplaces and warm cups of cocoa.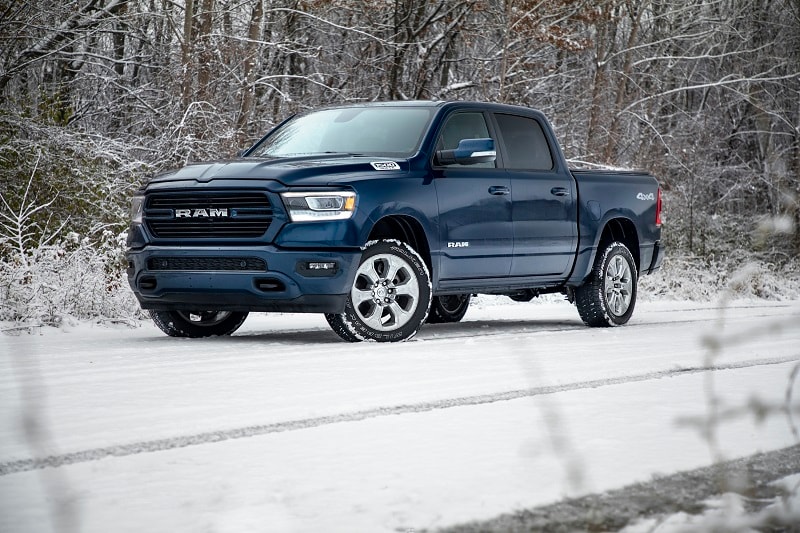 2020 RAM 1500
Full-size pickups are the most popular vehicle segment in the US in part because they are so versatile. They can haul a family in comfort while carrying plenty of cargo out back. It also doesn't hurt that the big trucks can tow more than 10,000 pounds, as well.
Our favorite full-size pickup of them all is the
RAM 1500
. From the base Tradesman starting at $33,840 to the Limited at $55,360*, you're going to get a refined driving experience that feels more car-like than other full-size pickups. Fuel economy is also more car-like, with the diesel-powered version getting an EPA-estimated 22 miles per gallon in the city and 32 mpg highway**.
Like other full-size trucks, you can equip the 1500 (which comes standard in rear-wheel drive) with all-weather, off-road-ready four-wheel drive, as well as gas V6 and V8 engines. What elevates the RAM 1500 above the competition is that it's the first full-size pickup to be awarded the Insurance Institute for Highway Safety's (IIHS) Top Safety Pick+ rating. That should give you some extra peace of mind for keeping the entire family as safe as possible during that long drive to grandma's.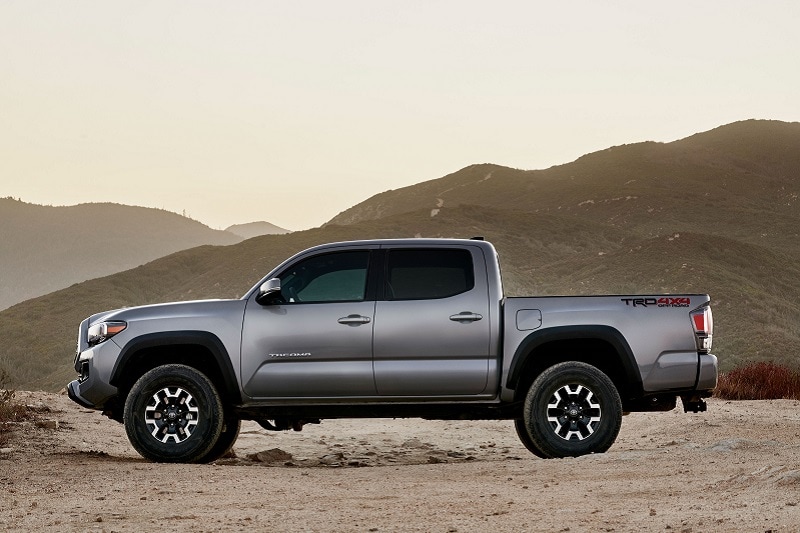 2020 Toyota Tacoma
Are you daunted by the thought of parking a full-size pickup at your local mall for last-minute holiday shopping? We get it. Like finding the right gift, parking a large vehicle takes a certain set of skills. The good thing is, you don't need a huge truck to get all your errands done this holiday season, and when it comes to midsize pickups, it's hard to go wrong with the
Toyota Tacoma
.
For a $27,145 starting price*, you'll get the base extended-cab model with rear-wheel drive and a 2.7-liter, four-cylinder engine making 159 horsepower and 180 pound-feet of torque sent through a six-speed automatic transmission. The base model is great if you need to throw the holiday tree in the six-foot bed and dash into the snow, but if you want to carry the family along, opt for the Limited trim at $39,885*. Its bed is a foot shorter, but for what you lose out back, you gain with much more interior space and, consequently, comfort for all your passengers.
If you want to get to the ugly sweater party on time, opt for the 3.5-liter V6 with 278 horsepower and 265 pound-feet of torque. The bigger engine can tow up to 6,800 pounds and can also be paired with four-wheel drive. Regardless of which engine you choose, though, fuel economy isn't the greatest at 20/23 city/highway mpg for the inline-four, and 19/24 city/highway mpg for the V6-powered Tacoma**.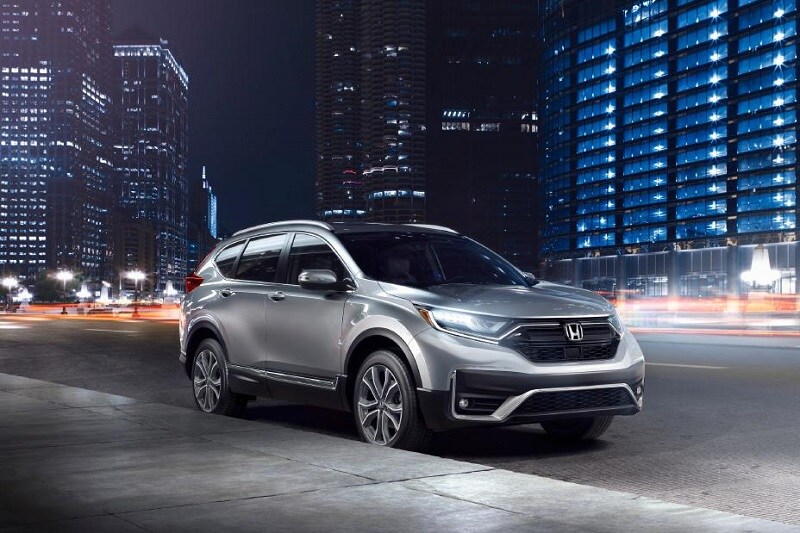 2020 Honda CR-V
The most popular vehicle segment after full-size pickups is compact crossovers. They're great at offering all-weather, family and cargo-hauling capability while taking up just as much garage space as midsize sedans of 10 years ago.
One of our favorites in the hot compact crossover SUV segment is the spacious
2020 Honda CR-V
. With up to 28/34 city/highway mpg**, you won't have to shell out too much at the pump to do your last-minute holiday shopping. The CR-V also comes standard with Honda Sensing, Honda's suite of driver-assistance features that includes adaptive cruise control, automatic emergency braking, lane-keep assist and automatic high-beams.
Under the CR-V's hood sits a 1.5-liter, turbocharged, four-cylinder engine making 190 horsepower and 179 pound-feet of torque sent through a continuously variable transmission (CVT) to the front wheels. The 2020 CR-V starts at $26,145*, and all-wheel drive adds another $1,500 to the bottom line.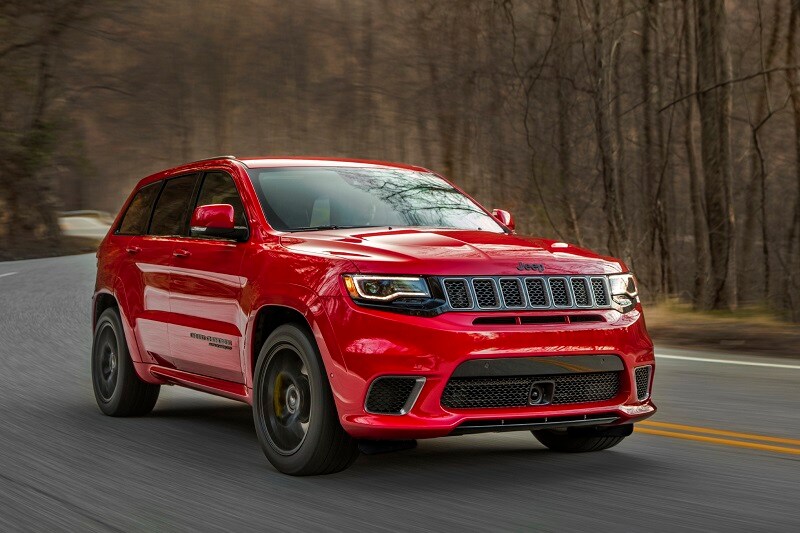 2020 Jeep Grand Cherokee
Among the vehicles on this top-ten list, the jack-of-all-trades
Jeep Grand Cherokee
is one of the best options for the undecided car buyer. Starting at $33,540*, the Grand Cherokee comes well-equipped with a 3.6-liter V6 engine making 295 horsepower and 260 pound feet of torque. An eight-speed automatic transmission is standard, as is rear-wheel drive. Four-wheel drive is $2,300 extra.
For a rugged midsize SUV, the Grand Cherokee is relatively efficient at 19/26 city/highway mpg**, though four-wheel drive lowers those city and highway estimates by one mpg. Standard interior features include Apple CarPlay and Android Auto on a seven-inch touchscreen, as well as driver-assistance features like blind-spot monitoring and cross-traffic alert.
More than any other offering on this list, the Grand Cherokee offers the most bandwidth in how you can configure it. Case in point, the 707-horsepower Grand Cherokee Trackhawk. At $88,395*, its hair-on-fire driving experience is sure to heat up the coldest corners of the holiday season.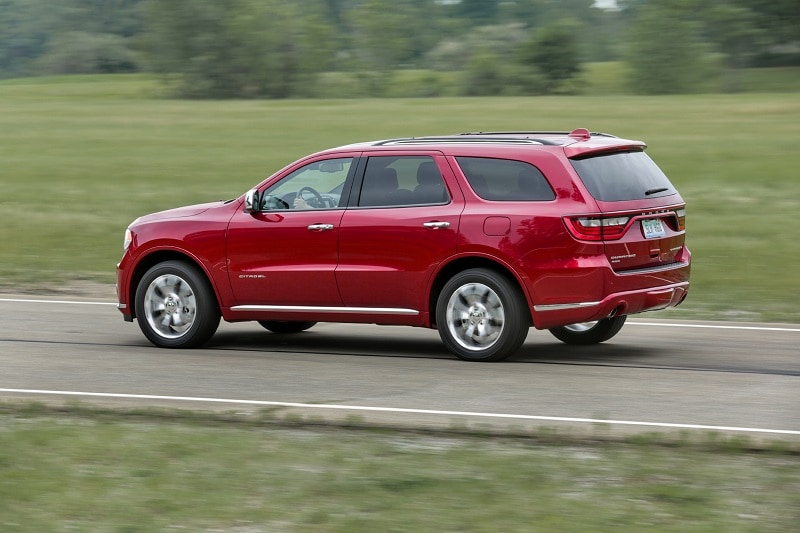 2020 Dodge Durango
The
Dodge Durango
and Jeep Grand Cherokee are built off the same platform, so either one is a great pick for a capable holiday vehicle. However, if cargo space and family hauling are more of a priority for you this holiday season, then the Durango with available third-row seating is the better bet. Dodge's midsize SUV offers seating for as many as seven occupants and up to 84.5 cubic feet of cargo space versus the Grand Cherokee's five-occupant maximum and 68.3 cubic-foot cargo cap.
Like the Grand Cherokee, the Durango (at $31,990 to start*) comes standard with a 3.6-liter V6 engine, eight-speed automatic transmission and rear-wheel drive. As a result of sharing the same underpinnings, the Durango also shares the Grand Cherokee's EPA fuel economy estimates of 19/26 and 18/25 city/highway mpg** for rear- and four-wheel-drive models, respectively.
Also, similar to the Grand Cherokee, Dodge offers a high-performance, $64,490 Durango variant, but with only 475 horsepower. That still should still be quick enough to keep the kids or your speed-loving spouse entertained.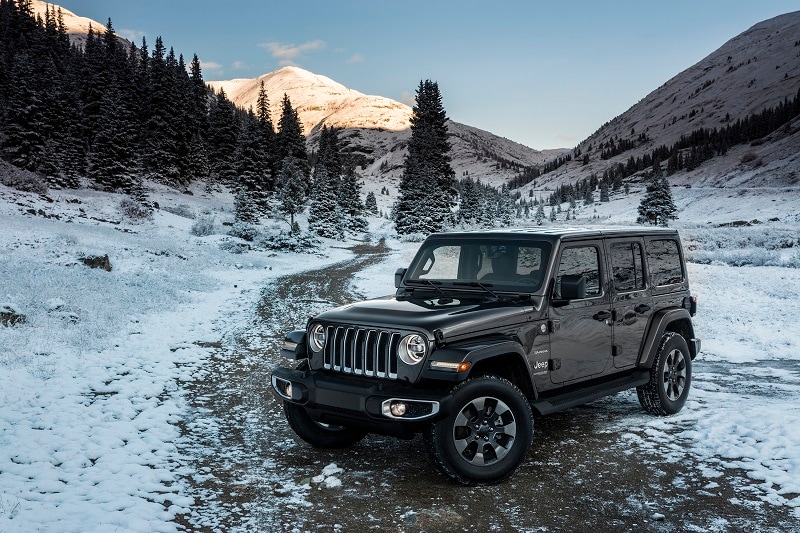 2020 Jeep Wrangler
Want a maximum dose of adventure this holiday season? The
2020 Jeep Wrangler
is probably the ride for you. Starting at $29,790*, the Wrangler is ready for action with its standard four-wheel drive, six-speed manual transmission and 3.6-liter V6 good for 285 horsepower and 260 pound-feet of torque. In its standard configuration, the Wrangler is estimated to achieve 18/23 city/highway mpg.
If you're looking for a little more fuel efficiency, the Wrangler can be equipped with a more miserly 2.0-liter, four-cylinder turbocharged engine that can return up to 22/24 city/highway mpg**. The four-cylinder is a zero-cost option, but does require upgrading to the eight-speed automatic which is $1,500 extra.
If you want the most fuel-efficient Wrangler, diesel is the way. A $4,000 option (limited to four-door Wranglers only), the 3.0-liter EcoDiesel V6 offers plenty of horsepower (260) and a tidal wave of torque (442 pound-feet). The EPA has yet to release the diesel Wrangler's fuel economy estimates, but they should be similar to the 22/32 city/highway mpg** of the Ram 1500 EcoDiesel.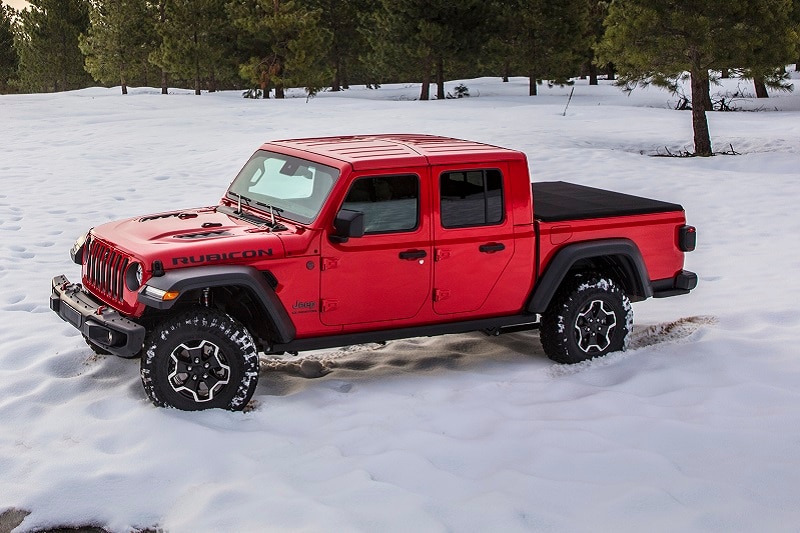 2020 Jeep Gladiator
If you liked the idea of the Tacoma above, but you want to turn heads, you might fancy a closer look at the
Jeep Gladiator
starting at $35,040*. Yes, it's basically a Jeep Wrangler with a truck bed, but what's wrong with some extra utility when you can haul up to a 1,600-pound payload and tow up to 7,650 pounds?
Despite being the Wrangler's close relative, the Gladiator only comes with a 3.6-liter V6. Four-wheel drive is standard, as is a six-speed manual transmission. The eight-speed automatic will cost you an additional $2,000, but offers more in-town fuel efficiency at 17/22 city/highway mpg versus the manual's 16/23 city/highway mpg**.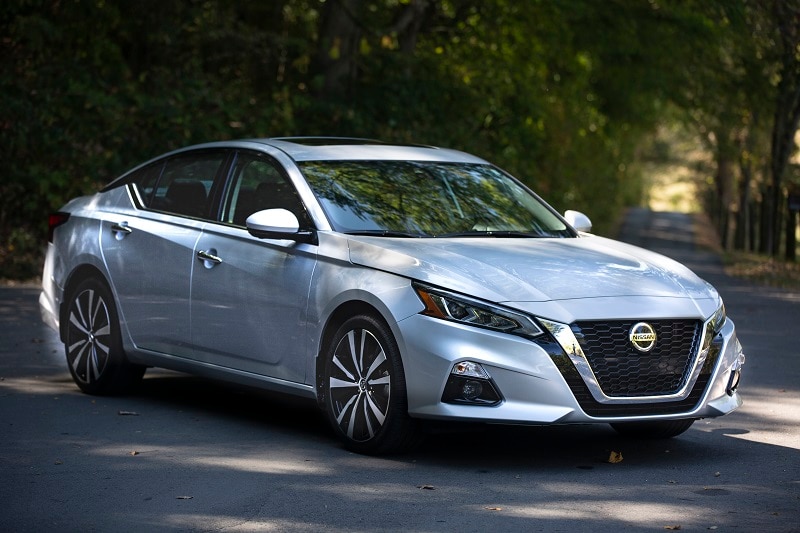 2020 Nissan Altima
Crossover SUVs may be all the rage right now, but sedans are still alive and kicking. In an effort to infuse more versatility (and popularity) into the sedan segment, automakers are now offering all-wheel-drive versions of their classically front-drive-only midsize sedans.
One of the more interesting AWD-capable sedans is the
Nissan Altima
starting at $25,025* in front-wheel-drive guise. Opting for all-wheel drive costs $1,350 extra, but forces you to stick with the Altima's standard 2.5-liter, four-cylinder engine making 182 horsepower and 178 pound-feet of torque, which is six less horsepower and two fewer pound-feet of torque than the same engine paired with front-wheel drive.
If you can live without AWD, then have a look at the Altima's optional 2.0-liter, turbocharged, four-cylinder engine that can vary its compression ratio for either maximum efficiency or maximum performance. The VC Turbo engine sends 248 horsepower and 273 pound-feet of torque to the front wheels. Regardless of engine, all Altimas come equipped with a CVT. In the midsize sedan's most efficient configuration (2.5-liter with FWD), the Altima is estimated to achieve 28/39 city/highway mpg**.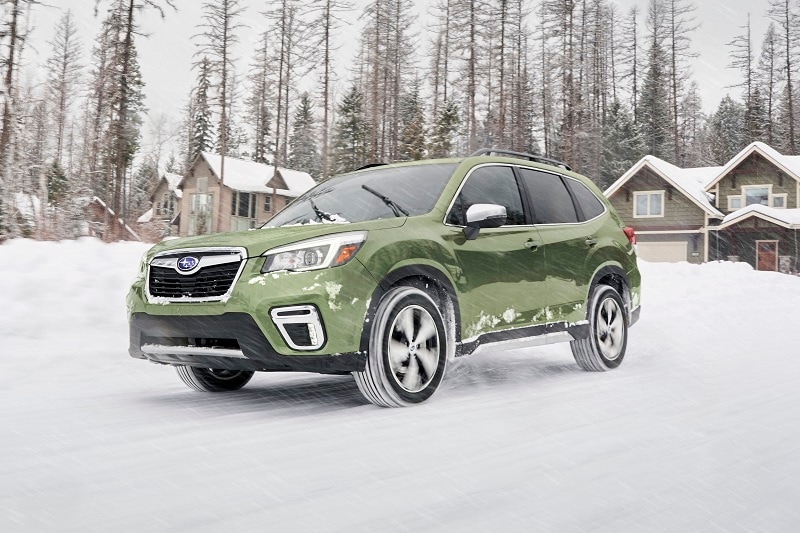 2020 Subaru Forester
Want to know why Subarus are so popular in the snowbelt? Because the automaker's entire lineup (excluding the BRZ sports car) comes with all-wheel drive standard. Do you need AWD to commute through snow? No. Winter tires and stability control do the job just fine, but AWD offers an extra bit of confidence that can make your holiday season a smidge more comfortable.
Starting at $25,505*, the
Subaru Forester
offers an affordable way to road-trip with your family during frightful weather. There's also plenty of room inside for holiday gifts with up to 76.1 cubic feet of cargo space. That's 0.3 cubic feet more than the Honda CR-V.
The compact crossover is powered by a 2.5-liter, flat-four-cylinder engine with 182 horsepower and 176 pound feet of torque sent through a CVT. According to the EPA, the Forester will achieve an estimated 26/33 city/highway mpg**.
The Forester is notable for its wealth of standard infotainment features such as Apple CarPlay and Android Auto on a 6.5-inch touchscreen. There's also an abundance of standard driver-assistance features, including adaptive cruise control, automatic emergency braking and lane-keep assist.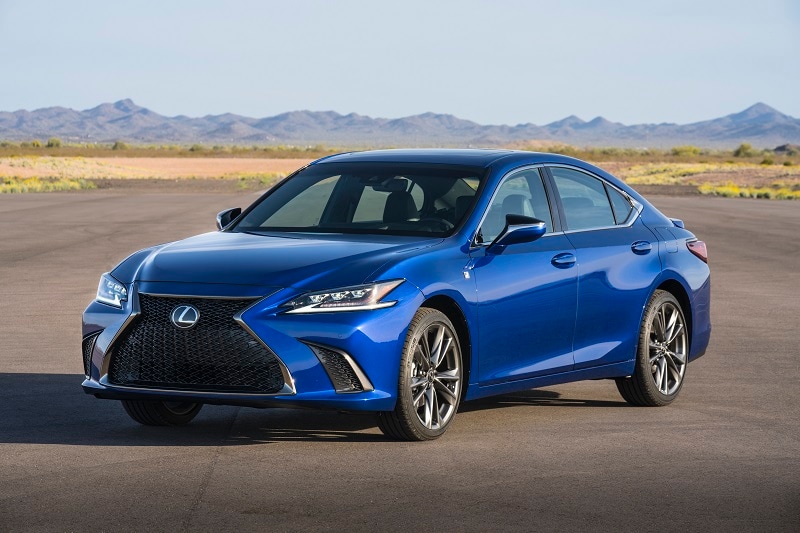 2020 Lexus ES
Has it been a hectic year? Looking for a car that can whisk you into the next decade, leaving behind this decade's worries? Well, no car can achieve exactly that, but the
2020 Lexus ES
comes close. The automaker's full-size entry-luxury offering is one of the most comfortable, yet attainable machines you can buy today.
Starting at $40,925*, the ES is powered by a 3.5-liter V6 making 302 horsepower and 267 pound-feet of torque. The V6 is connected to an eight-speed automatic transmission routing power to the front wheels. Configured as such, the Lexus ES 350 gets an estimated 22/32 city/highway mpg**.
For an extra $1,860, you can opt for the hybrid ES 300h. The more efficient ES is powered by a 2.5-liter, inline-four paired with an electric motor to make 215 horsepower, which is sent to the front wheels through a CVT. The more miserly powertrain results in EPA-estimated fuel economy of 43/44 city/highway mpg**.
The ES also offers plenty of standard tech like Apple CarPlay and Android Auto on an eight-inch display, as well as automatic emergency braking, adaptive cruise control, lane-keep assist, traffic sign recognition and automatic high-beams.

*Based on EPA mileage ratings. Your mileage will vary depending on specific vehicle trim, how you drive and maintain your vehicle, driving conditions, and other factors.
** MSRP excludes tax, license, registration, destination charge and options. Dealer prices may vary.