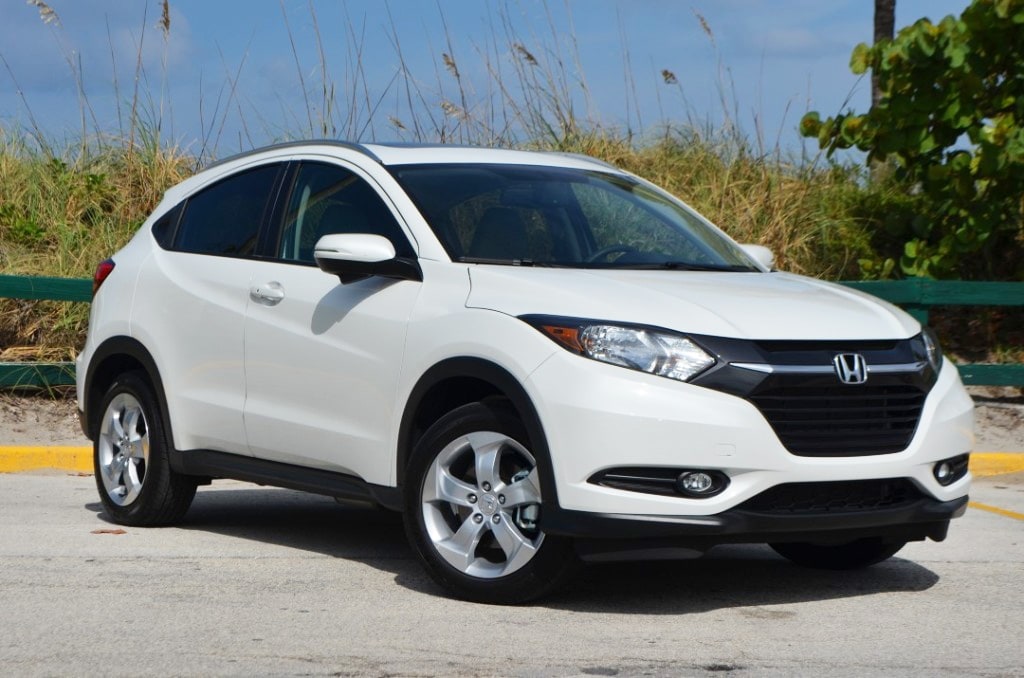 2016 Honda HR-V Test Drive
Reasons to love this vehicle…
With nearly 60 cubic feet of cargo space with Honda's trick rear Magic Seat folded down, the 2016 Honda HR-V is an extremely versatile subcompact crossover SUV. Spunky handling and great fuel economy ratings further add to the 2016 Honda HR-V's impressive qualities. Unless you need the additional interior volume of a compact crossover SUV like the Honda CR-V, there's really no reason to dislike the attractive and affordable 2016 Honda HR-V.
Pros:
Versatile Magic Seat; spacious interior for its size; fuel efficient; priced right
Cons:
Touchscreens are fantastic, but can we at least get a volume knob?
Competes with:
Mazda CX-3, Jeep Renegade, Nissan Juke, Mini Cooper Countryman, Fiat 500X, Chevrolet Trax, Buick Encore, Subaru XV Crosstrek
Like Derek Zoolander's fellow male model Hansel, touchscreens are so hot right now. As such, 2016 Honda HR-V EX and EX-L Navi models have not one, but two available touchscreen panels: a 7-inch touchscreen infotainment system, plus a touchscreen HVAC system.
Want to turn down the stereo's volume? Place your sweaty digit on the "minus" symbol under "VOL" until you reach a pleasing decibel level. Need to increase fan speed on the HVAC system? Peck at the backlit "up" arrow located above the "fan" symbol until air is blowing from the five dashboard-mounted front cabin vents at an adequate level.
Are the touchscreen panels in the 2016 Honda HR-V EX and EX-L Navi really any better than the knobs and buttons that come on the base-level 2016 Honda HR-V LX? Probably not, but this is the 21st century and physical buttons are so last millennium.
In order to see if the 2016 Honda HR-V can live up to the demands of 21st century buyers, Honda lent us a top-of-the-line 2016 Honda HR-V EX-L Navi with all-wheel-drive to test for a week.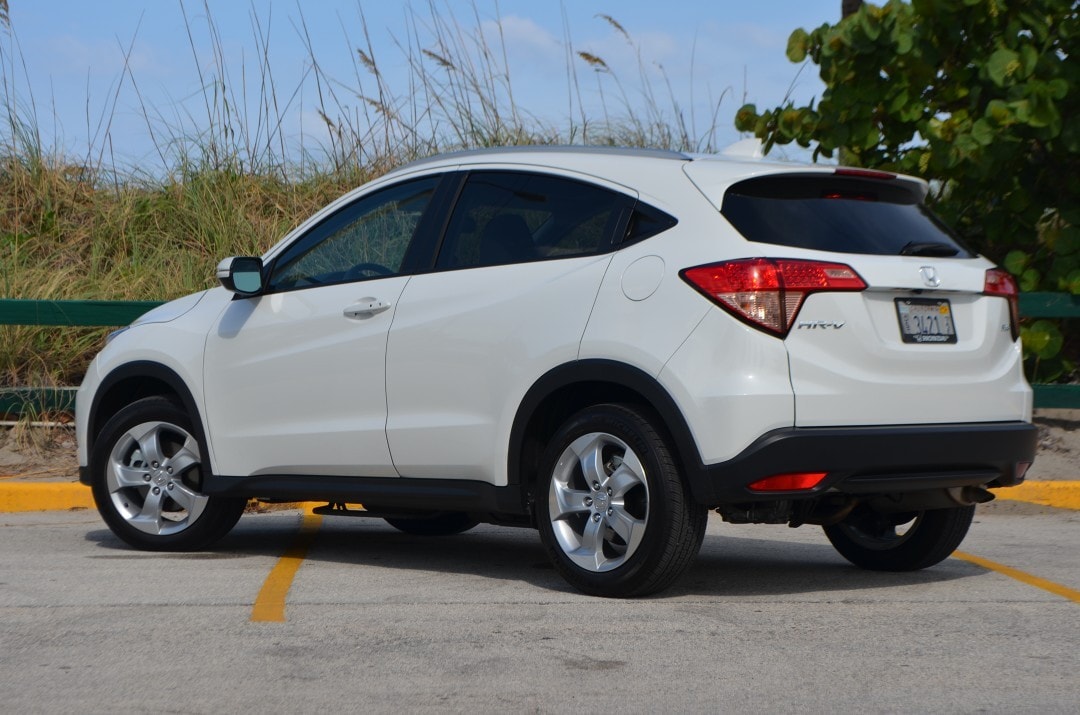 Exterior
Don't let the 2016 Honda HR-V's hidden rear door handles fool you. While the HR-V may look like a two-door subcompact crossover SUV, the little cute-ute actually sports four real doors.
Although the 2016 Honda HR-V may not possess the chic looks of competitors like the Fiat 500X, Mini Cooper Countryman or Mazda CX-3, unique exterior detailing — like the aforementioned hidden rear door handles — and distinct character lines provide the HR-V with a pleasing exterior style that belies its fun and versatile nature.
LED taillights, 17-inch alloy wheels and a small shark-fin antenna come standard on all 2016 Honda HR-V models. Our White Orchid Pearl EX-L Navi test vehicle also came with additional niceties like roof rails, fog lights and mirror-mounted turn signals.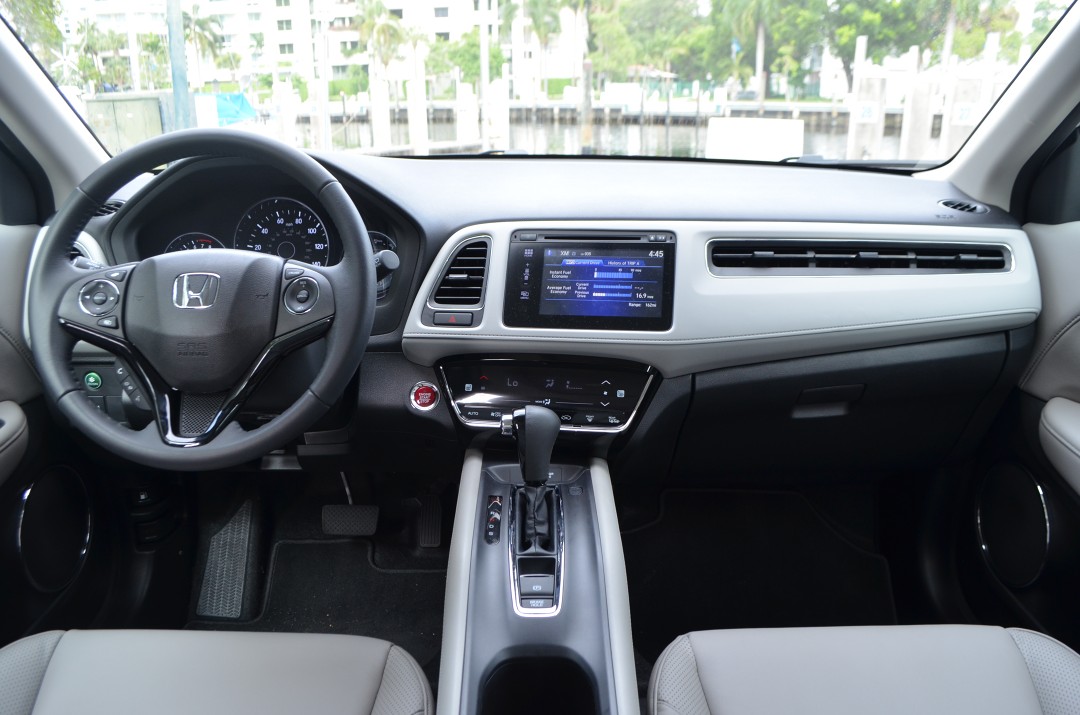 Interior
Spacious and comfortable, the 2016 Honda HR-V's interior is a quality place to spend time. Leather trim on our EX-L Navi test vehicle's door panels and dashboard complimented the trim's touchscreen controls. While the available 7-inch touchscreen infotainment system proved as easy to use as a modern iPhone, we do long for a physical volume knob in place of the current touch-sensitive volume control. Similarly, the touch-sensitive controls for the HVAC system were quick to respond to inputs and easy to use. Nevertheless, the less tech-savvy consumers will want to look strictly at the entry-level 2016 Honda HR-V LX, which uses knobs and buttons for both its infotainment and HVAC systems.
In back, all 2016 Honda HR-V trims sport Honda's Magic Seat. First seen in the Honda Fit, the Magic Seat adds to the HR-V's versatile nature. Thanks to a center-mounted fuel tank, the HR-V benefits from a low cargo floor and step-in height. As a result, the surprisingly comfortable 60/40-split rear seat is able to fold completely flat with the cargo floor, allowing 2016 Honda HR-V owners to leverage as much as 58.8 cubic feet of cargo space in front-wheel drive models (57.6 cubic feet in all-wheel drive models) when placed in "Utility Mode."
While incredibly roomy, the 2016 Honda HR-V is decidedly short. Thanks to the Magic Seat's "Long Mode," HR-V owners can fold the rear seat down and tilt the front passenger seat completely flat to allow for longer items to fit inside of Honda's subcompact crossover SUV.
Finally, 2016 Honda HR-V owners can also raise the rear seat bottoms to utilize the Magic Seat's "Tall Mode." Courtesy of the HR-V's low step-in height, owners can easily slide tall items like potted plants or television sets in the confines of the little crossover's rear seating area when using this Magic Seat mode.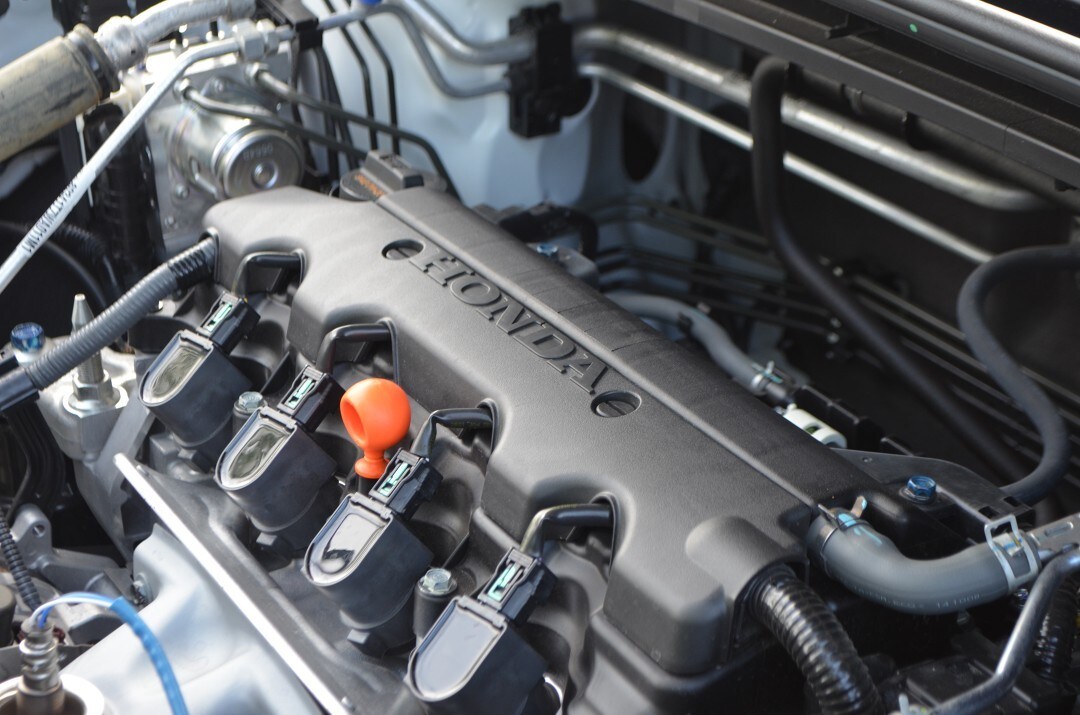 Performance
With only 141 horsepower, the 2016 Honda HR-V isn't a particularly quick vehicle. Despite this, the HR-V's 1.8-liter inline-4 cylinder engine does a fine job of bringing the pint-sized Honda crossover up to speed.
The 2016 Honda HR-V is available with front- or all-wheel drive. Front-wheel drive models can be paired with either a 6-speed manual transmission or continuously variable transmission (CVT), while all-wheel drive models are limited to the CVT. Our all-wheel drive test vehicle's CVT managed to effortlessly and efficiently keep the HR-V in the thick of its powerband.
EPA-estimated fuel economy is listed at 27 MPG city and 32 MPG highway for 2016 Honda HR-V all-wheel drive models. During our week of testing we saw approximately 28 MPG. Front-wheel drive 2016 Honda HR-V's with the CVT manage EPA-estimated fuel economy figures of 28 MPG city and 35 MPG highway, while 6-speed manual 2016 Honda HR-V's earn EPA-estimated fuel economy figures of 25 MPG city and 34 MPG highway.
Surprisingly quiet, the 2016 Honda HR-V is a docile highway cruiser. Its slab-sided nature does cause it to move about a little in the wind; however, the HR-V's hushed cabin and well-tuned suspension make it feel especially safe and secure at highway speeds.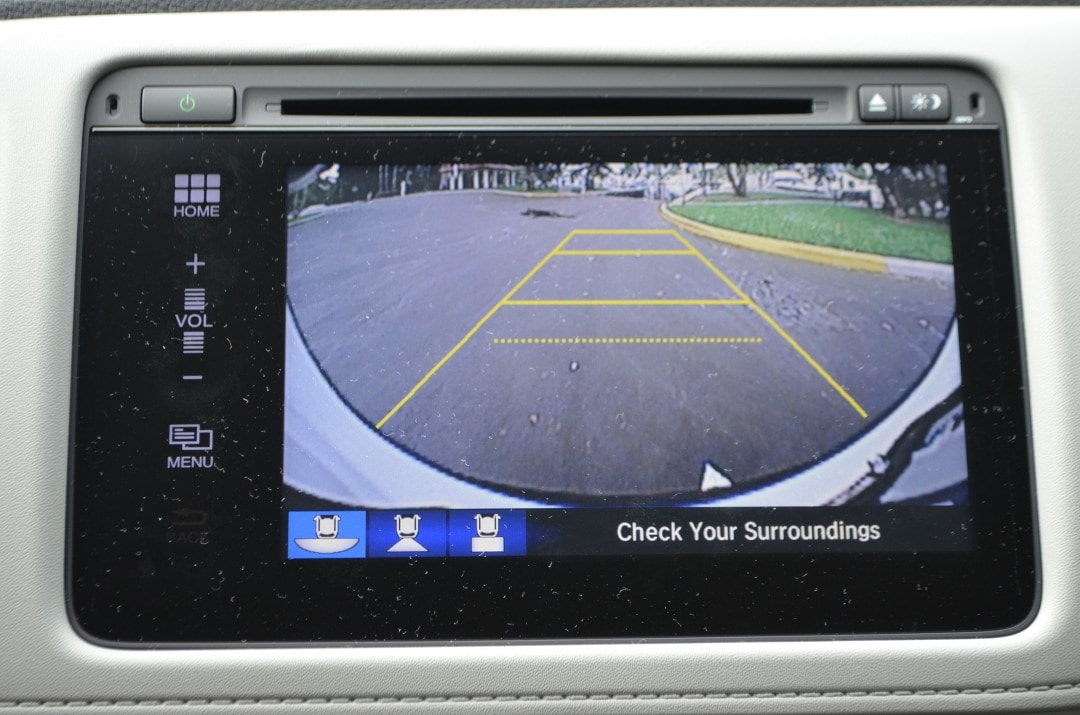 Safety
Every 2016 Honda HR-V comes equipped with stability and traction control, a tire pressure monitoring system, a hill-start assist system and a rearview camera. EX and EX-L Navi trims add Honda's LaneWatch system, which uses a camera mounted on the passenger-side exterior mirror to display blind-spot information onto the 7-inch touchscreen infotainment system.
Neither the National Highway Traffic Safety Administration (NHTSA) nor the Insurance Institute for Highway Safety (IIHS) have yet to safety test the 2016 Honda HR-V.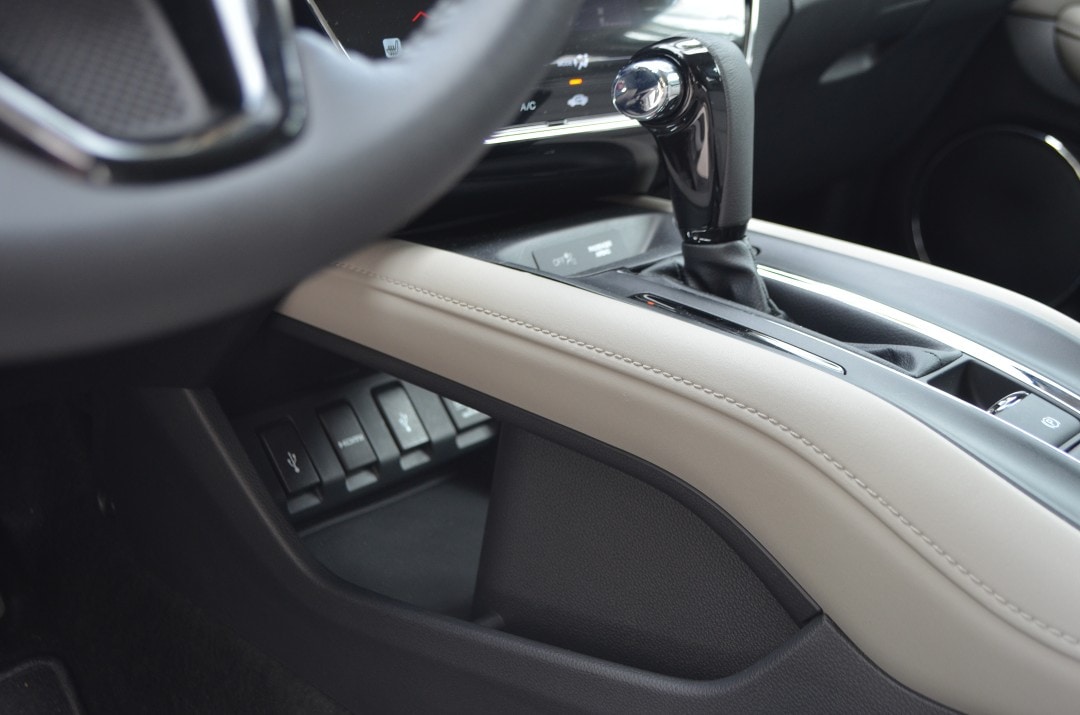 Price
Starting at $19,115, the 2016 Honda HR-V LX comes standard with such features as 17-inch alloy wheels, an electronic parking brake, a 5-inch color LCD infotainment display, a rearview camera, keyless entry, cruise control, steering wheel-mounted audio controls, a tilt-and-telescoping steering wheel, Bluetooth, an auxiliary input and USB port, and a hill-start assist system. Options include a CVT ($800) and all-wheel drive ($1,250, on top of the required CVT).
Opting for the 2016 Honda HR-V EX adds heated seats, a power moonroof, keyless entry with push-button start, automatic headlights, fog lights, heated mirrors with integrated turn signals, Honda's LaneWatch system, an additional USB port, an upgraded audio system with a 7-inch touchscreen display, rear privacy glass, a touch-sensitive automatic climate control system and chrome interior bits. Meanwhile, paddle shifters are added to the optional CVT transmission ($800). All-wheel drive remains a $1,250 option and is only available with the CVT transmission.
Finally, the 2016 Honda HR-V EX-L Navi adds a navigation system, HD Radio, SiriusXM radio, leather-trimmed seats and door panels, a leather-wrapped steering wheel and shift knob, an automatic day/night rearview mirror and integrated roof rails. Available only with the CVT, buyers can add all-wheel drive to the EX-L Navi trim for $1,250.
With the addition of $880 in destination charges, our 2016 Honda HR-V EX-L Navi all-wheel drive test car rang up at $26,720.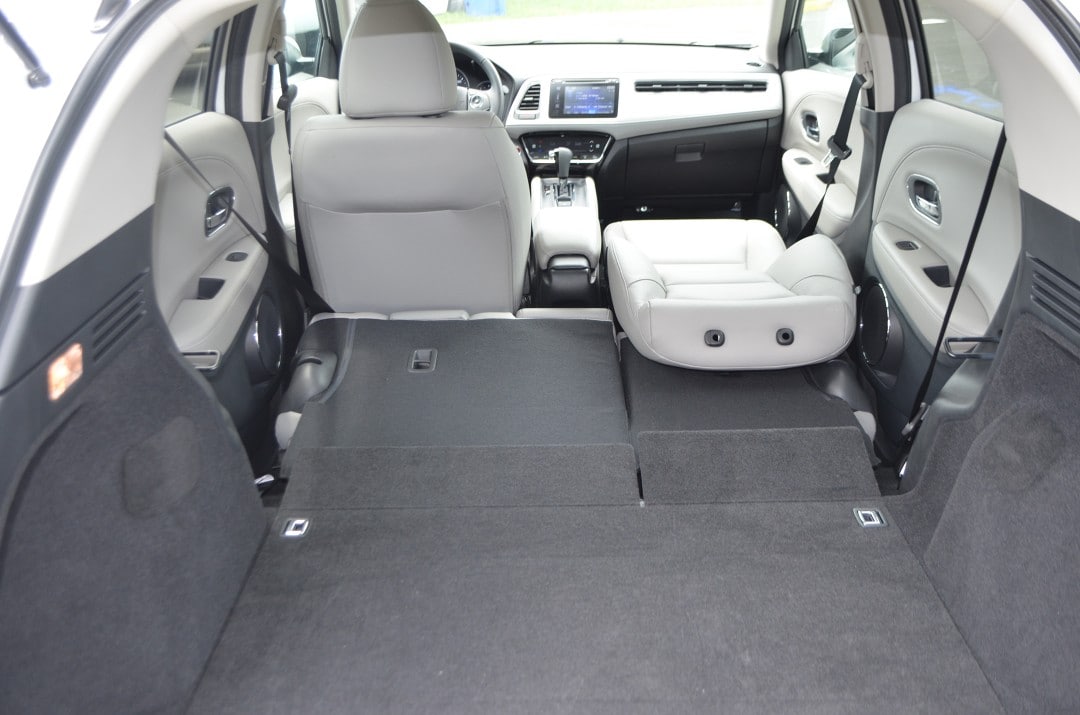 Overall
While the 2016 Honda HR-V may lack the striking looks of the similarly-sized Mazda CX-3, the little subcompact crossover SUV from Honda is a generally attractive package inside and out. Well-equipped in even its least-expensive form, the 2016 Honda HR-V is both spacious and comfortable, while the rear Magic Seat brings with it additional versatility that the HR-V's competition lacks.
Fuel efficient and comfortable, the 2016 Honda HR-V stands out as a top choice in the very competitive subcompact crossover SUV class.