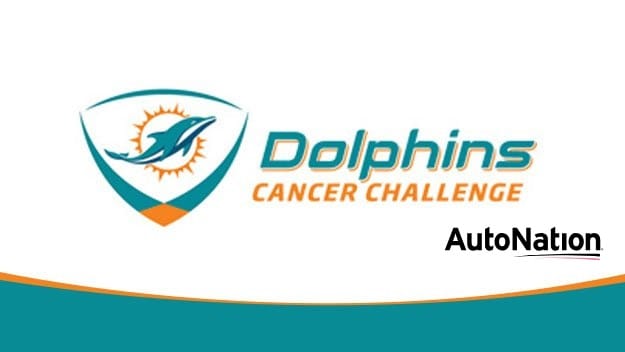 AutoNation is proud to again sponsor the Dolphins Cancer Challenge!
Team AutoNation will be biking, running, and joining the fun as part of its commitment to fighting cancer. Together we are driving out cancer and making a difference in our community! For nearly a decade, the Dolphins Cancer Challenge has been raising fund to support the work of South Florida's Sylvester Comprehensive Cancer Center, a state-of-the-art facility where doctors and researchers are making great strides toward the goal of ending the scourge of cancer. To date, over $27 million has been raised, and we're hoping this year will be the most successful ever!
So whether you're a hardcore cyclist ready to tackle the Hurricane Hundred, a casual rider looking to complete 14-mile Dolphins ride, or want to do the 5K walk/run, or something in between, there's a leg of the event that will fit your needs. For all the details on this uplifting event, head to the official Dolphins Cancer Challenge website!
We are all #CancerFighters! So join us on April 6th, 2019 at Hardrock Stadium!