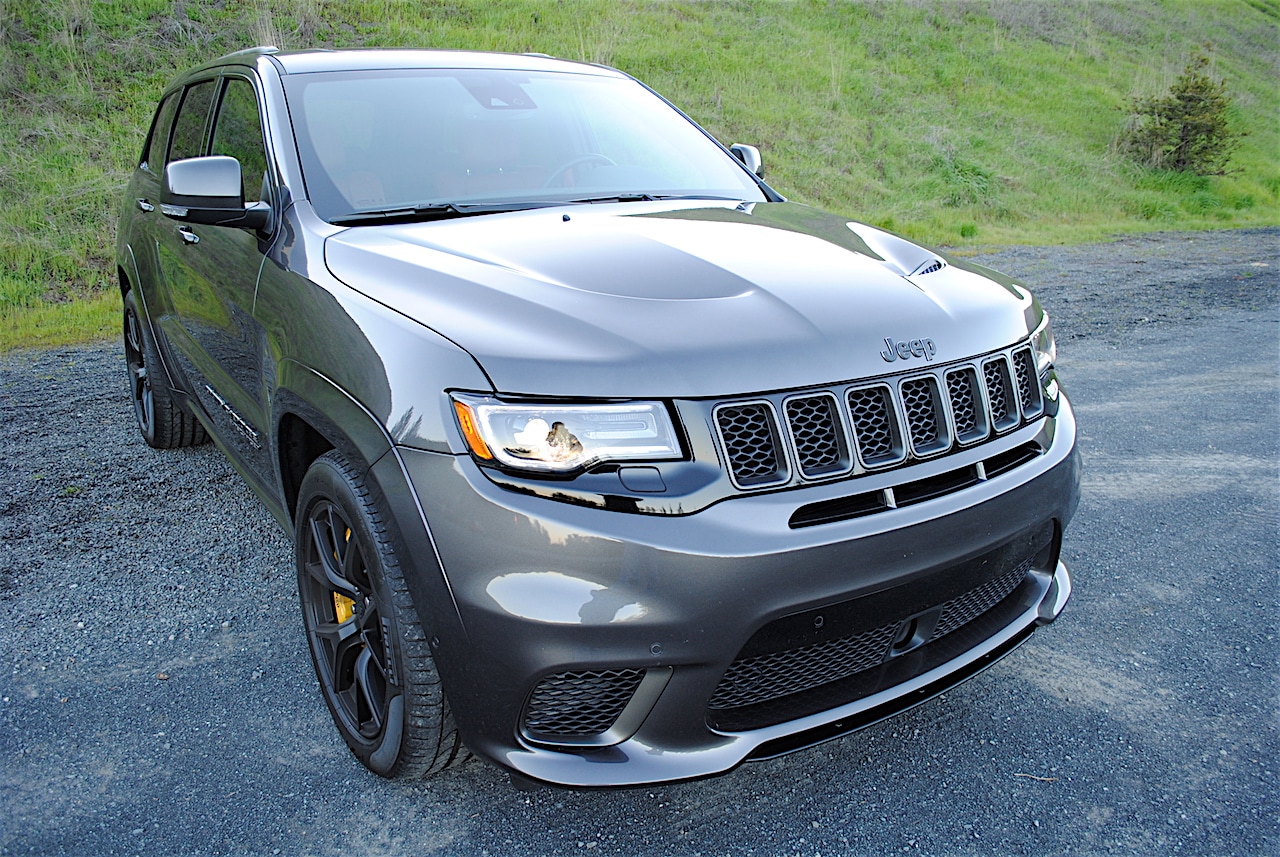 My first experience with the Jeep Grand Cherokee TrackHawk came last year at
Club Motor Sports Park in New Hampshire
. It was mainly a track event where we got to experience how a 5,300-pound SUV with 707 horsepower handled when driven in anger.Overall, it was pretty impressive, but the fact of the matter was, I really wanted to know how it would perform as a daily driver. That opportunity came last week, when a fully optioned 2019 model was dropped at my home. It was finished in Granite Crystal Metallic paint, and sported a whopping $100,215 sticker price.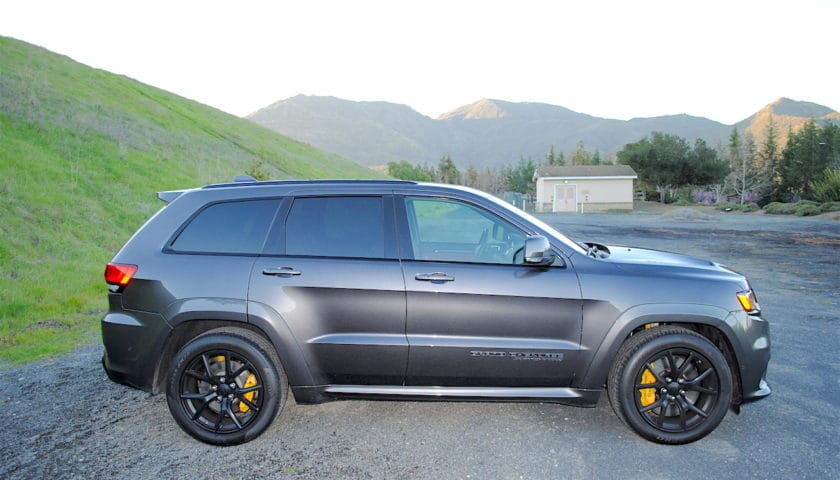 2019 Jeep Grand Cherokee TrackHawk Exterior
It looks like an angry Storm Trooper. Seriously, that's what I think of when I stare at this thing. And while I don't think it's something Darth Vader would roll in, I can absolutely see his bodyguards flanking him in a group of Imperial TrackHawks when he has to make an appearance. Truth is, standing still or rolling up to its 180 mph top speed, the 2019 Jeep GC TrackHawk is menacing. A blacked-out seven-slot grille with a lower air intake vent serves as the focal point, while an aggressive lower front fascia with further intakes for cooling gives it a bulldog-like stance.The scalloped hood combines twin-air extractors that help the 6.2-liter supercharged HEMI V8 breathe. It's beautifully designed, and isn't something which I'd immediately associate with any Jeep product. Out back quad-tipped exhaust ports in a gloss diffusor emit a sound that would make any supercar owner stop and take notice. Body sculpted fender flares cover the wheel arches and help to house the TrackHawk's massive 20x10-inch satin black alloy wheels running 295/45-series Pirelli P-Zero tires.Then, nestled in the center section of the rear diffuser is a Class IV receiver hitch along with a seven and four-pin wiring harness for towing. Of course, the bright yellow Brembo calipers are a nice touch as well.Overall, the TrackHawk comes to us with an appearance package that while fully functional in regards to aerodynamics, also offers up a persona that's simply hard to ignore.
2019 Jeep Grand Cherokee TrackHawk Interior
I don't care who the manufacturer is, if a vehicle comes to you with a price tag of over $100k, it better have a stellar interior. Now we can hear you saying that in the case of the TrackHawk you're basically paying for the privilege of owning one of the fastest SUVs on the planet.But what's great is that Jeep did, a fantastic job with the TrackHawk's cabin. Napa Leather covers the seats, console, lower dash and door panels. It's ultra soft and comes with white contrasting stitching. The upper dash is also covered in black leather but relies on carbon fiber inserts to set it apart. The front seats themselves are electronically adjustable buckets that offer heat, ventilation, and enough bolstering to keep you planted through tight corners. They're also TrackHawk branded and depending on your options list can be had with video monitors that allow rear passengers full HDMI connectivity.UConnect 8.4, with its 8.4-inch touchscreen is the gateway for interaction between you and the Jeep. Here you can access the SRT Performance Pages to set your TrackHawk up the way you like it. Everything from the transmission to the steering feel can be set here. UConnect also gives you access to the Harman-Kardon sound system, phone, climate, media, navigation and any apps you may have downloaded via your mobile device. The dash itself is standard Grand Cherokee and uses both analog and a digital readout cluster. But with the TrackHawk, you get the performance setting that lets you see everything from your quarter mile and zero-to-60 time to your fuel economy.A standard gearshift lever lives in the center console along with a rotary dial that allows one to choose between the various drive modes (Track, Sport, Auto, Snow, Tow)
.
As this is a Grand Cherokee at its core, it's thankfully also retained its interior usability. A 60/40 fold-flat heated rear seat is a cinch to fold and offers up 68.3 cubic-feet. of storage space. There are also multiple charge ports and cup holders throughout the cabin and, get this, the TrackHawk also comes with a 100% usable spare tire! That unfortunately a rarity today, and I love it.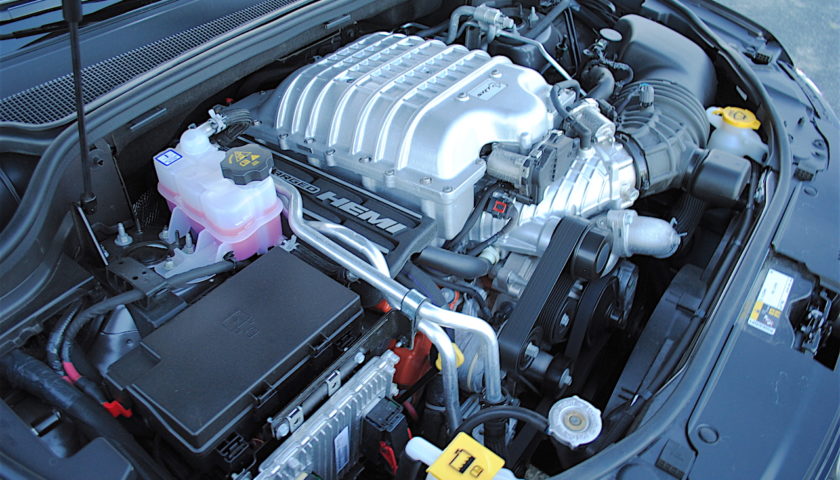 2019 Jeep Grand Cherokee TrackHawk Performance
With 707 horsepower, 645 lb-ft of torque, a zero-to-60 time of 3.3 seconds, a quarter mile time in the 11's and a top speed of 180-mph, if you were looking at the specs, you might think the Trackhawk is a supercar — not a 5,300-pound SUV. And while the numbers are quite amazing, it's how the new 2019 Jeep Grand Cherokee TrackHawk drives that truly makes it something special. Until you want it to be a grizzly, this thing is a total teddy bear.On the road, the ride is comfortable and compliant, and the cabin is peacefully quiet. Thanks to the TrackHawks' five different drive modes (Track 30/70, Sport 35/65, Auto 40/60, Snow 50/50, and Tow 60/40) that divvy up the torque split to the all-wheel-drive system, simply pushing a button will adapt it to your every need.Now while the TrackHawk is 100% track capable, don't go thinking you're going to be schooling Porsche 911s on a road course. Instead, look at the TrackHawk for what it is, and break it down by the numbers. It weighs over 5,300 pounds, it's an SUV, it seats 5 adults comfortably and can tow up to 7,200-pounds. It's only once you understand this that you'll truly appreciate how amazing it really is.First off, there is simply no masking its weight, as this thing is heavy. In track mode, the power bias is set-up for a 30/70 front-to-rear split. This not only allows for some tail-wagging fun, but it also allows for you to steer the TrackHawk with the throttle during track conditions. Smooth is fast in this case, so come into a corner too hot and you're met with understeer and a hell of a lot of front-end push. But back off a little, and concentrate on using the weight to your advantage, and the TrackHawk rewards its pilot.The engine is a gem and basically transforms the TrackHawk into a time machine. The rush of horsepower and torque is immediate, and the eight-speed transmission kicks down multiple gears, shooting the Jeep forward with a violent grace that must be experienced to be understood. Steering feel is firm without being over assisted, and provides a fair amount of feedback to the driver. Pitch the Jeep into a corner, lift off the throttle and allow the mass to rotate through the corner and then BOOM, mash the gas and blast out. It takes a bit of practice, but get it right and you'll be giggling as you hammer past a host of two-door sport coupes.If you're more of a straight liner, then simply engage launch control, set your RPMs to about 2,100, mash the brake pedal and then side-step it, and you'll bang to 60 mph in 3.3 seconds and run the quarter-mile in 11.6-seconds. Folks, that's fast for any vehicle regardless of price. Now, Jeep claims a zero-to-60 time of 3.5, but I did it in 3.3… Just saying.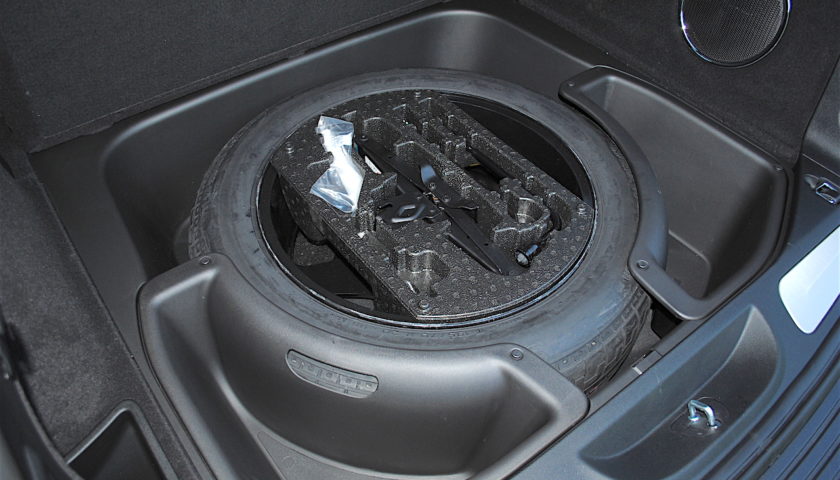 2019 Jeep Grand Cherokee TrackHawk Safety
Along with the beefy Brembo brakes at all four corners, the 2019 Jeep Grand Cherokee TrackHawk also comes with a host of other safety features to keep you and your passengers safe. With standard all-wheel drive, anti-lock brakes, airbags throughout the cabin, multiple drive modes, blind spot monitoring, and a rear-view camera, Jeep has managed to provide blistering performance and safety in one very nice package.To further explore the safety features of the 2019 Jeep Grand Cherokee TrackHawk head on over to
Jeep.com
.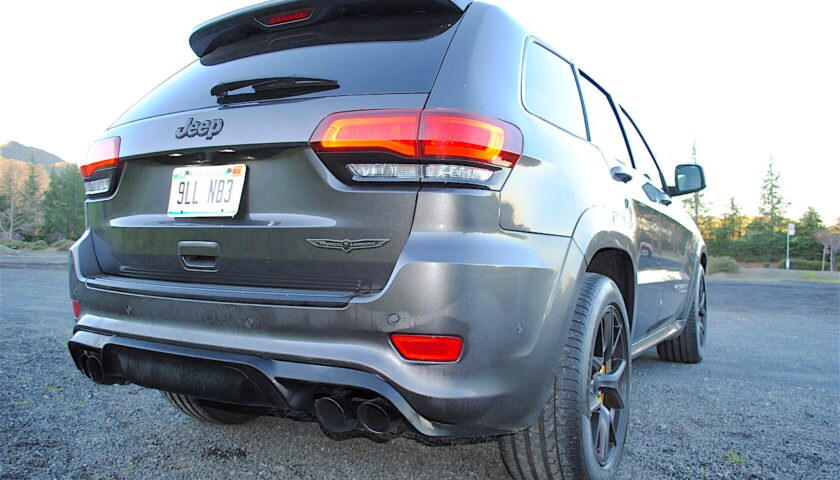 2019 Jeep Grand Cherokee TrackHawk Overall
The 2019 TrackHawk is a pretty remarkable SUV. As a daily driver, it coddles you in a beautifully crafted leather interior, and takes advantage of the latest in comfort and convenience features. For a family of five, the TrackHawk is also extremely usable for weekend outings, as not only will it tow up to 7,200 pounds, but it'll do so without a care in the world.But its best feature is the way it makes you giggle every time you step on the gas. This is a vehicle that's all about fun, drivability, and excitement. Is it for it everyone? No, but for those looking for an SUV that will truly make you smile every time you drive it, then the 2019 Jeep Grand Cherokee TrackHawk may just be the one for you.Drop by
your local AutoNation Jeep dealer
today to check one out!
*Fuel economy values (mpg) of 11-mpg city, 17 mpg highway and 13 mpg combined are EPA estimates. Actual mileage will vary and depends on several factors including driving habits and vehicle condition.**Vehicle MSRP of $100,215.00 excludes taxes, title, transportation, options, and dealer fees.