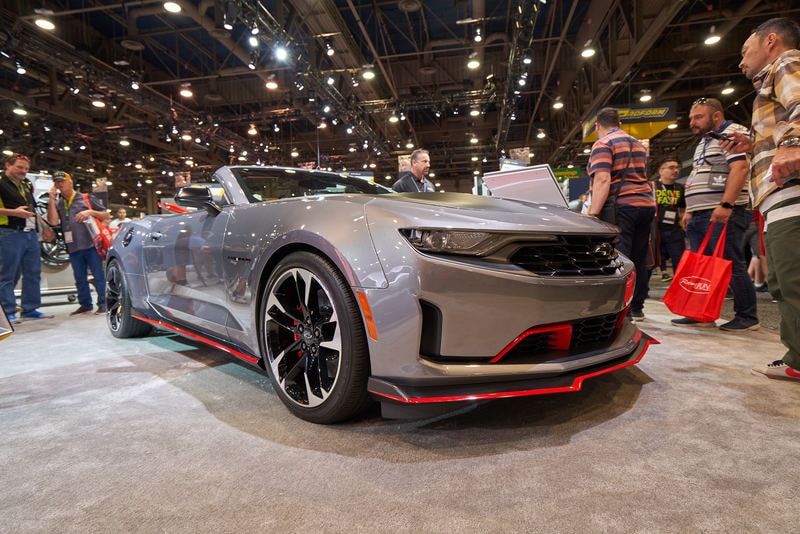 The 2019 SEMA show runs from November 5th to the 8th, in Las Vegas. We'll be on the ground with full coverage once the show starts, but until then, check out some of the vehicles were on display last year!
Even if Chevrolet didn't even decide to have an official corporate presence at SEMA, the company would be well represented in booths across the vast expanse of the show floor. Because Chevy engines —be they the classic 350 small-block, or more modern LS variants — have long proved the propulsion of choice for everything from replica '32 Fords, to Nissan 24o drift cars, to sleeper Volvo station wagons.
That said, there's always plenty of space dedicated to bad Bow Ties, and this year, there was a little bit of intrigue to festivities, because it looks like Chevy is using SEMA to field test a super quick Camaro refresh, via the pictured Shock Concept. Come midway through 2019, we think this will be the face of the Camaro.
Speaking of the Camaro, Chevy also used SEMA as an opportunity to show off the 50th Anniversary Edition of the COPO Camaro, a dragstrip-only beast that's ready to go right from the dealer to the track.
Maybe it's just us, but we find it kind of hilarious to see things like an wheelie bar, NHRA-certified roll cage, and drag parachute on a list of features, almost like they're Apple CarPlay or heated seats. And while we don't think it helps with the top speed, we happen the think the 50th Anniversary Engine Appearance Package, which includes an orange-painted block, looks pretty trick. Seriously, this baby looks like it means business.
That said, one of our favorite vehicles in the Chevy booth was this 1978 Silverado, which was billed as a concept, but is actually more like a factory restomod. Because from the outside, this sweet rig doesn't look much different than something you would have seen on the street during the Carter administration.
But under the hood, it's packing the L96 crate engine and Supermatic 4L70 transmission, so along with modern reliability, it has 360 horsepower and 380 lb-feet of torque on tap. For those keeping score, that's a big jump from what was available four decades ago.
Check out all the photos below, and if you like what you see, head to your local AutoNation Chevrolet dealer and check out the 2018 lineup!