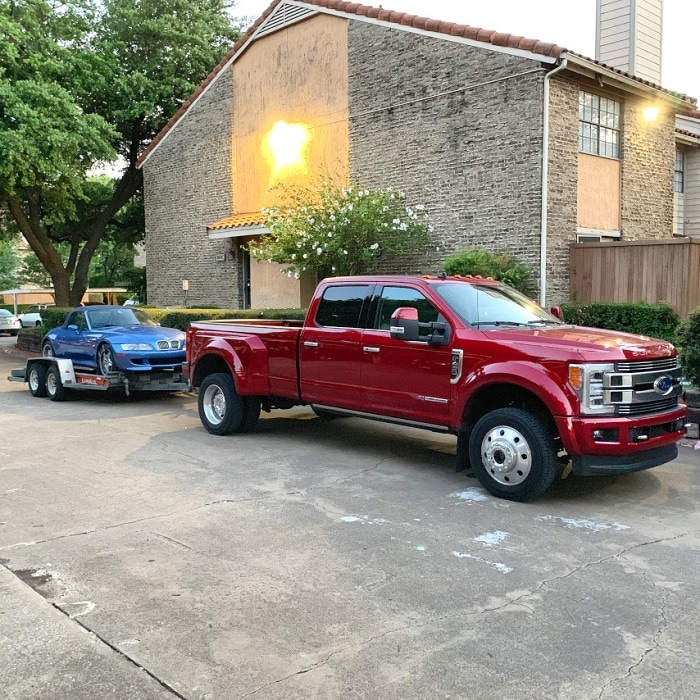 For the entire three-hour trip from Richardson to Austin, Texas, I saw the exact same car following me. It was well after nine o'clock at night, but the little blue BMW's lights stayed off and it maintained its distance from me. No matter which exit I took, which turn I made, I saw it in the rearview mirror of the
2019 Ford F-450 Limited
I was testing. I wasn't nervous, though. I was smiling.A few weeks before the massive $91,470 dually showed up at my house, my pal Bryan mentioned wanting to take his 2000 BMW M Roadster from his condo in Richardson down to his mom's house in Austin. Its tires were way too old for safe long-distance driving and he didn't want to replace them yet, so he needed to have it towed down. Once I got the keys to the F-450, which is only available as a dual-rear-wheel juggernaut, I was eager to put it to work pulling something, such as bails of hay…or a cruise ship. The day after it came in, I texted Bryan and told him I was going to be in Frisco (close to his place) the next day to cover a Shelby Mustang dealer event. I half-jokingly told him that if he wanted to take his Bimmer down south that evening that I would be in the right vehicle for the job. To my surprise, he texted back, "I'll make some calls." He quickly made arrangements for us to pick up a car trailer with the F-450 the following evening.
2019 Ford F-450 Limited Exterior
Limited is the most expensive, luxurious trim level for the F-450, but no dollar figure on the window sticker or amount of genuine wood interior accents could disguise that my test truck was made to tow and haul. Its handsome two-bar grille allowed plenty of air through to cool the Power Stroke turbodiesel V8 behind it. The telescoping and power-folding mirrors stuck out from each side to provide a helpful view of the F-450's bulging rear fenders and, once Bryan and I had his car ready to go, the trailer and its special cargo. Up top, a set of clearance lights made it even clearer that the F-450 was a wide rig and needed plenty of space on the road. The FX4 decals on its flared hips meant I could drive the F-450 off-road – as long as the trails were wide enough, of course. Ford installed an optional fifth wheel hitch assembly right in the middle of the eight-foot bed. I didn't need that, though. I just had to have the right tow bar and adapter sleeve for the hitch receiver.
2019 Ford F-450 Limited Interior
While I was at the Shelby Mustang event, the manager of the Ford press fleet in my area used a spare set of keys to open the F-450, flipped up one section of the rear seats, erected the handy under-seat storage area, placed a brand new tow bar and sleeve in it, lowered the seat to conceal my new cargo, then relocked the truck. Once I was done doing highway pulls in the 700-horsepower GT-H and 800-horsepower Super Snake, I climbed into the F-450 and drove to meet Bryan at a nearby cigar lounge. It was hot and humid that day so the standard ventilated and massaging two-tone front seats were a blessed relief. We grabbed dinner at a local BBQ joint, then headed to a U-Haul location to get a car trailer.
It turns out we didn't have the right tow bar and sleeve. That particular U-Haul store didn't, either, so we had to go to a different location to get the correct hardware. While we were there, Bryan rented a car trailer and had one of the employees hook it to the back of the F-450.
It was well after 9 p.m. when Bryan and I got the car on the trailer at his condo. Even though I was going to follow Bryan out of town and down to Austin, I didn't want to take a chance of getting lost during such a high-stakes trip so I entered his mom's address into the F-450's navigation setup using the SYNC 3 infotainment system's eight-inch touchscreen. I fully retracted the shade for the massive Vista Roof to let the starlight in and we hit the road.Knowing that I was wheeling around approximately 14,000 pounds gave me a little anxiety, but there were two major benefits to that weight. The 5,200 pounds I was pulling made the F-450's normally vague steering a little more direct and polished several of the rough edges off of its ride quality.
2019 Ford F-450 Limited Performance
Normally, when I drive a high-performance car on the street, I think to myself,
This thing can do so much more than I'm making it do
. Modern sports and exotic cars have abilities that can only be fully exploited by highly trained drivers on a racetrack. I had that same thought in the F-450, but for a different reason.
Its 6.7-liter Power Stroke turbodiesel V8 generates 450 horsepower and 935 lb-ft of torque, which it routes through a six-speed automatic. That hardware and those stats made my four-wheel-drive F-450 press loaner capable of hauling 5,310 pounds of payload, fifth-wheel-/gooseneck-pulling 32,500 pounds, and conventionally towing 21,000 pounds – nearly four times the amount I had attached to the rear hitch. As if I didn't have enough reasons to think the F-450 was unfazed by what I was towing, I goosed the throttle a few times. The F-450 accelerated as if I had only used it to pick up groceries at Costco.
2019 Ford F-450 Limited Safety
Considering how much real estate I was in command of, it was nice to know the F-450 had an array of cameras on it that could help me keep an eye on its surroundings. The lane-keeping alert was a good safety net to have for such a long trip, especially at night. The F-450's most useful safety feature was its blind spot monitoring. Before Bryan and I had set out for Austin, I entered the trailer's dimensions (if I remember correctly, it was seven or eight feet wide and roughly 18 feet long) into the F-450's trailer system menu so that the blind spot monitor would watch the sides of the truck and the trailer/BMW combo.
2019 Ford F-450 Limited Overall
Bryan and I arrived in Austin after midnight. I climbed out of the F-450 with heavy eyelids and a big smile, then helped him unload his Bimmer. I loved every minute of the trip. It gave me the chance to spend time with a good friend, help him out, and use one of the fanciest and most capable trucks on the market to do it. I felt as if I had accomplished something – even though I knew it was insignificant to the mighty F-450.If you're in the market for a luxury truck with sky-high towing and hauling capabilities, look for the 2019 F-450 Limited at your local
AutoNation Ford dealership
. Prices start at $86,505.*
*MSRP excludes tax, license, registration, destination charge and options. Dealer prices may vary.