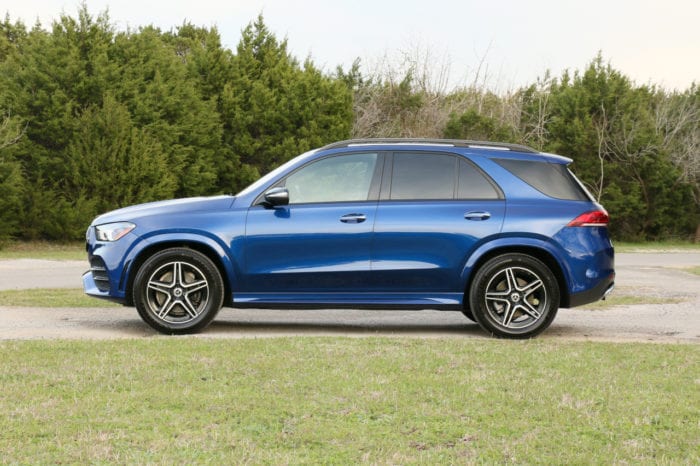 Every time an all-new version of a vehicle comes out, people who are interested in the outgoing generation of it face a dilemma. Should they try to get one of those or consider the newest model? If you're in the same position with the Mercedes-Benz GLE, I would strongly recommend taking a look at the 2020 GLE (at an AutoNation Mercedes-Benz dealership, of course) for a variety of reasons.
The most obvious is that it's all-new. Not revised, not facelifted. The fourth-generation GLE (known as the ML until the fall of 2015) has been completely redesigned.
It's also new on the inside and packed with an impressive array of infotainment and safety features. You can get the GLE 350, which has a turbocharged four-cylinder engine (a GLE 350 with 4MATIC all-wheel drive is coming this summer) or the GLE 450 4MATIC, which has a turbocharged and electrically boosted I6 under its hood. Here's the biggest reason I suggest test driving the 2020 GLE: I can personally vouch for it. I spent a week evaluating the GLE 350 and jotting down all of the things I liked about it.
2020 Mercedes-Benz GLE 350 Exterior
There are so many SUVs on the market that some of them kind of just fade into the background and become part of the suburban scenery. It's hard for them not to do that. They have to fit a certain amount of people and gear inside so they can't be as wildly shaped and instantly eye-catching as a sports car. Given that it's a midsize SUV, the GLE has to cut a fuel-efficient path through the air, so big-rig styling or bold G-Wagen-ish angles are out of the question. Despite those limitations, Mercedes-Benz's design department found a way to make the GLE not just one-glance attractive, but double-take handsome.
Even its basic shape is easy on the eyes. Its smooth sides have just the right amount of surface tension to them. Instead of a "floating roof," which so many other SUVs and even cars have these days, the GLE 350 stays true to its design roots and has a traditional roof connected to a body-colored C-pillar. That color was another one of my test vehicle's best features. Mercedes calls it Brilliant Blue Metallic. It was blue so it was familiar to me, but it was a shade I'd never quite seen before, so it was foreign at the same time. It was as if Mercedes had found a shade of blue that could only be produced on another planet and managed to transport it to Earth and apply it to the new GLE.
The optional AMG Line and Night packages made my test vehicle look even better by adding a one-bar grille filled with dozens of chrome highlights, a more aggressive lower front fascia, and a variety of Gloss Black accents. The two most significant additions were the body-color fender flares and the Gloss Black and silver 20-inch AMG wheels wrapped in 275/50R20 all-season tires. That combination gave the GLE a beefy, sturdy look that made walking away from it difficult.
2020 Mercedes-Benz GLE 350 Interior
I had a hard time bringing myself to get out of the GLE, too. Its Magma Gray/black Nappa leather interior was a great mix of luxury, technology, and space. The front seats offered an adjustable thigh bolster (a personal favorite) and three stages of heating and ventilation, as well as several different massage modes. Mercedes equipped my press loaner with the Premium Package of upgrades. Those included 64-color ambient lighting, wireless device charging and near field communication (NFC) capability, and a remarkably clear and powerful 13-speaker Burmester surround sound system.
A strip of bright aluminum trim spanned the entire width of the soft-touch dashboard. Above that was a pair of 12.3-inch screens. The one on the left displayed the main gauges, such as the tachometer and speedometer. The one on the right showed the menu for various functions, such as the infotainment, seats, and navigation system. Mercedes upgraded the GLE 350's nav setup by ticking the box for the MBUX (Mercedes-Benz User Experience) Technology Package. In addition to a helpful 9.5-inch-wide head-up display and an assistance feature that allowed me or my front passenger to control various features with hand and arm movements (for example, I could point toward the rearview mirror to turn on a map light), that package also contained a feature that made the navigation map even more informative. Using a forward-facing camera, it superimposed things such as street names and guide arrows on my route in real time as I progressed through it.
To me, the GLE 350's standout tech feature was standard equipment. By saying the words "Hey, Mercedes," I could activate the MBUX's voice control function. Then I could tell it I was cold to have it raise the interior temperature or command it to change the radio station. Once, I asked it to tell me a joke. It responded with something to the effect of, "I would, but the engineers who made me were German." I just had to make sure I didn't have the turn signals on when I asked the system to do something because the ticking sound seemed to confuse it.
Thanks to its 3.1-inch-longer wheelbase, the 2020 GLE offers 2.7 inches more legroom in the second row than before. I'm 5'10" and found that the heated backseat area had more than enough space for me to stretch my legs. I was delighted to see a pair of vents between the front seats and even vents on the B-pillars. Power sunshades on the windows put on the finishing luxury touches. It's too bad I was the only person authorized to drive the GLE 350 because I would've loved to kick back and relax as a passenger in it.
2020 Mercedes-Benz GLE 350 Performance
The GLE 350 gets its power from a turbocharged 2.0-liter four-cylinder engine that produces 255 horsepower and 273 lb-ft of torque. It puts that to the road (or trail) through a nine-speed automatic and 4MATIC all-wheel drive with fully variable front-to-rear torque distribution. Towing capacity is 7,700 pounds. Without a trailer behind it, the GLE is capable of getting 19 city and 26 highway mpg; I averaged nearly 20 over the course of more than 200 miles.*
With the flip a switch, I could tell the Dynamic Select system how I wanted the GLE 350's engine, transmission, and other components to perform. There was Eco mode for maximum fuel economy, Comfort for relaxed cruising, Sport for more spirited driving, Individual for tailored settings, and Off-Road, which automatically raised the GLE 350 up on its air suspension, for driving on trails.
2020 Mercedes-Benz GLE 350 Safety
Like its predecessors, the 2020 GLE is full of advanced safety features. In its standard form, the GLE 350 4MATIC can counteract the forces of strong crosswinds, alert you if a vehicle is in your blind spots, automatically brake if you don't brake soon enough to avoid a collision, apply full braking power if you don't mash the left pedal hard enough to prevent an accident, and provide the protection of nine airbags.
The optional Surround View System equipped my GLE 350 loaner with a Hollywood studio's worth of cameras that allowed me to see what was near it from multiple angles.
2020 Mercedes-Benz GLE 350 Overall
If you still can't decide whether you want a 2019 GLE or the attractive, spacious, and tech-packed all-new 2020 GLE, that's OK. At least you now know some of the things that make the newest model worth a good long look – and an even longer test drive. You can find both GLEs at an
AutoNation Mercedes-Benz dealership
. Prices for the 2020 GLE 350 4MATIC start at $56,200.**
*Based on EPA mileage ratings. Your mileage will vary depending on specific vehicle trim, how you drive and maintain your vehicle, driving conditions, and other factors.**MSRP excludes tax, license, registration, destination charge and options. Dealer prices may vary.