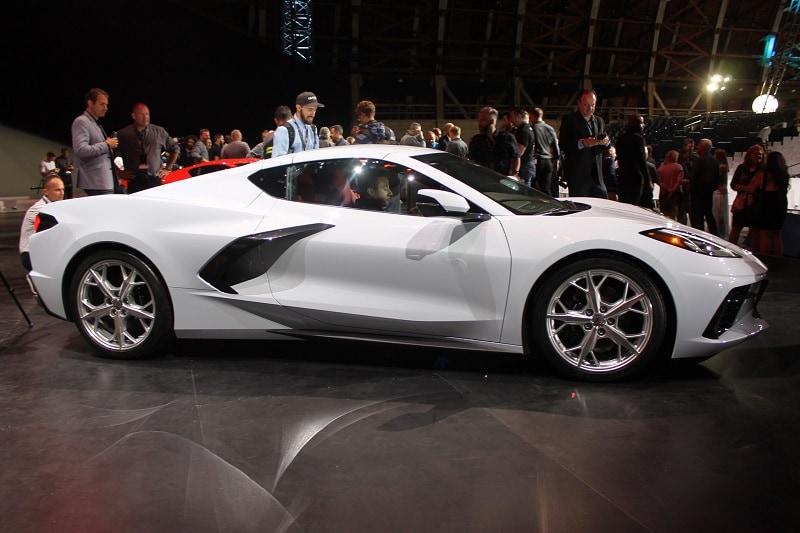 Finally, the wait is over. The mid-engine Corvette has been a rumor for almost as long as the model has been in existence — and now the wraps are off.
This morning, I flew to Orange County, down in sunny Southern California, to join journalists from around the globe for the official unveiling. In the automotive world, it's as historic a moment as they come.
Because the Corvette isn't just a car — it's an American icon.
The move to a mid-engine platform is the most profound change the illustrious history of the model, and a signal that Chevrolet wants to beat exotic manufacturers like Ferrari, McLaren, and Lamborghini at their own game. There were a ton of folks on hand for the reveal tonight, and the crowd included dealers and current owners, along with the requisite industry scribes.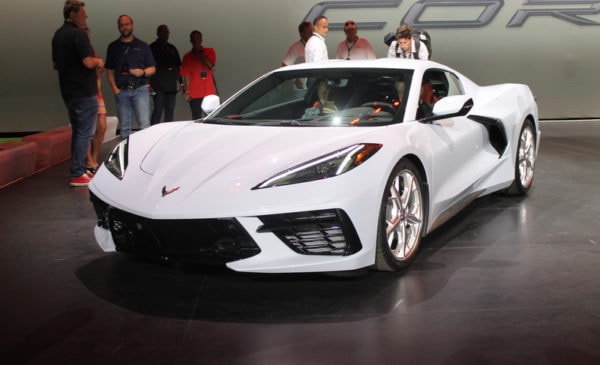 The number floating around was that there were roughly 1300 people present for the introduction of the first mid-engine Corvette. And as you can imagine, that meant getting any serviceable photos was tough. But that said? The atmosphere was electric, and while anyone with an internet connection could have watched the whole show, getting to be present was a profound privilege. After all, how many times are you someplace where you can play personal witness to history?
So let's cut to some of the evening's big takeaways. First, the engine which will power the first incarnation of the mid-engine Corvette will be a 6.2-liter V8. In naturally aspirated form, it'll be good for 490 horsepower and 465 lb-feet of torque. A dry sump oil system — long a feature of high-spec models like the Z06 and ZR1 — will be standard for all C8 models.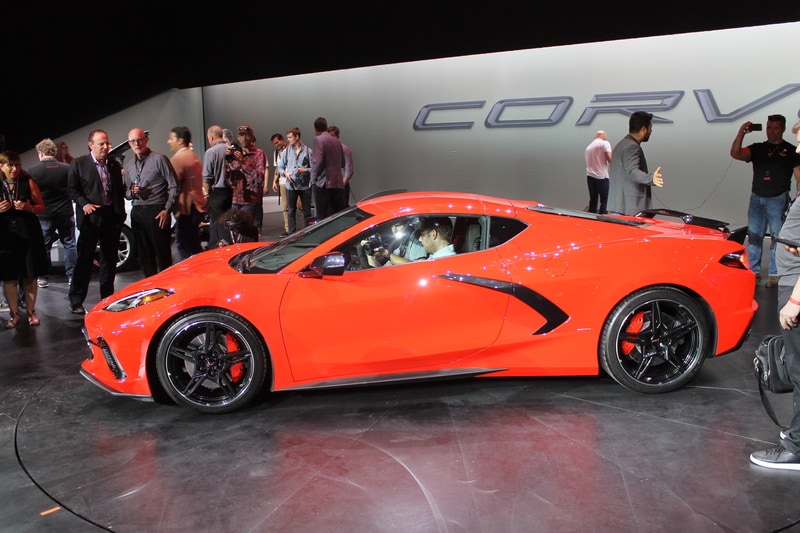 Power will get to the rear wheels via an eight-speed dual-clutch transmission — the first ever offered on a Corvette. The ratios for the first six cogs are closely spaced, while the top two will be overdrive gears to provide superior fuel economy during highway cruising. No specific numbers were discussed in that regard, but it's worth noting that even though it's a beast of a car, the current generation of the Corvette can achieve nearly 30 miles per gallon on the open road, which is very respectable for something so athletic.
Two more "non-specific" figures you'll find of interest? With the Z51 package (expect that to run about 5k), which bumps power to 495 horsepower and 470 lb-ft, the mid-engine Corvette will hit 60 mph in less than three seconds. At that news, cheers erupted from the assembled crowd. But even bigger cheers erupted when we got the initial — albeit vague — pricing. Because this car, this track-ready weapon, will start at under 60k. That's just bonkers. Everyone went completely nuts.
Folks, we're officially in uncharted territory.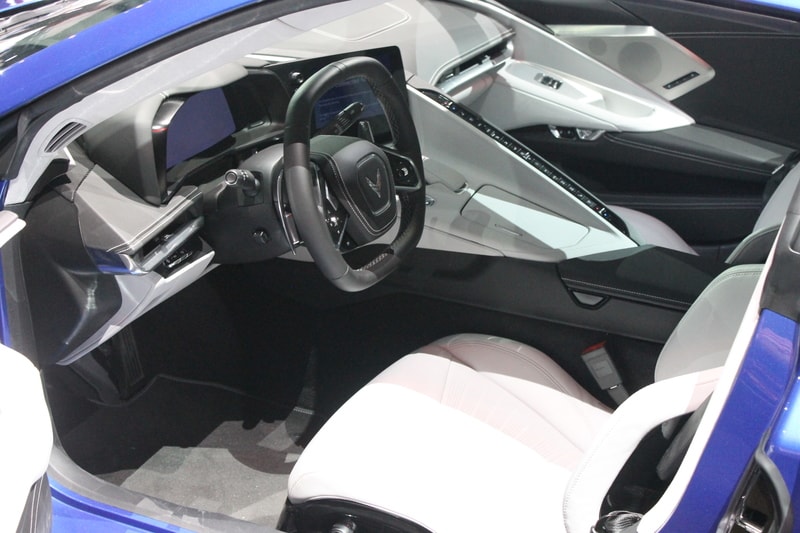 And that's not all. Along with being an incredible performance machine, the Corvette has historically been designed to be as practical as a two-seater sports car can be. So not only will there be a storage compartment in the front — there will be one at the rear as well. It's big enough to fit two sets of golf clubs, which is kind of insane.
In another nod to practicality, drivers will be able to raise the nose of the car by two inches, so speed bumps won't splinter the front splitter. It's a common option on exotics, but the one on the mid-engine Corvette is GPS-enabled, meaning that it will remember the places where you've needed to raise the nose, and do it automatically if you ask the car to remember them. The trick system will be able to keep a log of over 1000 pinch points, which is just so cool, I don't really know where to go from here, other than tip my had to Chevrolet. Bravo, Corvette team.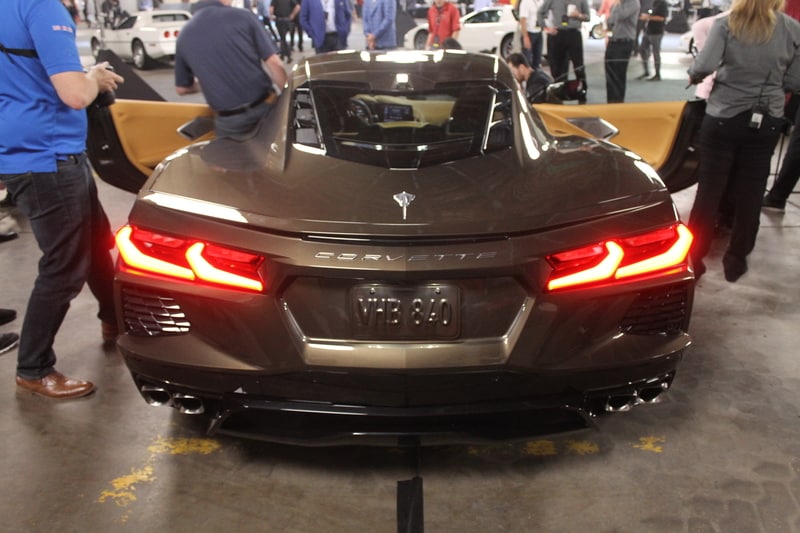 Since my mind is a little blown right now, I'm just going to hit some other highlights. Color-wise, there will be 12 exterior options and six interior ones. There will be right-hand drive models available in the UK. The steering system, thanks to the shorter nose, is 50 percent stiffer than the one in current Vettes, so it'll deliver unprecedented feel through the wheel. There will be a removable targa top.
I'll be updating this post, because I want to convey more of what it was like to be here, to be in this place, with all these people, and experience an automotive milestone. It was completely amazing — and I'm not just saying that because Chevy had an In-N-Out truck here to hand out free Double Doubles. When lead engineer Tadge Juechter was discussing the menagerie of materials which led to the chassis of this machine being the stiffest in the history of the model, he said, "the result is magic." It doesn't sound like hyperbole.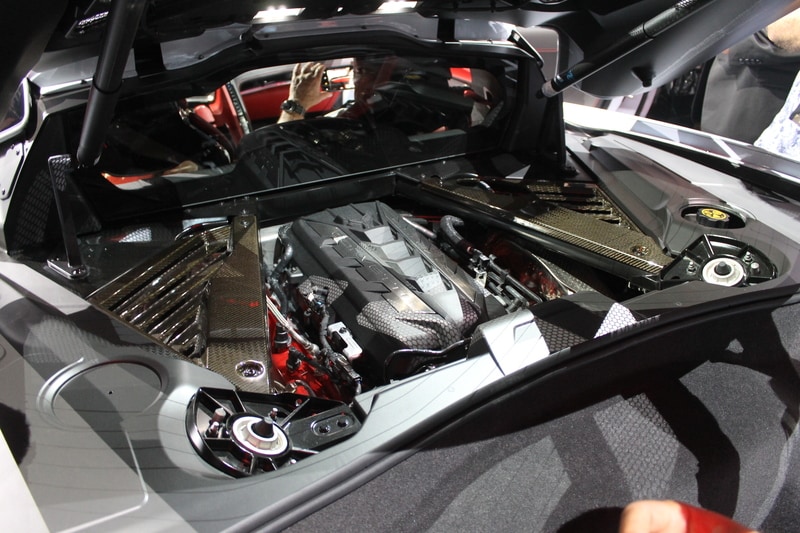 Enjoy all the photos, and trust me when I say this car is far better looking in person than it is in pics. It's easy to say, I realize, but boy, is it true here. If you were even thinking about plunking down money for the latest version of America's Sports Car, I recommend you call your local AutoNation Corvette dealer first thing in the morning — because these babies are going to get snapped up as fast as Bowling Green can build them. Count on it.
Stay tuned for more news on this glorious new chapter in the story of the Corvette.