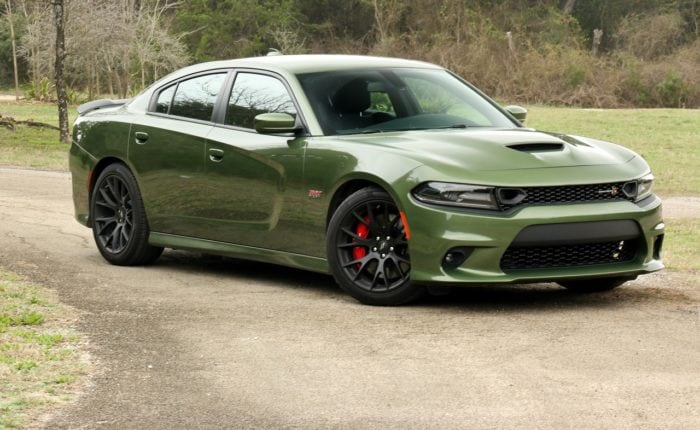 A Dodge Charger with a V8 is a rare breed of American car these days. Don't let the fact that you see so many of them on the road fool you.
Look at its domestic competitors. Ford and Chevrolet make sedans, but none of them are quite like the naturally aspirated, V8-powered, rear-wheel-drive Charger. They have four- or six-cylinder engines with less power that drive either the front or all four wheels.
The closest Chevy came to producing something similar was the SS. It followed the same formula: eight cylinders up front, room for four in the middle, and two driven wheels in the back. Unfortunately, it was only around for a few years before it was discontinued in 2017.
You might be asking, "But what about the Cadillac CTS-V?" Yes, it's an American sedan with rear-wheel drive and a V8. However, it's supercharged and has a base price that's much higher than the Charger's.
Dodge's corporate cousin, Chrysler, offers its 300 with a V8. But that's not the same as the Charger, either. The 300 is more sedate and luxury-focused. And it's only available with a 5.7-liter HEMI V8. Dodge offers that and two larger V8s in the Charger: a naturally aspirated 6.4-liter HEMI and a supercharged 6.2-liter Hellcat.
A few weeks ago, Dodge handed me the keys to a 2019 Charger R/T Scat Pack. Like other 2019 Chargers, it benefits from a significant round of updates. Scat Pack models get revised cosmetics and new standard and optional performance features designed to help drivers get the most out of the American muscle sedan.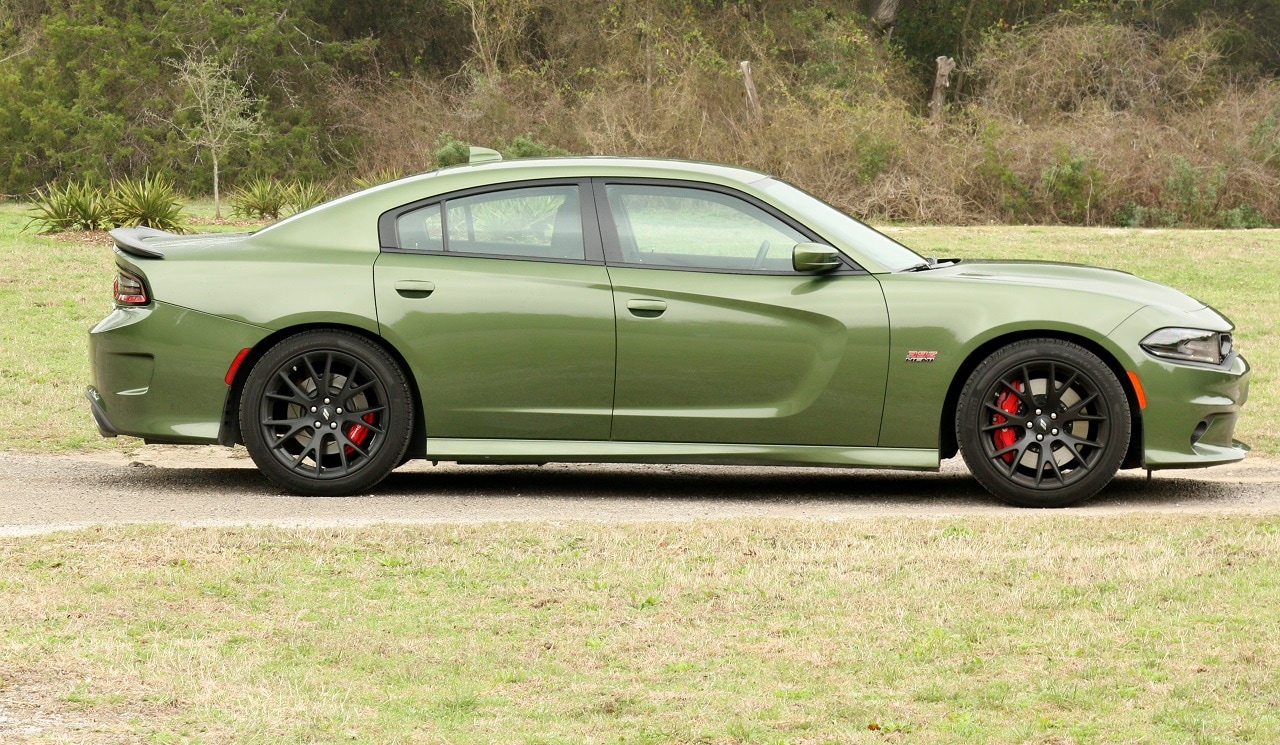 2019 Dodge Charger R/T Scat Pack Exterior
You have to look closely to spot the changes Dodge made to the outside of the Scat Pack. To make the car look even more aggressive, Dodge gave it the dual-inlet grille found on the 707-horsepower Charger SRT Hellcat. On the trunk lid, they replaced the R/T badge with a new Scat Pack bee badge.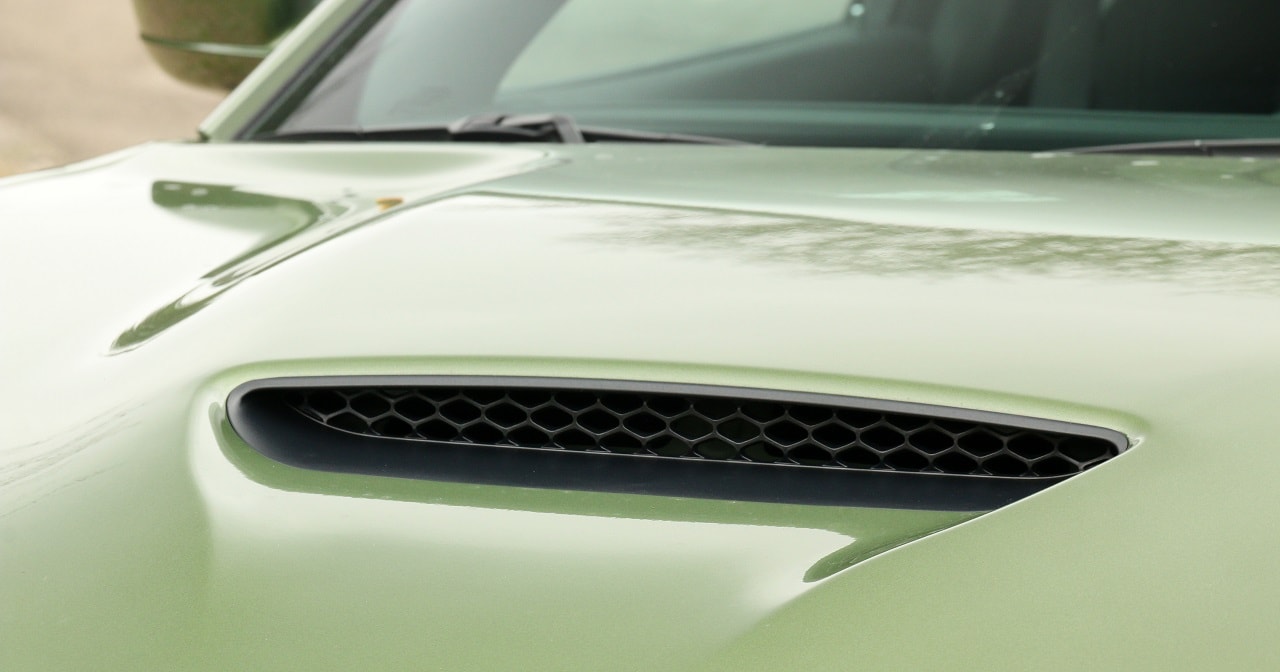 Other than those small changes, the Scat Pack remains the same and that's a good thing. It has the looks to match its power. The hood scoop, prominent spoiler, and large-diameter exhaust outlets make it immediately clear that this Charger is meant to run with Mustang GTs and Camaro SSs, not V6 Camrys.
Dodge covered my test car in F8 Green paint and equipped it with the optional Dynamics Package. That adds Brembo six-piston front brakes and black 20" X 9.5" black wheels wrapped in 275/40/R20 Pirelli all-season performance tires. The combination of those low-key wheels and that military-esque paint job didn't just make the Scat Pack look cool. They made it look like weaponized horsepower.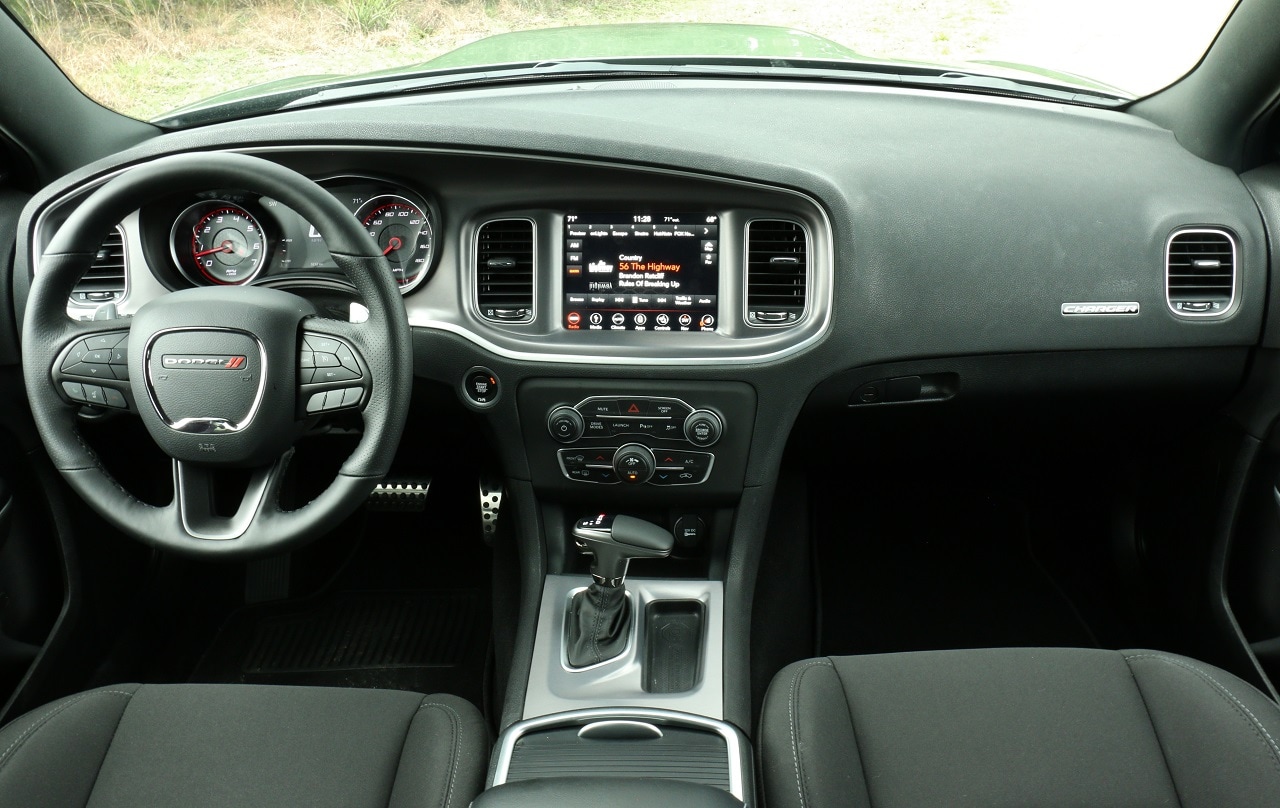 2019 Dodge Charger R/T Scat Pack Interior
The interior appearance upgrades are also understated. 2019 Scat Packs come standard with Dark Dub Plate trim on the instrument panel and cloth performance seats with a hounds tooth pattern and a Scat Pack bee logo on the front backrests.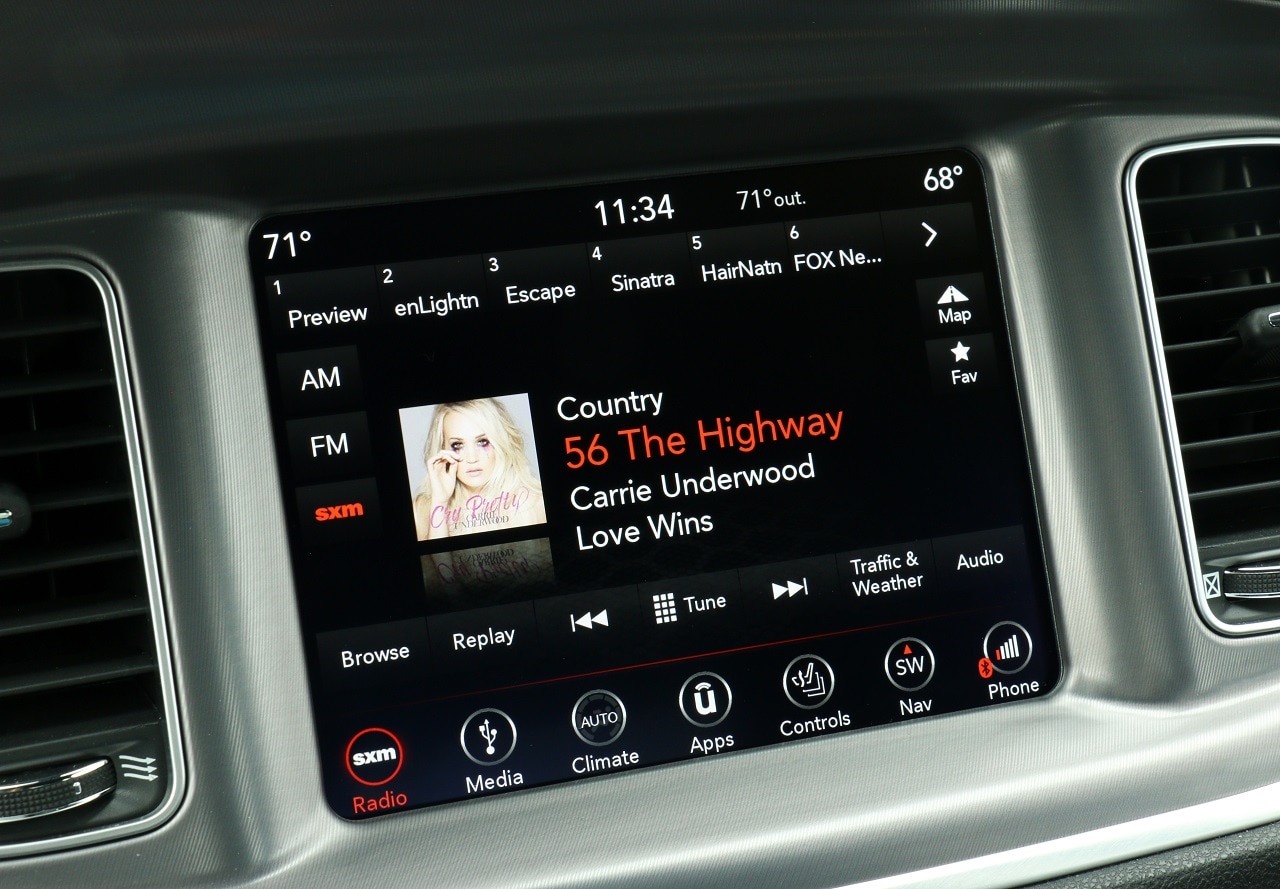 The Scat Pack comes standard with the Uconnect 4C infotainment system, which runs on an 8.4-inch display. It was quick to respond to my inputs, whether I was connecting my iPhone to the onboard 4G Wi-Fi hotspot or using Apple CarPlay to access my text messages (Google Android Auto is also included). The Navigation and Travel Group added navigation, as well as updates on traffic, sports scores, stock prices, weather, and more from SiriusXM.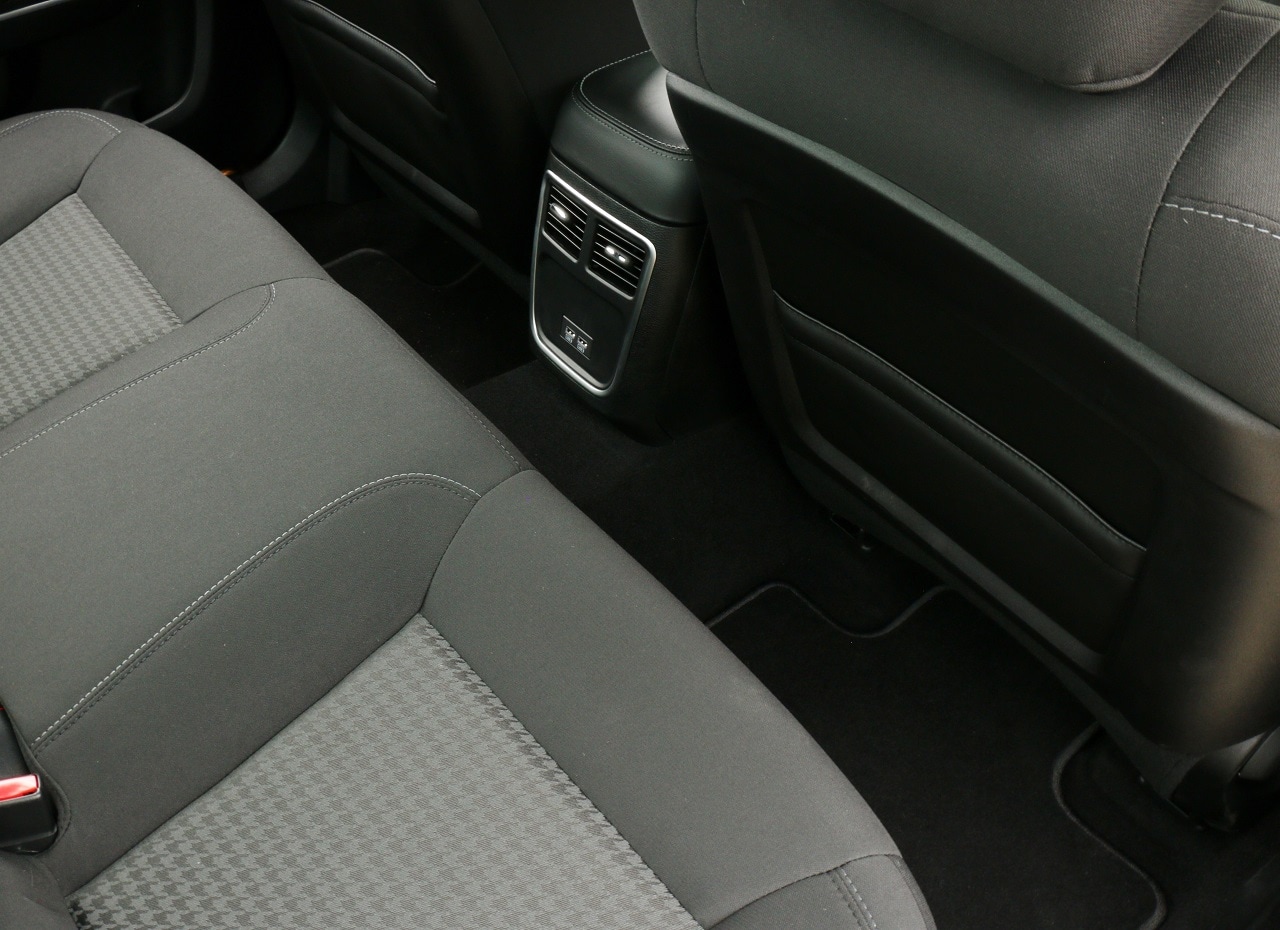 My week with the Scat Pack had bursts of cool weather so it was nice to know the steering wheel and front seats were heated. The back seats had just enough legroom and headroom to fit all 5'10" of me comfortably.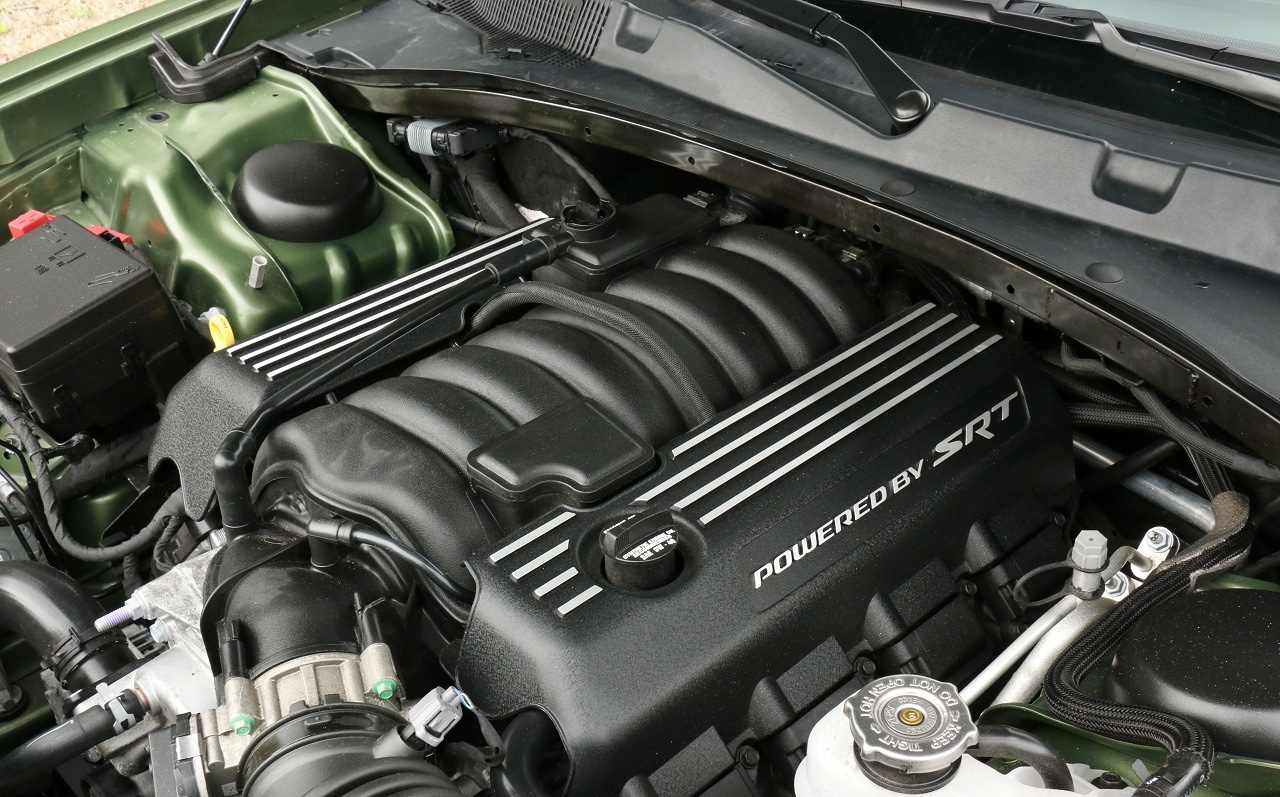 2019 Dodge Charger R/T Scat Pack Performance
The 2019 Charger R/T Scat Pack now has a trio of standard features to help it get off the line more quickly. Line Lock holds the front brakes while allowing the driver to spin the rear wheels and do a burnout to give the back tires fresh, sticky rubber that can grip the road (or track) better. Launch Assist reduces rear-end wheel hop during a hard launch and changes the amount of engine torque to help the back tires regain full traction. Then there's Launch Control, which calibrates the engine, transmission, driveline, and suspension to perfectly fire the Charger Scat Pack away from a stop.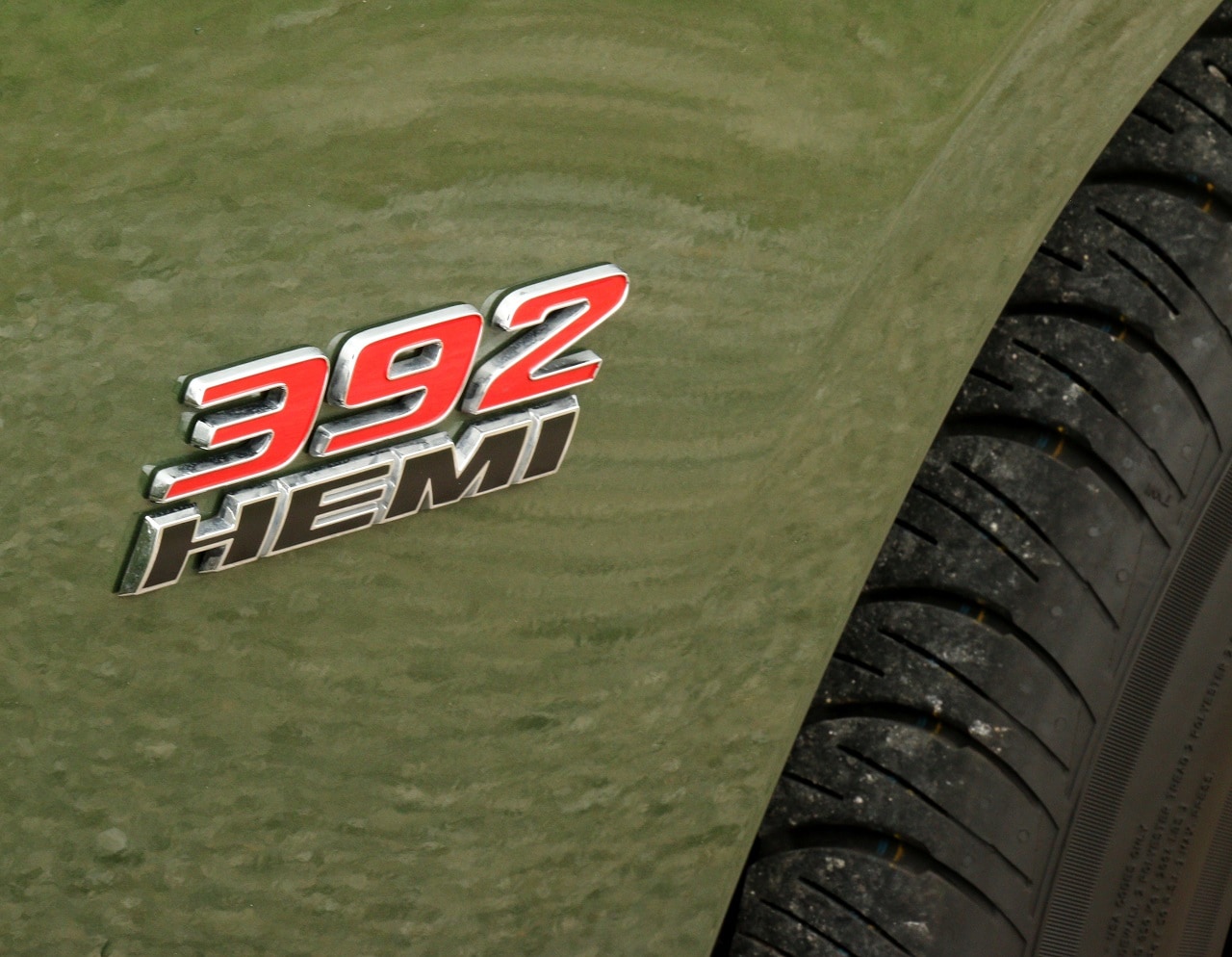 If the badges on the front fenders didn't make it abundantly clear that there was a huge V8 under the bulging hood, starting the Scat Pack did. Pressing the start button was the same as rousing a dragon from its sleep. The 6.4-liter HEMI was angry and it didn't care who heard. Firing it up was one of my favorite parts of the day.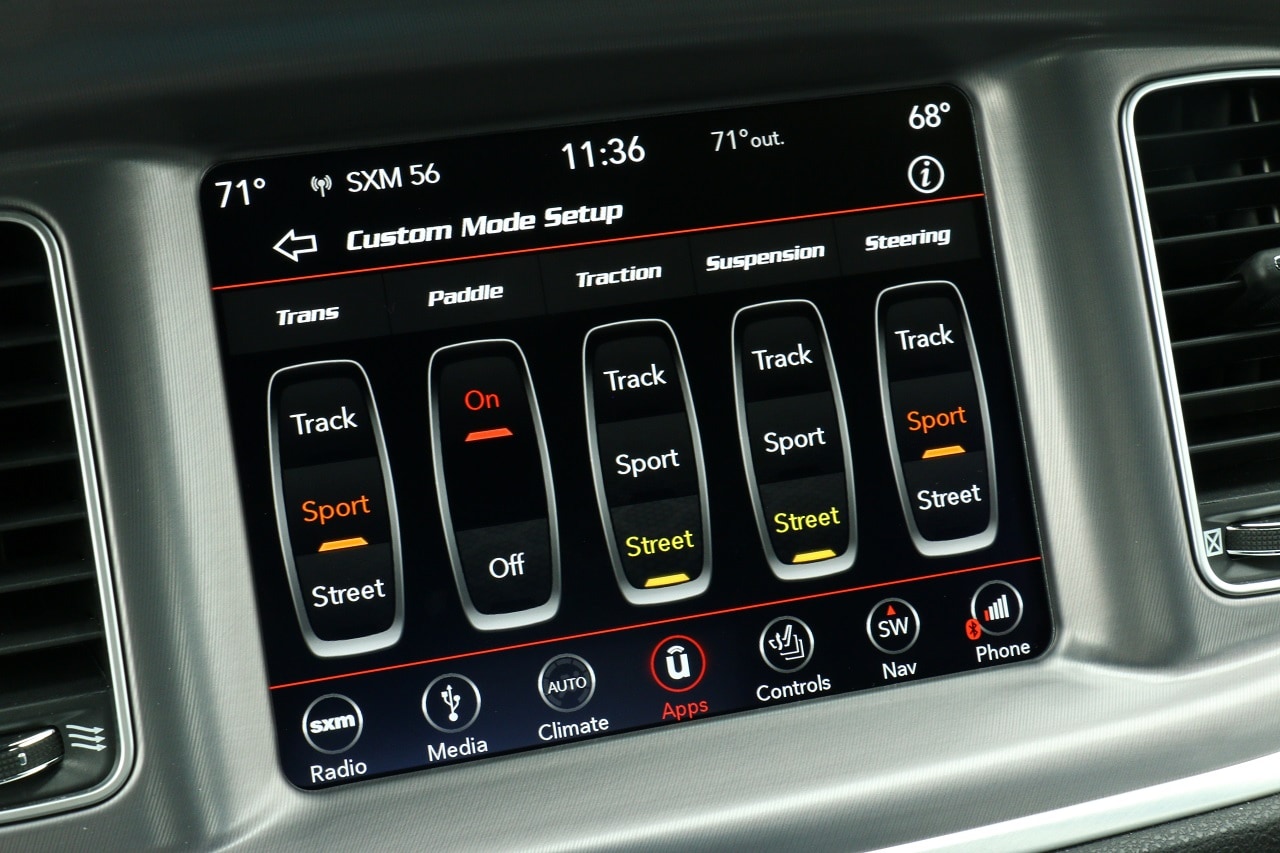 That fury didn't subside once I was out on the road. With a few taps on the center screen I could put the Scat Pack in different drive modes: Auto, Sport, and Track. Those had their own settings for various systems including the traction control, steering, eight-speed automatic, and optional Adaptive Damping Suspension. A Custom mode allowed me to lock in my preferred settings for each of those parameters individually.
In Auto mode, the Scat Pack had a relaxed, casual feel to it. I could still sense all of its 485 horsepower and 475 lb-ft of torque, but the Hemi wasn't as quick to lash out. Engaging Sport mode brought its rage to the surface. It was savage and immediate. I've tested more powerful cars before, but the Scat Pack was the only one that felt as if its engine wanted to rocket away from the rest of the car when I put my right foot down hard (see what I mean by "rare breed"?).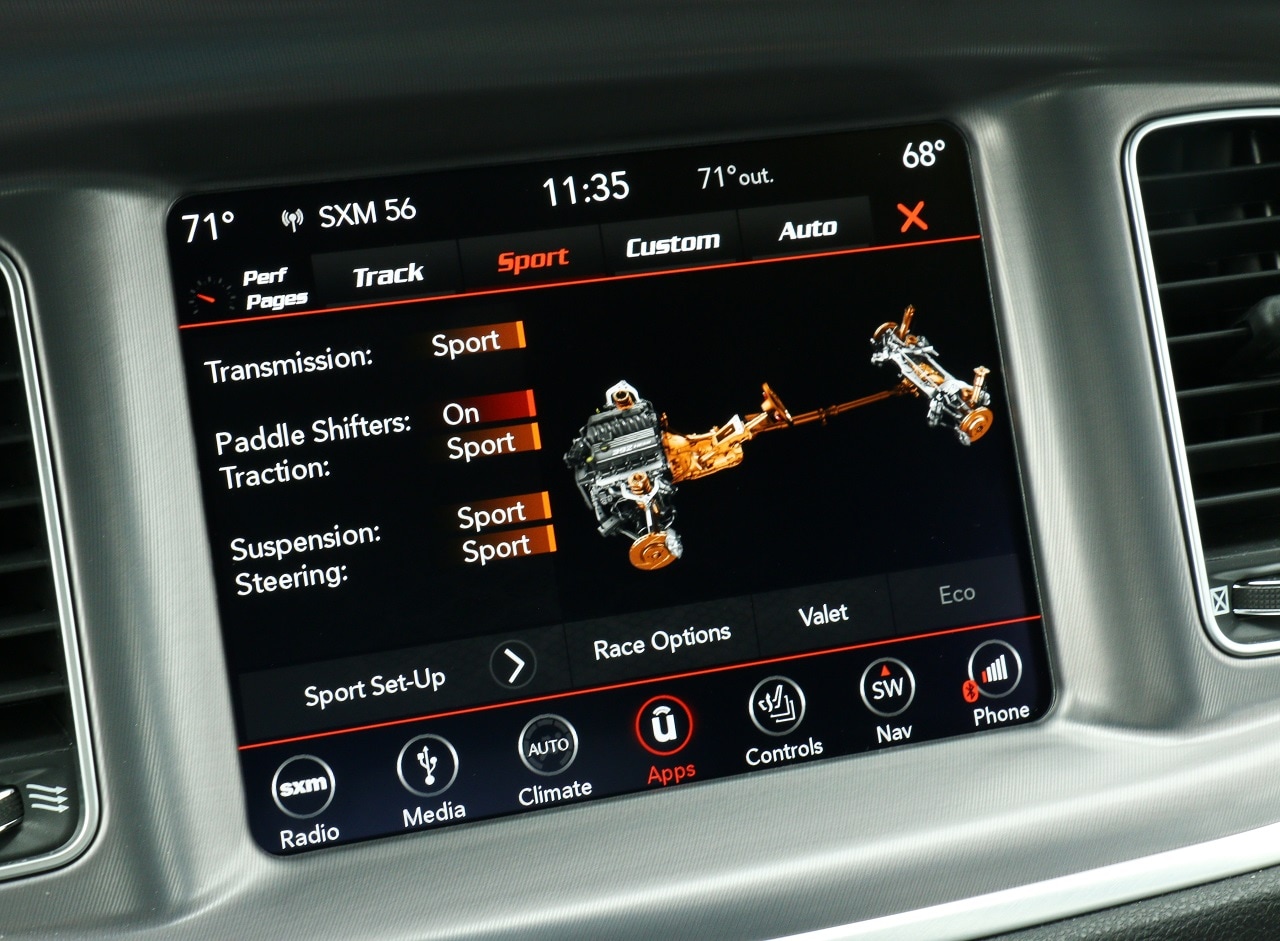 Sport mode also firmed up the suspension and cut some of the Scat Pack's body roll. That was especially helpful when I tackled some twisty rural roads with my friend Logan. The Scat Pack is not one of those cars that you can just drive on auto-pilot, though. It's large and has a curb weight of 4,389 pounds. You have to respect and work with its size and heft when taking curves. It actually encourages you to be a better driver and read the road ahead more quickly. The cleaner the line you take, the smaller and lighter the Scat Pack feels.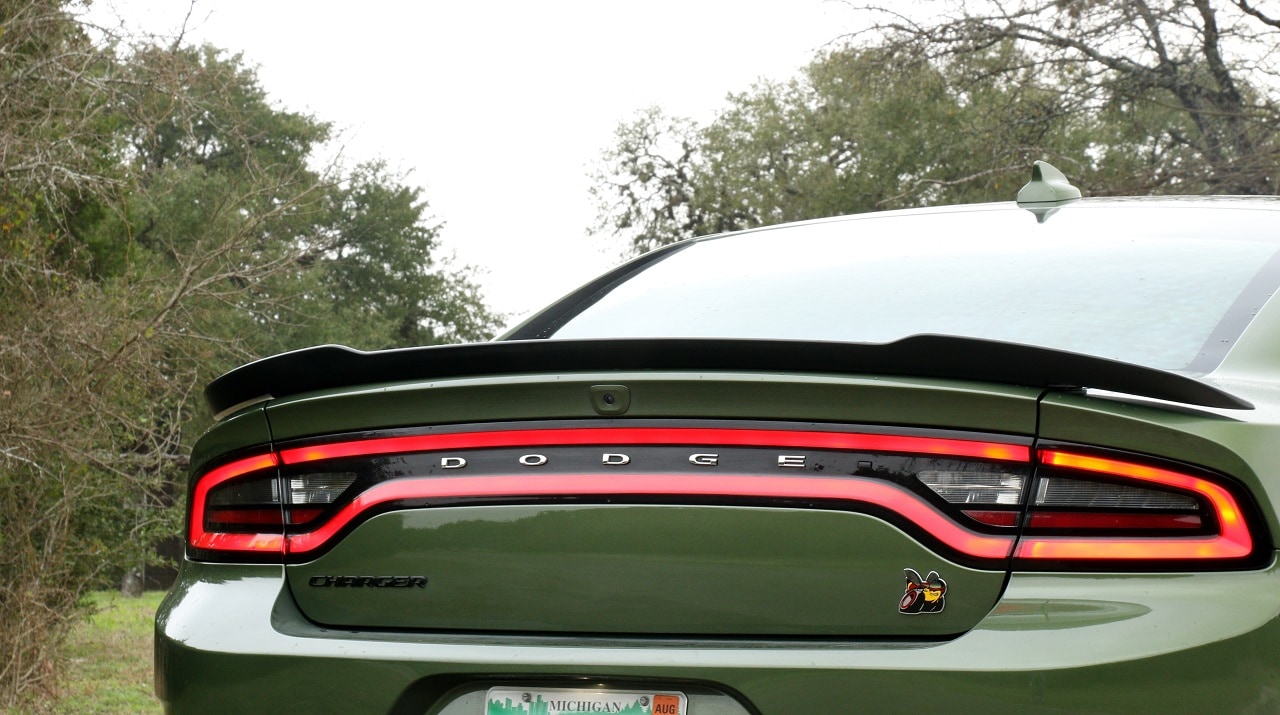 2019 Dodge Charger R/T Scat Pack Safety
Whether I was cruising through the suburbs or blazing down back roads, the Scat Pack protected me with stability control, tire pressure monitoring, and front, seat-mounted side, and side-curtain airbags.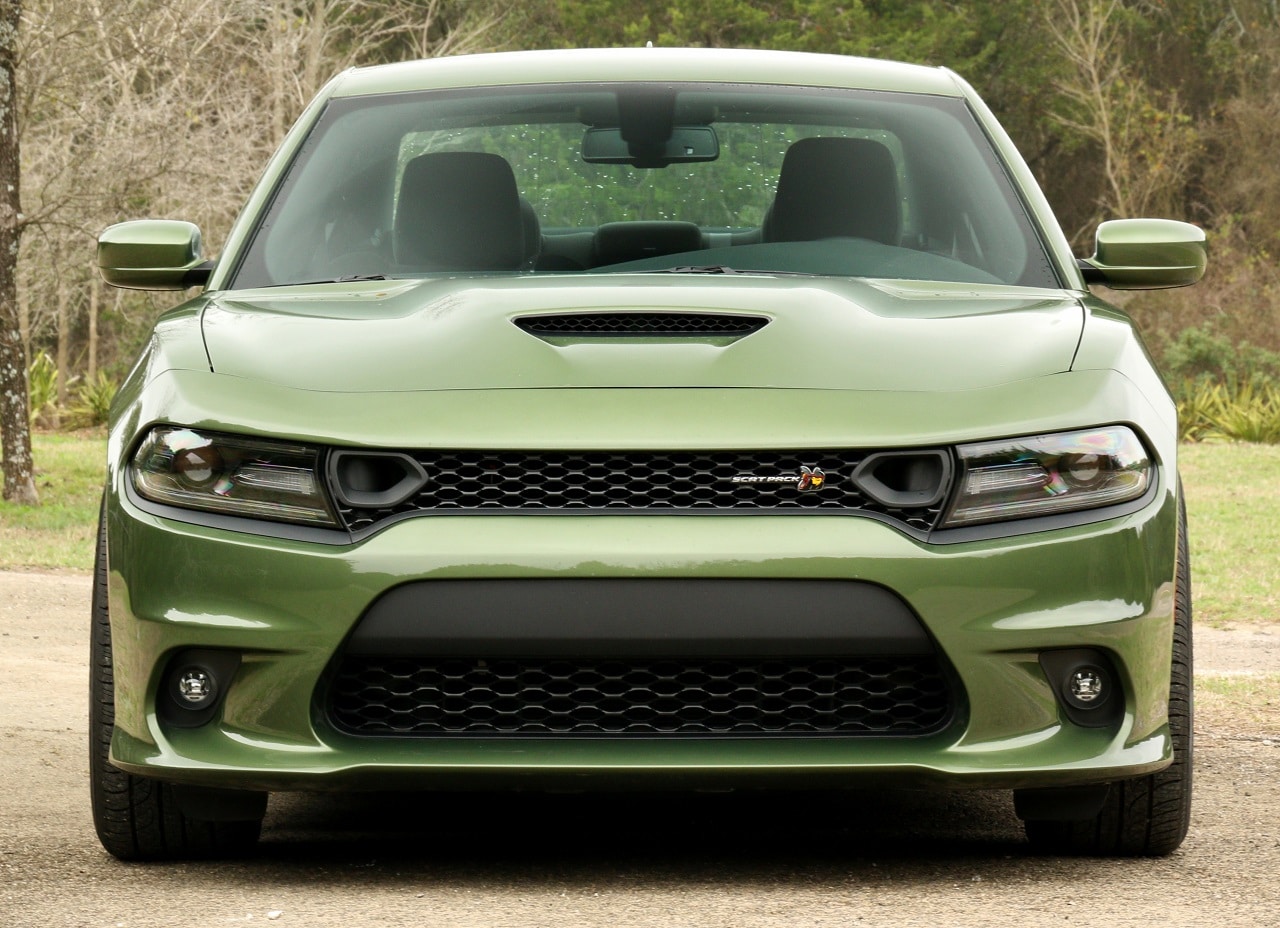 2019 Dodge Charger R/T Scat Pack Overall
The 2019 Dodge Charger R/T Scat Pack is a singularity among American sedans. In terms of output, powertrain layout, and price, there's nothing quite like it. If it's the one car you've got to have, you can get it at an AutoNation Dodge dealership. Prices start below $40,000.* My well-equipped test car had a sticker price of $46,075.
*MSRP excludes tax, license, registration, destination charge and options. Dealer prices may vary.