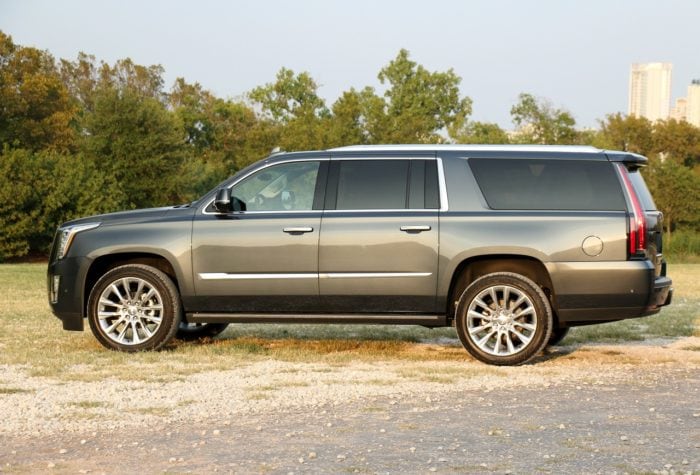 February 8th, 1998 was a major milestone in Cadillac history. That was the day the first Escalade rolled off of GM's assembly line in Arlington, Texas. It hit the market as a 1999 model at a time when SUV sales were booming. In the American luxury SUV segment, there was really only one model to beat. Jeep had stopped producing its high-end Grand Wagoneer in 1991, so when Lincoln introduced the Ford Expedition-based Navigator in 1997, it essentially had that part of the market to itself. Once the Escalade emerged from GM's factory doors, the Cadillac vs. Lincoln battle for upscale SUV supremacy began. Since that historic day in 1998, the Escalade has evolved through four generations. Its styling has become more distinctive while its technology and amenities have reached greater heights. The EXT pickup and Hybrid models have come and gone. The regular- and extended-wheelbase ESV models that remain benefit from 20 years of evolution and advancement that has increased both engine output and fuel economy. In the past 20 years, American luxury SUVs have multiplied in number. The Jeep Grand Cherokee Summit has real wood accents and quilted leather. GMC's line of Denali SUVs blend sleek lines with advanced technology. The Lincoln Navigator has several smaller siblings. The same is true for Cadillac, which offers the XT5 and all-new XT4. However, one thing remains the same. The Cadillac Escalade is still an icon of automotive style and luxury. I learned that the easy way over the course of a week with a four-wheel-drive 2019 Escalade ESV with the Premium Luxury trim package.
2019 Cadillac Escalade ESV Premium Luxury Exterior
The Escalade ESV has a lot to live up to. As a luxury SUV, it should look upscale. As a Cadillac, it needs to be distinctive. Cadillac's design team nailed both of those traits. With its bold lines, hard angles, and nearly full-height taillights, it made a bold entrance anywhere I drove it. In fact, it transcended automotive design. It had the same visual impact on me that looking up at the skyscrapers in New York City did when I traveled there in 2017. As the second-highest trim level in the Escalade lineup, the Premium Luxury model comes with a long list of standard equipment. That includes LED headlamps and taillights, 22-inch wheels with all-season tires, a power sunroof, and a hands-free power liftgate. LED front cornering lights and illuminated door handles set the Premium Luxury package apart from lower Escalade trim levels. Cadillac equipped my test vehicle with a couple of optional exterior add-ons: a set of polished 12-spoke, 22-inch wheels and a pair of illuminated power-retractable assist steps that spanned most of the Escalade ESV's 130-inch wheelbase.
2019 Cadillac Escalade ESV Premium Luxury Interior
With its Shadow Metallic paint, my Escalade press loaner had a cool sleekness that made it look right at home in the upscale areas of Austin and San Antonio, Texas. The cabin had a completely different vibe. The optional Kona Brown/Jet Black theme gave the Escalade ESV's interior a rich, natural warmth. All three rows of seating offered something for everyone. Up front, my girlfriend Eli and I enjoyed the comfort of heated and cooled 12-way power seats. The Escalade ESV's Cadillac User Experience (CUE) infotainment system is compatible with Android Auto and Apple CarPlay and made checking our messages and accessing the music on our iPhones a quick and easy process. Entering a destination address into the navigation system only required a few taps on the eight-inch color touchscreen.
Our friends Logan and Bethany, who are 6'3" and 5'8", respectively, had plenty of legroom in the second row. They also had access to the standard rear-seat entertainment system with a nine-inch screen, DVD and Blu-ray compatibility, and two-channel wireless headphones if they wanted to watch something other than passing cars on the way from their house in San Antonio to some of the city's more appealing eateries. HVAC vents in the ceiling kept them nice and cool. All of us benefited from tri-zone climate control, a multitude of cupholders, and a built-in 4G LTE Wi-Fi hotspot.
I'm 5'10" and found headroom plentiful in the power-folding third row. Legroom wasn't as abundant. With the rearmost seats in place, the Escalade ESV offers 39 cubic feet of space. Lowering those nearly doubles cargo volume, increasing it to approximately 77 cubic feet. With the second and third rows of seats flattened, the Escalade ESV is capable of carrying 121 cubic feet of luggage and gear.
Interior noise levels were as low as I expected them to be in a high-end Cadillac. The Escalade ESV's third-generation Magnetic Ride Control system has two settings: Tour and Sport. In Tour mode, ride quality was as supple as it gets in a massive body-on-frame, four-wheel-drive SUV. Sport was firmer, but never harsh.
2019 Cadillac Escalade ESV Premium Luxury Performance
It takes a large, powerful motor to get the four-wheel-drive Escalade ESV's nearly 19 feet of length and 6,088 pounds of curb weight down the road. GM's naturally aspirated 6.2-liter V8 with variable valve timing and direct fuel injection is the right engine for the job. Its 420 horsepower and 460 lb-ft of torque, combined with a 10-speed automatic transmission, gave the Escalade ESV plenty of pace to go with its abundant space. That combo (as well as a rear end with 3.23 gearing) also made it capable of towing up to 7,900 pounds. According to the EPA, my press loaner was able to get 14 mpg in the city, 21 mpg on the highway, and 17 mpg combined.** No matter where I drove the Escalade ESV, its 31-gallon fuel tank gave it a substantial travel range.
2019 Cadillac Escalade ESV Premium Luxury Safety
The Escalade ESV is packed with a variety of safety features and technologies. Those include seven airbags that protect all outboard passengers, StabiliTrak electronic stability control with traction control, and a tire pressure monitoring system. IntelliBeam headlights automatically turned on the high beams when the road in front of me was clear and shut them off when another driver approached from the opposite direction. The rain-sensing wipers started swinging soon after they detected moisture on the windshield. The Safety Alert Seat sent pulses through the bottom of the driver's seat to notify me of impending dangers. A 360-degree Surround Vision system allowed me to park without worrying about bumping into another vehicle…or a person. Lane Change Alert with Side Blind Zone Alert, Rear Cross Traffic Alert, Forward Collision Alert, and Lane Keep Assist with Lane Departure Warning added another layer of security. Engineers packed Adaptive Cruise Control, Forward and Reverse Automatic Braking, Automatic Seat Belt Tightening, and an electric parking brake into the Escalade ESV Premium Luxury's standard Driver Assist Package.
2019 Cadillac Escalade ESV Premium Luxury Overall
Cadillac dealership
Cadillac has had 20 years to refine the Escalade. My week with the 2019 Escalade ESV proved they spent that time wisely. It was a distinctive and comfortable way to travel hundreds of miles in comfort and luxury. To find out just how good the latest Escalade ESV is, go to an AutoNation Cadillac dealership. Prices start at $78,195*. The four-wheel-drive Escalade ESV Premium Luxury model I tested had a sticker price of $97,465.