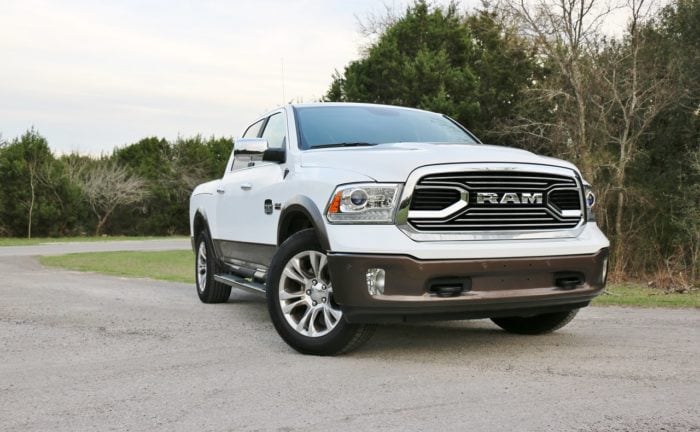 I couldn't have timed my week with the 2018 RAM 1500 Laramie Longhorn Southfork edition any better. I scheduled myself to have it as a one-week press loaner up until the day I flew out to Phoenix to experience the all-new 2019 RAM 1500 on- and off-road. Short of driving the 2018 model and jumping right into the 2019 truck, it was the best way of telling the difference between the outgoing and incoming trucks.This review won't focus on what makes the 2018 DS truck different from the 2019 DT truck. You can read about the 2019 RAM 1500's new design, frame, engine options, and interior features by reading my review of it here on
AutoNation Drive
. Instead, this will cover what makes the 2018 RAM 1500 a great send-off model for the current generation of the light duty truck.In the current RAM 1500 trim line hierarchy, the Limited is the top model. It's a slick, sophisticated take on the traditional truck. Right below the Limited is the Laramie Longhorn, a Southwestern-themed luxury pickup with an interior full of rustic leather and real wood accents. In fact, the Texas Auto Writers Association (yours truly is a proud member) named the RAM 1500 Laramie Longhorn the 2016 Luxury Pickup Truck of Texas.At the 2017 State Fair of Texas, RAM unveiled the 2018 Laramie Longhorn Southfork edition, a package available on 1500/2500/3500 4x2 and 4x4 Crew Cab, Mega Cab, long or short box trucks. The automaker said it was designed to build "upon the well-appointed Longhorn trim with even more luxury, technology and refinement." I was there to see it in person. It certainly got a lot of attention from my fellow journalists. As Texans, we were all excited about eventually getting the chance to drive the posh pickup.Recently, I finally got the chance to do just that. My week with the 2018 RAM 1500 Laramie Longhorn Southfork wasn't just all cruising and looking cool, though. I actually put it to work because I needed to move furniture out of my apartment. I'll say it again: I couldn't have timed it better.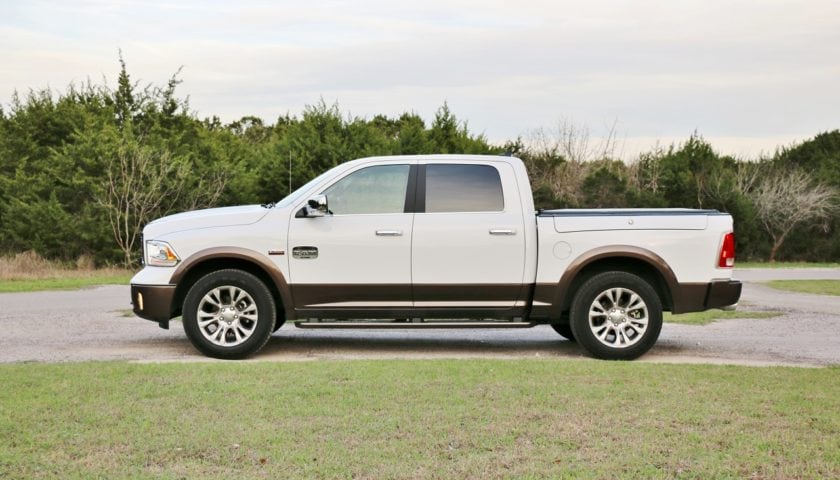 2018 RAM 1500 Laramie Longhorn Exterior
If you like the colors available for the regular Laramie Longhorn, you'll be happy to know RAM offers them on the Southfork edition, too – including a two-tone colorway with RV Match Walnut Brown on the bottom.My Southfork tester featured the chrome-tastic R A M grille set between a pair of halogen projector headlights with automatic high beams. Vertical fog lights flanked the black tow hooks. More chrome covered the side mirror and door handle caps. RV Match Walnut Brown running boards stretched the full length below the Crew Cab and coordinated with the colored pockets in the 20-inch wheels.The rear of the Southfork was its business end. An optional tri-fold tonneau cover concealed cargo when I needed it to and was simple to get out of the way when it wasn't necessary. All I had to do to fold it back was throw a couple of latches, flip back the panel, unsnap a pair of straps behind the cab, and join their connectors with the panel's connectors.The sides of the 5'7" bed were equipped with the lockable and drainable Ram Boxes that are part of an optional cargo management system. The containers were perfect for holding the tools I needed to take with me (just in case) for my furniture donation run. The cargo management package also contained four adjustable tie-down hooks and a cargo box divider/extender. That last piece was especially helpful because it gave me extra room to carry a set of four dining room chairs flat on their backs.When the tailgate was up, it showed the exterior visual trait that most distinguished the Southfork from other Laramie Longhorns: L O N G H O R N – in chrome, of course.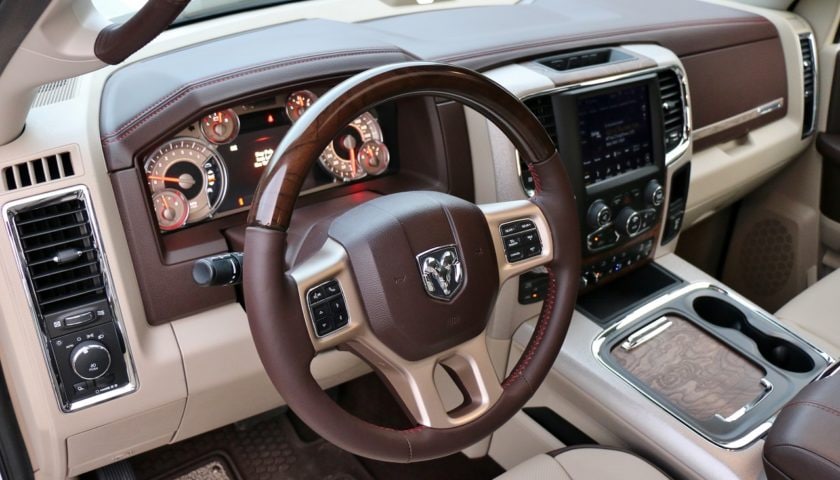 2018 RAM 1500 Laramie Longhorn Interior
Just sitting in the Southfork was a treat. I didn't even have to go anywhere. I just enjoyed looking around me and seeing all of the mixed media and details that RAM's designers put in the Southfork's cabin.The seats (heated and ventilated up front; heated in the back) were covered in handsome Canyon Brown and Light Frost Beige Natura Plus full-grain leather. There was more leather wrapped around the A- and B-pillar grab handles. The steering wheel was a combination of even more leather, warm metallic trim, and genuine Walnut wood. Designers dressed the center stack and center console in galvanized-look trim and Walnut-colored ash wood accents. Chrome accents added flash while Ruby Red stitching added a pop of color.Unfortunately, my test truck didn't come with the suede-like Light Greystone headliner that's standard equipment on the Southfork (my truck's window sticker said that that particular bit of finery had been deleted). Nevertheless, it was clear that the Southfork wasn't a ranch hand's truck. It was a truck fit for a cattle baron.The Southfork's luxury materials framed its convenient and easy-to-use technologies, which ranged from Bluetooth connectivity to 4G LTE Wi-Fi to a nine-speaker Alpine audio system to navigation, Android Auto, and Apple CarPlay on the 8.4-inch Uconnect center touchscreen.The optional four-corner suspension took a good deal of the jolt and wobble out of bumpy pavement. Second row legroom was more than ample.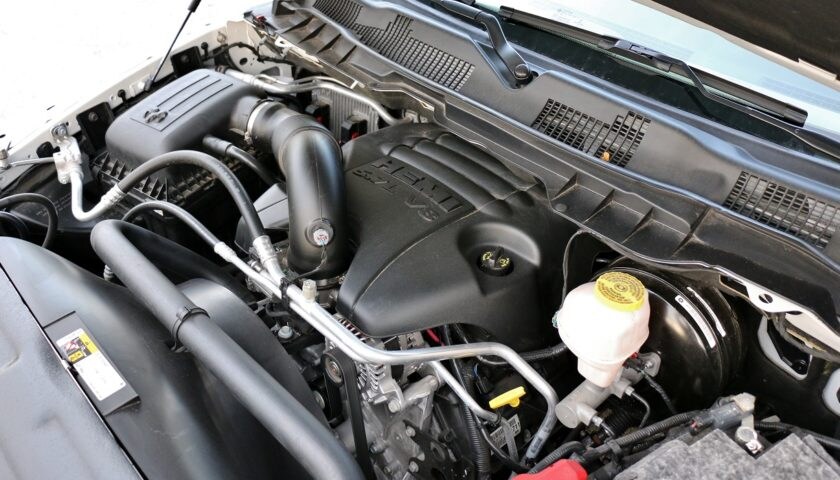 2018 RAM 1500 Laramie Longhorn Performance
My Southfork review special had a 5.7-liter HEMI V8 under its hood. Horsepower peaked at 395; torque topped out at 410 lb-ft. Those figures and an optional 3.92 rear end ratio enabled my four-wheel-drive review vehicle to carry 1,520 pounds of payload and tow a maximum of 10,170 pounds – and get 15 mpg in the city, 21 mpg on the highway, and 17 mpg combined.**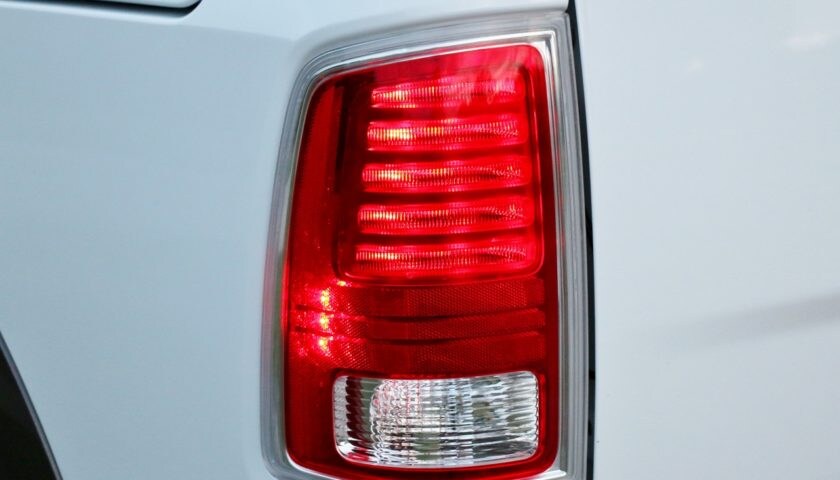 2018 RAM 1500 Laramie Longhorn Safety
In addition to leather and real wood accents, the interior of the Southfork was packed with front airbags, side curtain front and rear airbags, side airbags, stability control, and a front and rear park assist system.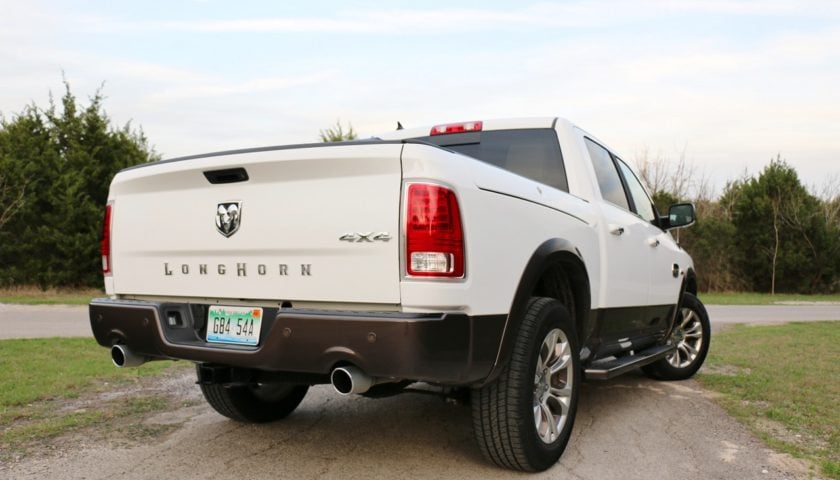 2018 RAM 1500 Laramie Longhorn Overall
Prices for the 2018 RAM 1500 Laramie Longhorn start at $50,295.* My HEMI-powered Laramie Longhorn Southfork edition 4X4 had an as-tested price of $61,910.If you're waiting for the right time to buy a 2018 RAM 1500 Laramie Longhorn Southfork, that time is now. Get it at
an AutoNation RAM dealership
.
*MSRP excludes tax, license, registration, destination charge and options. Dealer prices may vary.**Based on EPA mileage ratings. Your mileage will vary depending specific vehicle trim, how you drive and maintain your vehicle, driving conditions, and other factors.