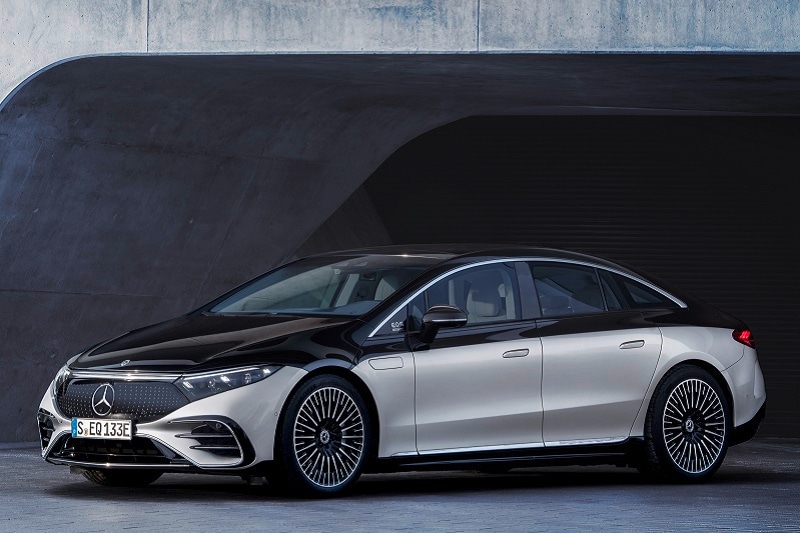 Mercedes-Benz recently debuted its first-ever all-electric luxury sedan, the EQS, and with it comes innovative performance, sustainability, and electrification technologies. It's also an introduction to Mercedes-Benz's new modular architecture for luxury and executive-class electric vehicles.
To start, two models will be available for the U.S. market: the EQS 450+ with 329 hp and the EQS 580 4MATIC with 516 hp.
This isn't Mercedes-Benz simply adding electric motors to an existing vehicle - it's a revolutionary new way to approach electric vehicle design for the luxury space. Let's take a quick look at the major points of the all-new 2022 EQS class sedan.
---
2022 Mercedes-Benz EQS Sedan Pricing and Packaging Structure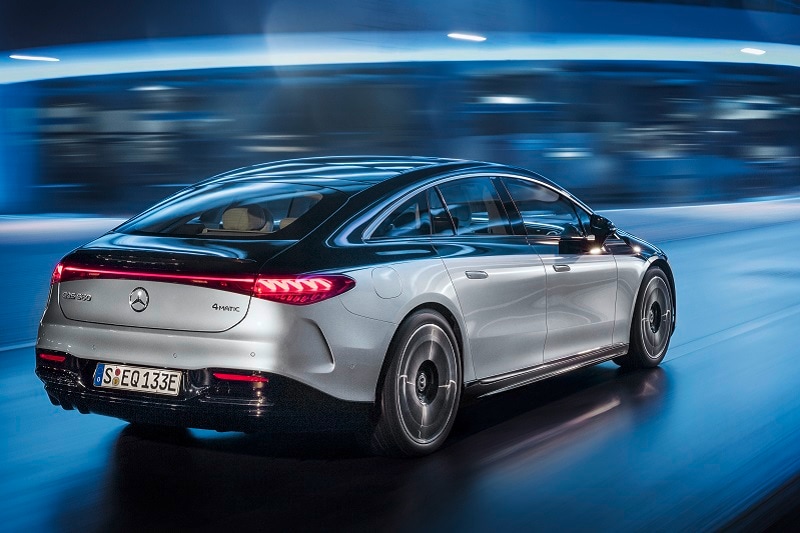 While the technology behind the EQS sedan is complex, choosing the right model for your zero-emission lifestyle is not. Mercedes-Benz is keeping things straight-forward with three highly-equipped package structures designed specifically for the U.S. market. 
Trims for the EQS sedan are as follows: 
Premium Trim Level
EQS 450+ Sedan starting MSRP $102,310
EQS 580 4MATIC Sedan starting MSRP $119,110
Highlights include:
Driver Assistance Package
Heated & Ventilated Front Seats
Power Tilt/Sliding Panorama Roof
10-degree Rear Axle Steering
64-color Ambient Lighting
Parking Package w/ Surround View System
Exclusive Trim Level
EQS 450+ Sedan starting MSRP $105,710
EQS 580 4MATIC Sedan starting MSRP $122,510
Highlights include:
All features of Premium Trim
Multicontour Front Seats w/ Massage Function
Head-up Display
Four-Zone Climate Control
Rapid Heating Front Seats
Pinnacle Trim Level
EQS 450+ Sedan starting MSRP $108,510
EQS 580 4MATIC Sedan starting MSRP $125,310
Highlights include:
All features of Premium and Exclusive Trims
Power Rear Seats w/ Memory
Comfort Rear Center Armrest with Wireless Charging
Heated & Ventilated Rear Seats
Comfort Rear Headrests
Regardless of trim levels, all EQS sedan models come standard with complimentary maintenance and free unlimited 30-minute fast-charging sessions via Electrify America for the first two years. These additional perks make it easier to transition to a zero-emissions lifestyle, while giving you peace of mind.
---
2022 Mercedes-Benz EQS Sedan Sustainability
 
The all-new EQS sedan isn't just environmentally conscious in its daily operations. Mercedes-Benz has also taken great care to ensure its manufacturing process is as low impact as possible, with a 20-year goal of offering a carbon-neutral new car fleet as part of its Ambition 2039 initiative.  
Production of the EQS sedan occurs in a sustainability-focused manner, from the factory recovering and generating its own electricity and the use of recycled steel, all the way to selecting carbon-neutral suppliers and partners.  
The main vehicle battery delivers an improvement upon previous generations by containing less than ten percent of cobalt content, and promising a total operational life of ten years or up to 155,000 miles. Mercedes-Benz is also vowing to only purchase battery cells from certified responsible mining companies.  
On the road, there's a ton of design and technology working behind the scenes of the EQS sedan to ensure that the energy used by the vehicle is done so in the most efficient way possible, while simultaneously focusing on recovering as much of this same energy.
---
2022 Mercedes-Benz EQS Sedan Exterior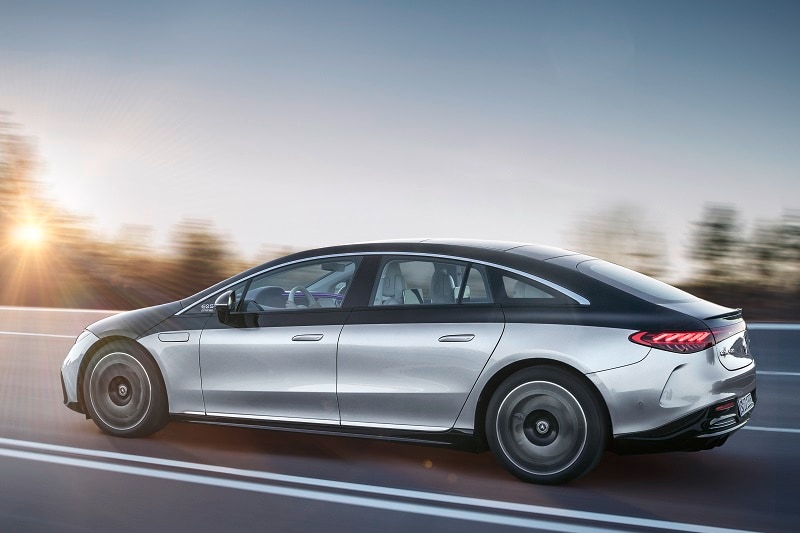 The design language of the Mercedes-Benz EQS sedan is described as "Sensual Purity," featuring large and seamlessly flowing surfaces with reduced sharpness.  
Almost like how the air naturally curves around a vehicle, the EQS has lengthy proportions yet embodies a coupe-like silhouette with short front and rear overhangs. Its low and slim form factor not only aids in aerodynamic efficiency, but also evokes an elegant and sporty feeling.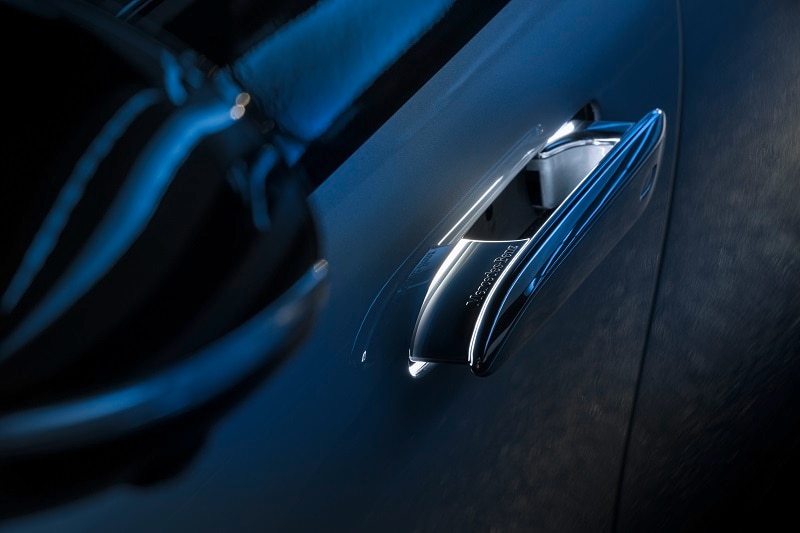 Flush door handles are included as standard equipment on all EQS models, as well as a power tilt and sliding panorama roof. Two glass surfaces join together for the roof to deliver an open and natural ambience for the passenger space.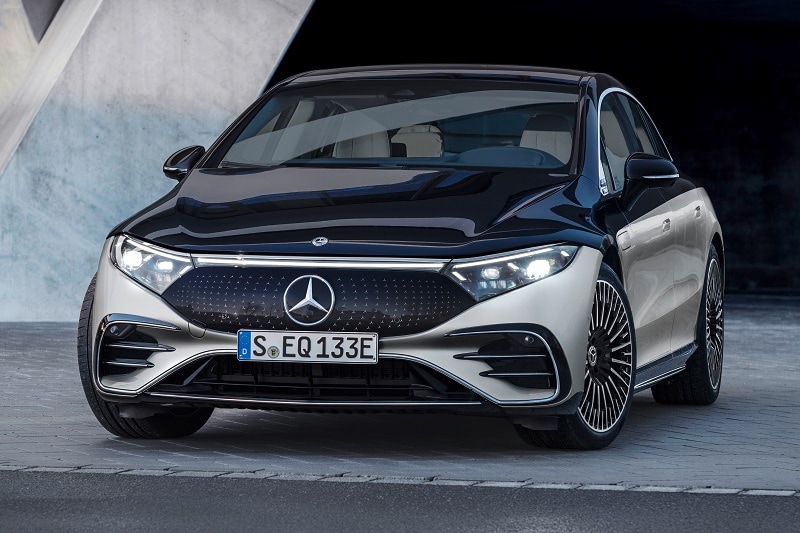 Since the EQS was designed on a platform specifically intended for electrification - meaning it's not borrowing an existing chassis from a gasoline-powered vehicle - Mercedes-Benz was able to optimize the arrangement of components which led to advantages in ergonomics and overall presentation. For example, the underbody is smooth, and the radiator shutters are mostly closed. 
For its introductory model year, the EQS sedan features ten exterior paint colors and six unique wheel designs. Two colors - Twilight Blue Metallic and Sonoran Brown Metallic - can only be found on the EQS.  
---
2022 Mercedes-Benz EQS Sedan Interior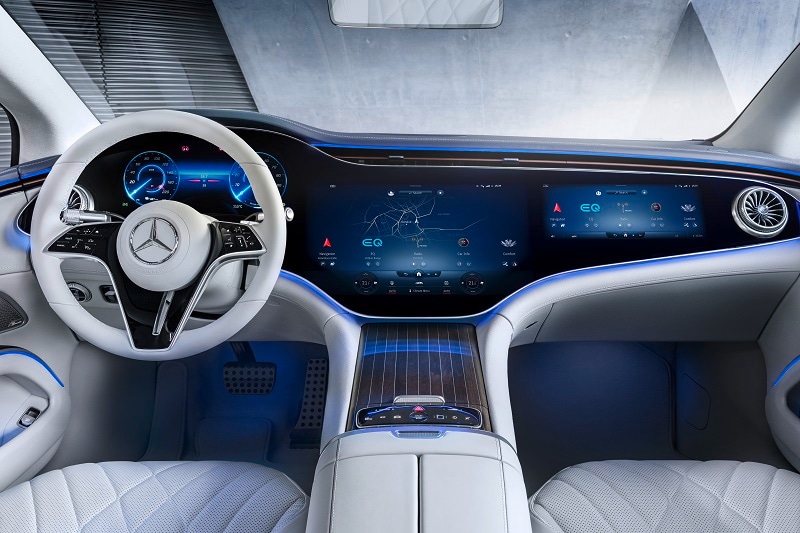 Since the EQS is a completely new type of vehicle for Mercedes-Benz, its designers were given the freedom to explore a different approach to what a vehicle cabin should be, and the result is spectacular. 
Digitization of the interior was a main goal, and the star of the show is the all-new MBUX Hyperscreen. This is essentially one giant widescreen display that spans across the entire front of the cabin. It incorporates the driver instrument panel, the main infotainment hub, and a third info screen in front of the passenger. The displays can be customized with three styles (understated, sport, classic) and three modes (navigation, assistance, service).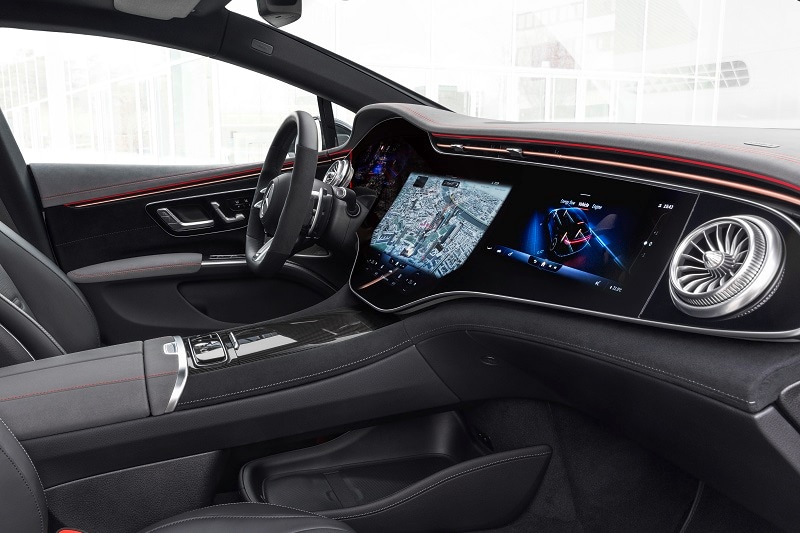 This expansive and streamlined architecture is found in other areas as well. For example, the electric powertrain doesn't need a transmission tunnel, so the area under the center console has been transformed into additional storage space, and also provides a floating visual effect.
Surface materials feature NEOTEX, a modern development that combines the visual aesthetic of nubuck leather with neoprene for a high-tech result. Customers can specify one of eight color combinations for warm or cool tones to match their personalities.  
Additional interior highlights include laser-cut and backlit trim elements, illuminated piping on the seats, and an available head-up display.  
---
2022 Mercedes-Benz EQS Sedan Electric Powertrain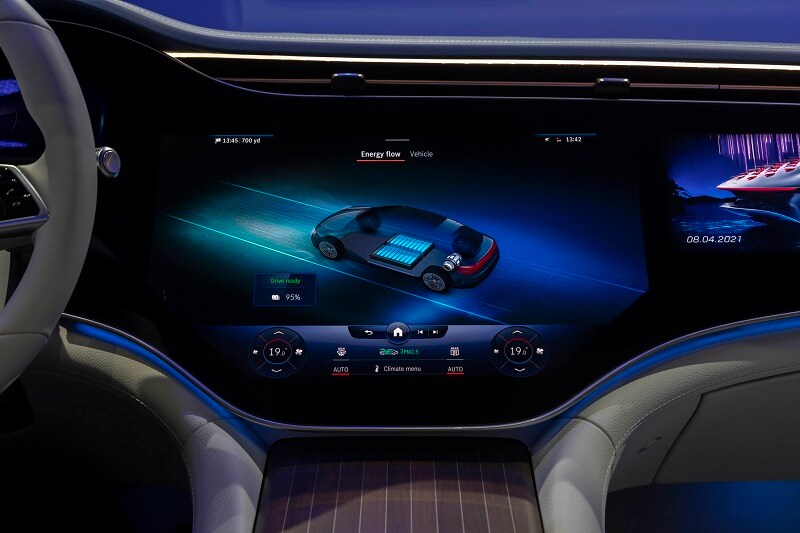 Boasting a driving range of up to 487 miles and total system power of up to 516 horsepower, the electric powertrain of the EQS delivers the performance and driving dynamics that are expected of any S-Class vehicle.  
Every EQS model comes standard with an electric powertrain (eATS) located at the rear axle, while the 4MATIC version adds a second eATS at the front axle for all-wheel drive capabilities. Whether you have one or two electric powertrains, the overall system operates on a modular and on-demand basis, meaning it can vary total horsepower from 329 hp to 516 hp as the situation dictates.  
Reliable power is also a focus of the EQS, and for electric vehicles, reliability comes in the form of cooling. The eATS features advanced cooling technologies that expel and transfer heat from both the inside and outside of components, and even works in reverse to heat fluids during cold weather driving.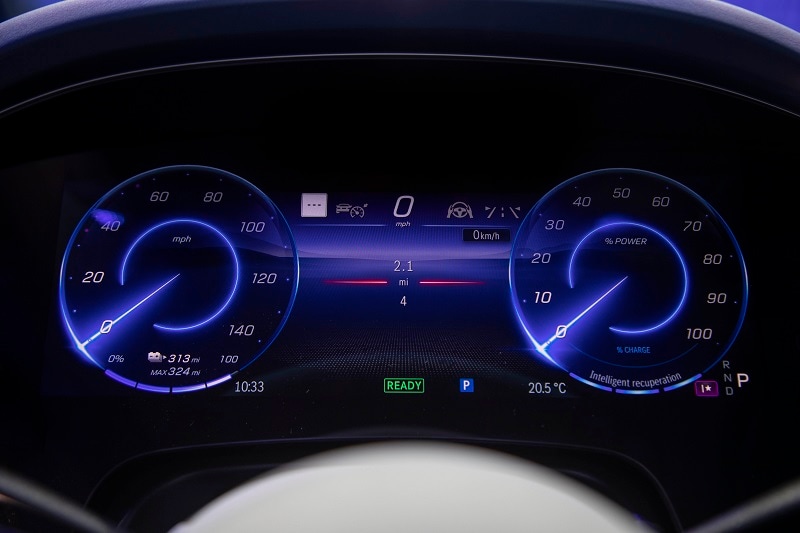 Energy recovery is just as smart in the EQS, allowing the driver to use just one pedal to drive. The regenerative braking system applies deceleration in various stages, and detects vehicles ahead so you can comfortably come to a stop at traffic lights without ever touching the brake pedal. 
---
2022 Mercedes-Benz EQS Sedan Safety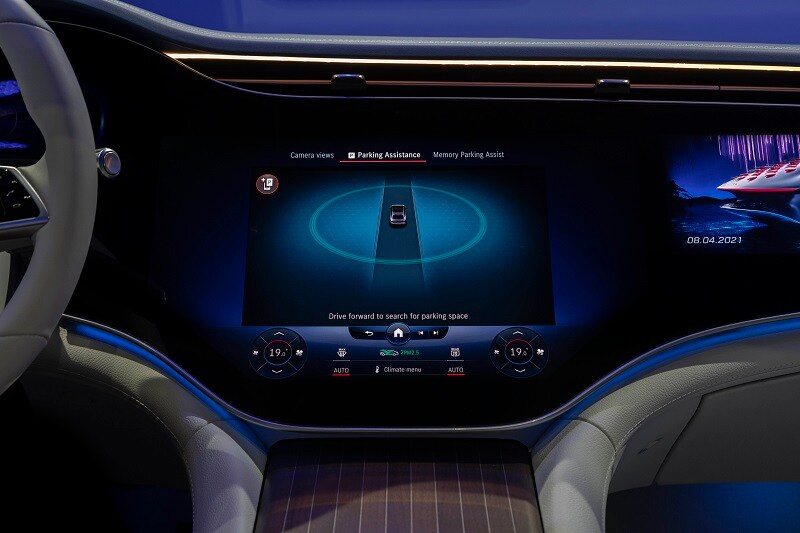 All EQS models come standard with the Driver Assistance Package, which includes the following advanced features:
Active Distance Assist DISTRONIC
Active Steering Assist
Traffic Sign Assist
Active Lane Keeping Assist
Active Lane Change AssistActive Emergency Stop Assist
Attention Assist
Active Brake Assist with cross-traffic function
Active Blind Spot Assist and exit warning function
Evasive Steering Assist
The Parking Package with Surround View System is also standard on every EQS, utilizing ultrasound sensors and cameras to automatically park the vehicle is an appropriate space. Press a button to activate Quick Park, and the EQS will take over from there while you monitor the progress from the MBUX Hyperscreen display.  
2022 Mercedes-Benz EQS Sedan Overall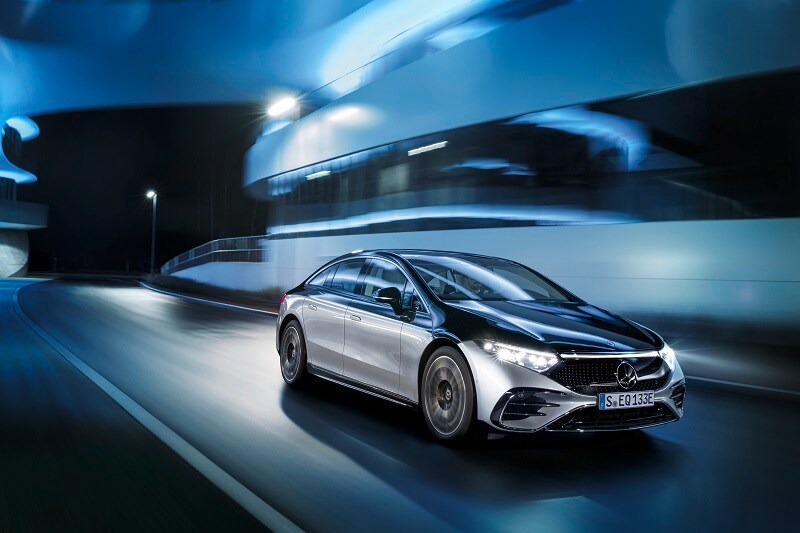 The 2022 Mercedes-Benz EQS class represents a new generation of electrified ultra-luxury vehicles, and a modern approach to sustainability from the production factory to the road.  
The EQS 450+ sedans and EQS 580 4MATIC sedans are starting to arrive at AutoNation Mercedes-Benz showrooms, so visit your closest dealership to experience a revolutionary approach to luxury and efficiency. 
---
Andrew Chen
| Dec 7, 2021